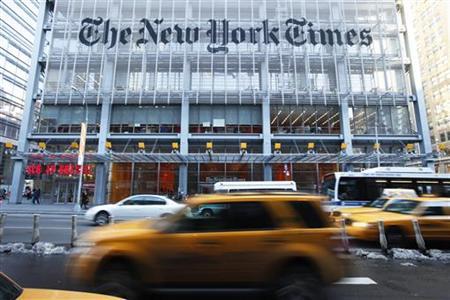 The New York Times will not pay a monthly fee to get verified check mark status on Twitter, a spokesperson for the newspaper said hours after it lost the verified badge on the social media platform.
According to new Twitter policy, verified check marks are now offered only through a paid subscription. Organisations will have to shell out $1,000 a month to obtain gold check marks while individuals can get blue checks for a starting price of $7 in the United States.
"We also will not reimburse reporters for Twitter Blue for personal accounts, except in rare instances where this status would be essential for reporting purposes," the spokesperson added.
Politico also will not offer to pay for its staff's Twitter blue verifications, according to a memo sent to staff seen by Reuters.
Also read: Twitter's biggest users refuse to pay for blue checkmarks
Twitter had previously announced that from April 1 several accounts will lose the check marks as the social media company begins winding down its legacy verified programme.
On April 1st, we will begin winding down our legacy verified program and removing legacy verified checkmarks. To keep your blue checkmark on Twitter, individuals can sign up for Twitter Blue here: https://t.co/gzpCcwOpLp

Organizations can sign up for https://t.co/RlN5BbuGA3…

— Twitter Verified (@verified) March 23, 2023
Twitter did not respond to a Reuters request for comment.
Axios previously reported that The White House will not pay to have its staff's official Twitter profiles continue to be verified.