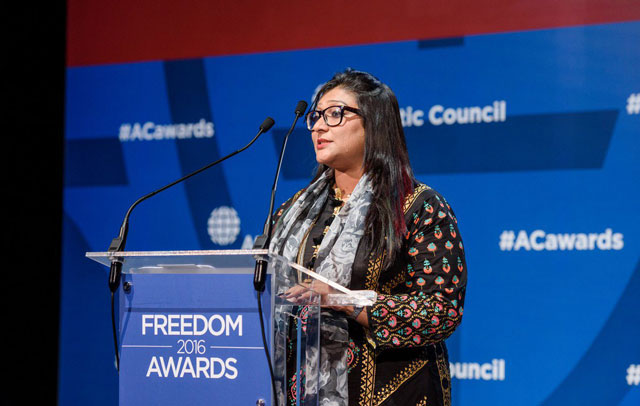 A lawyer by profession, Nighat Dad, has gained global recognition for her remarkable contribution in making the internet a safer and more inclusive space for women.
Born in 1981 in Lahore, Dad received her Master's degree in Law from the University of Punjab. She then went on to work as a successful lawyer in criminal and family law.
In 2012, Dad set up the Digital Rights Foundation (DRF). DRF's aim is to make the internet safe and more accessible to women, minorities, and dissidents by defending their online freedom of expression and their right to privacy. Working as the executive director of the organization, Dad strives to create a space where women can express themselves freely without the threat of harassment and online trolls. The DRF also protects women from work and cyber harassment.
Dad believes that impeccable privacy policies are the key to making the internet a safer space. Through the DRF, she works to increase awareness about online privacy issues by researching and monitoring tactics around online surveillance.
The Digital Rights foundation also provides the government with viable solutions to deal with rampant and persistent issues such as the insufficient availability of legal protection for privacy and problematic censorship policies in the country.
In 2016, DRF launched a campaign by the name of 'Hamara Internet campaign' to create awareness about online harassment. So far, this campaign has successfully trained around 2,000 women to fight cyber harassment.
In 2015, TIME magazine included Dad in their list of 'next-generation leaders' for helping Pakistani women fight Online harassment. The Dutch government awarded her the 'Human Rights Tulip Award' for her impactful work. She is also one of the 25 leading figures on the Information and Democracy Commission launched by Reporters Without Borders. 
Dad's work has also led her to become part of Facebook's content oversight board, giving her greater control over the fight against online harassment.
Nighat Dad has famously been referred to as the Pakistani lawyer trolling the trolls. The significance of her work can be best summarised in her own words: "When it comes to the digital world, what women do is retreat. They simply shut down their online presence rather than fight back. Because women do not believe they own online spaces, exiting them becomes far too easy — and that is what the campaign is fighting against."