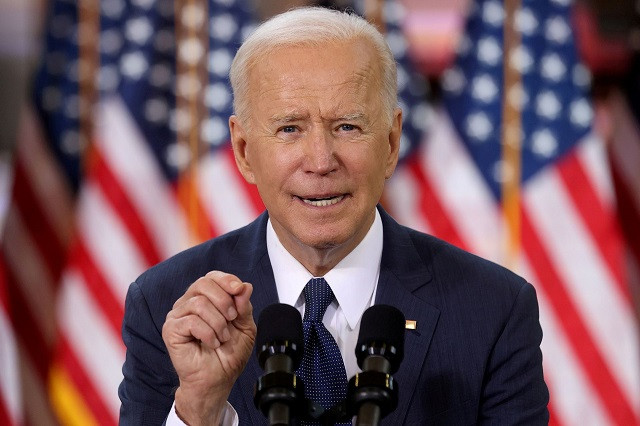 [ad_1]
President Joe Biden delivered a tough talk in his State of the Union speech on Tuesday about punishing Moscow over its actions regarding Ukraine, but some of the viewers in Kiev weren't happy about what they didn't hear.
"I think the whole [of] Ukraine was watching Biden's speech last night," Ukrainian member of the parliament Oleksandra Ustinova said during an interview with the NBC News on Wednesday.
"To be honest, it was a total disappointment for us…" he added.
While the US president did threaten to impose fresh economic sanctions on Moscow and the Russian president, but, to the disappointment of many Ukrainians, the commander-in-chief reiterated remarks that the American forces won't be deployed in the country.
Also read: In pictures: Russian forces launch invasion of Ukraine with strikes on defences
Ustinova thinks that by abstaining to create a no-fly zone that could defend the Ukrainians against the ongoing airstrikes, the US and the rest of the Westerns powers had so far remained unsuccessful in providing the protection that Kiev needed.
The country had agreed to give up its nuclear arsenal in 1991 following the Soviet Union's collapse.
"The right definition is an execution because we see bombs going into our civilian houses every day," the lawmaker maintained.
According to the parliamentarian, "We see children dying every day on the streets or in their houses if they didn't make it to the bomb shelter, we see bombs coming to the orphanages, to the schools. And we had been promised protection by the international community."
She went on to add that sanctions or the military aid weren't enough to prevent the airstrikes. "We are grateful for help, but we need protection in our sky," she said. "We have been protecting ourselves on the ground, but if we do not protect our sky… we will all go down."
Also read: EU envoys agree to sanction Belarus over 'involvement in Russian aggression'
Ustinova, who has been serving as a lawmaker since 2019, questioned how far Putin would have to go to trigger a military response from the US and Nato.
The lawmaker opined that even Nato members based in Eastern Europe couldn't count on the alliance to defend them in case of an offensive.
"Frankly speaking, I don't think Nato will be protecting Poland or the Baltic countries when Putin invades," she said. "They will be saying it was a provocation from these countries because we had been promised the same thing."
Late last month, Russian President Vladimir Putin authorised a military operation in eastern Ukraine and said it was aimed at demilitarising the country.

[ad_2]
Source link