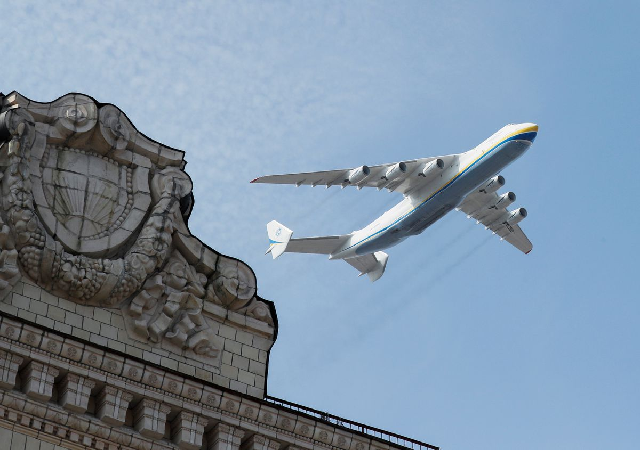 The world's largest cargo plane, the Ukrainian-made Antonov-225 Mriya, was burnt in a Russian attack on Hostomel airport near Kyiv, Ukrainian state arms manufacturer Ukroboronprom said on Sunday.
"The Russian occupiers destroyed the flagship of Ukrainian aviation – the legendary An-225 Mriya. It happened at the Antonov airfield in Hostomel near Kyiv," Ukroboronprom said on its Facebook page.
As a result of an air attack by Russian troops on the Gostomel airport near Kyiv, one of the largest and most powerful Ukrainian-made AN-225 "MRIYA" aircraft in the world was burned. #AN225 #Mriya #RussiaUkraineWar #RussianAggression pic.twitter.com/s9gl8nvv7q
— KyivPost (@KyivPost) February 27, 2022
It said that the plane restoration would cost more than $3 billion and take a long time.
As the world's largest cargo plane touched down at the Karachi airport, footage made by a citizen of the landing went viral.#etribune #Latest #Karachi #AnotonovAN225 pic.twitter.com/ORlQw83OvC
— The Express Tribune (@etribune) June 24, 2021
An-225 Mriya is a strategic airlift cargo aircraft, designed by the Soviet Union's Antonov Design Bureau in the 1980s, and is the largest airplane in the world.
In 2020, the world's largest transport aircraft AN-225 Mriya began to perform humanitarian flights and deliver medical supplies to combat the coronavirus in the #EU. Then #Ukraine defended Europe from the pandemic. Today, russian troops have destroyed the world's aviation legend. pic.twitter.com/nAnxAugMn4
— Verkhovna Rada of Ukraine (@ua_parliament) February 27, 2022
Most airliners are powered by two or four jet engines. The Mriya on the other hand has six. Its wingspan measures 290 feet (88 meters), which is longer than five 53-foot semi-truck trailers set end-to-end.
Mriya's cargo hold is actually longer than the Wright Brothers' historic flight in 1903. Its maximum total weight at takeoff: 640 tons. That's more than twice as heavy as the Statue of Liberty. To carry all that weight Mriya has 32 wheels spread across its oversized landing gear.
(With input from News Desk)


Source link