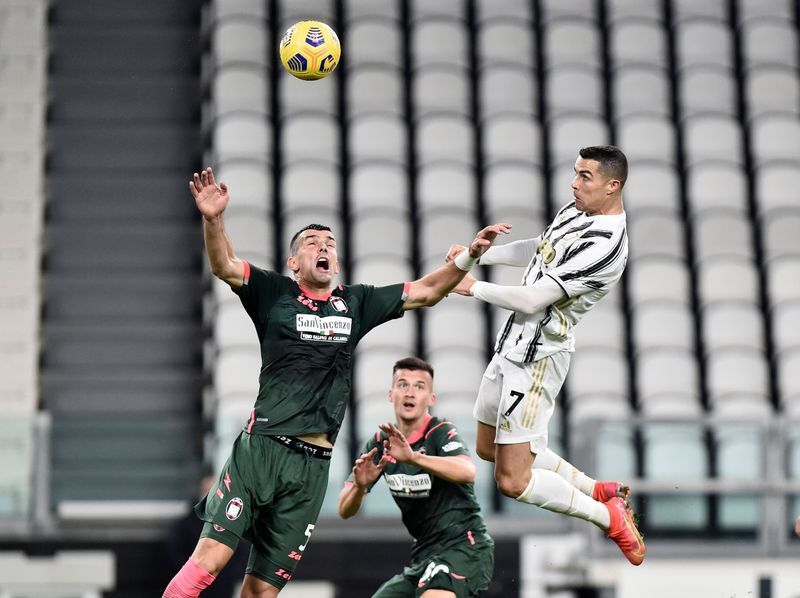 Cristiano Ronaldo's bicycle kick against Juventus might go down as the greatest Champions League goal ever scored. The timing, the technique, and the importance of the goal, it certainly doesn't get better. As he celebrated that day, a sea of Juventus fans in the stadium gave him a standing ovation. They admired him, the man who always turns up on big nights, but at the back of every Juventus fan's mind was one thing: they have been knocked out of the Champions League once again. Even after dominating the Serie for almost a decade, Buffon and Co have not won the Champions League a single time.
But at that moment, the answer suddenly seemed obvious to the Juventus management. They needed to sign Ronaldo. Who else could help them get over the line other than Mr Champions League himself? He had produced so many clutch moments for Real Madrid and Manchester United, and has led them to Champions League titles. Could he be the final piece in this puzzle?
Three seasons and three Champions League disqualifications later, this does not seem to be the case. Juventus have gotten even worse. Their goal-scoring form has dipped and they are on the verge of losing Serie A to Conte's Inter Milan. So, what happened to the mighty Old Lady? There is no one answer, rather a series of successive decisions led to this moment.
The signs were already there during Maurizio Sarri's season at Juventus. Even though they won the league, it was certainly not in an appetizing manner. Dropping 18, yes EIGHTEEN points from winning positions and conceding a whopping 43 goals, Juventus barely defended the title with a margin of one point from the runners up. Having lost their UCL tie to Lyon and the Coppa Italia final too, it was obvious that Sarri's plan wasn't coming through. His style of quick one touch passing coupled with penetrating attacking runs was not there even after the entire season.
Had he stayed longer, it is entirely possible that Juventus might have played somewhat similar to Sarri's Chelsea or Napoli, as such systems require a lot of time to develop, especially when the team is transitioning from a very conservative style of play. But he was eventually sacked, and replaced by the legendary midfield maestro, Andrea Pirlo.
Now, Pirlo came in with zero managerial experience, but the plans he laid out to the Juventus hierarchy made a lot of sense. The team would play an immense pressing line with a third man run, such that there would be fake runs all across the field, pulling open the opposition back line while the likes of Ronaldo and Morata would get on the end of the balls to finish. The plan relies on quick thinking, technical ability, and most importantly, a strong midfield presence.
But that is where the problem begins. While a possessive attacking play requires a well drilled midfield, Juventus simply do not have the players to execute that perfectly. Aaron Ramsey, Arthur, Adrien Rabiot and Weston McKennie, all four have been not up to the mark in terms of productivity and the midfield has been bossed around several times during the season, especially at the hands of Inter Milan. Even with Ronaldo and Morata scoring goals week in week out, the creativity levels have dropped and the midfield feels sluggish throughout the game as players keep passing to the side or backwards.
Perhaps all of this could have been tackled by the manager. After all, Chelsea with their midfield woes have scored a decent amount of goals, and the same can be said about Tottenham. But Pirlo's inexperience is a huge problem. He has not managed in top-flight before and is under immense pressure. Not only does he need to see out the transition, but also make decisions in terms of man-management and play styles that keep Juventus relevant to the competitions they are competing in. Even worse, he faces seasoned managers like Antonio Conte, Gattuso and Stefano Pioli, all of whom have arguably more settled squads than him.
Juventus currently sit third, ten points behind the leaders Inter Milan. Based on current form, it looks unlikely that they will pounce back to the throne. A Round-of-16 Champions League finish is also not a great thing for Pirlo to have on his resume. But things are not too bleak. Their pressing statistics have improved significantly during the course of the season, while their deep play statistics have risen too. They are a team in transition but the process is looking very optimistic.
Pirlo seems to have a plan for this team. Even with Juventus all set to lose the title, the wiser decision would be to let Pirlo implement his plans for at least another season, and back him up with the players he needs to do that. Ronaldo is there too, and it is a fact that he is a trump card to get teams out of difficult situations, as he has done so for so long. The situation is certainly redeemable and given that the club management makes the correct decisions, Juventus might survive the fate that Manchester United faced 7 years ago.