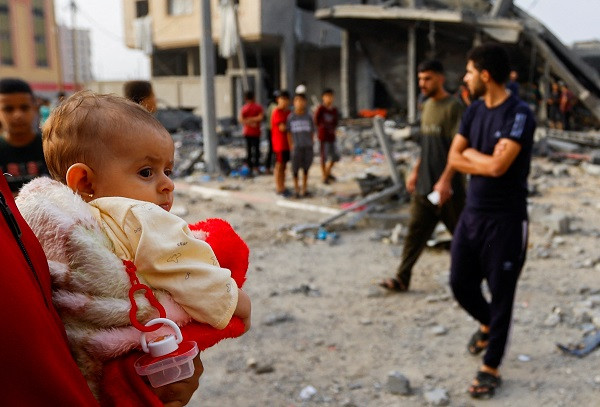 Scores killed in Gaza by Israeli airstrikes

GAZA:

Scores of Palestinians were killed in central Gaza on Sunday after Israel stepped up its strikes on the war-torn enclave as Israeli Prime Minister Benjamin Netanyahu convened a meeting of his top generals and his war cabinet to assess the escalating conflict.
Gaza's Health Ministry confirmed that more than 4,600 Palestinians, mainly civilians, have been killed in Israeli attacks, with officials saying the central town of Deir al-Balah had been particularly badly hit overnight.
Israel's attacks concentrated on the Gaza Strip's centre and north, Palestinian media reported.
With the violence raging unchecked, Iran said the region could spiral "out of control" and Israeli Prime Minister Benjamin Netanyahu issued a stark warning to Lebanon's Hezbollah, saying getting involved would be "the mistake of its life".
Palestinians gather at the site of Israeli strikes on a house in Khan Younis in the southern Gaza Strip. PHOTO: Reuters
The health ministry in Gaza said at least 80 people had been killed in the overnight raids on central Gaza which had destroyed more than 30 homes.
At the hospital morgue, an AFP journalist saw the bodies of many children on the bloodied floor, where distraught families wept as they identified the victims.
Among them was a man clutching his dead toddler and a young boy who pulled back a blanket over his little sister's body.
"My cousin was sleeping in his house with his daughter in his arms. He was a man with no record, nothing to do with the resistance," said Wael Wafi, gazing at the body of his cousin, his arm still wrapped around his three-year-old daughter Misk.
Also Sunday, the UN Agency for Palestinian Refugees (UNRWA) said that 29 of its staff had been killed since the start of the war in a statement on X, formerly Twitter, saying half of them were teachers. On Saturday it had given a toll of 17.
The scale of the bombing has left basic systems unable to function, with the UN saying dozens of unidentified bodies had been buried in a mass grave in Gaza City because cold storage had run out.
Meanwhile, an Israeli soldier was killed near the Gaza border by an anti-tank missile fired by Palestinian fighters inside the enclave, the army said.
French labour unions and organisations call for peace and an immediate ceasefire in Gaza during a demonstration at Place de la Republique in Paris. PHOTO: Reuters
Israeli Defence Minister Yoav Gallant warned the war with Hamas could take months.
"It will take one month, two months, three months, and at the end there will be no more Hamas," Gallant said.
A second convoy of 17 trucks of aid entered Gaza from Egypt on Sunday following an initial delivery of 20 trucks on Saturday after intensive negotiations and US pressure.
The UN humanitarian office said the volume of aid entering so far was just 4% of the daily average before the hostilities and a fraction of what was needed with food, water, medicines and fuel stocks running out.
Separately, an AFP journalist saw six trucks leaving Rafah after filling up from dwindling fuel stocks held at the crossing as the enclave faces catastrophic shortages after Israel cut off supplies of food, water, fuel and electricity.
It later resumed water supplies to the south on October 15.
Although Egyptian media said another 40 trucks would enter Gaza on Monday, the UN says the enclave needs 100 trucks per day to meet the needs of Gaza's 2.4 million residents.
And so far, there have been no deliveries of fuel, with UNRWA chief Philippe Lazzarini warning Sunday that supplies would run out "in three days".
"Without fuel, there will be no water, no functioning hospitals and.. aid will not reach many civilians in desperate need," he said.
The Hamas government meanwhile said 165,000 housing units — half of those in the entire Gaza Strip — had been destroyed in the raids.
With fears growing that the conflict could spread, Israel on Sunday admitted accidentally hitting an Egyptian border post, apologising for the incident which Cairo said had left an unspecified number of border guards with "minor injuries".
In the Israeli-occupied West Bank, two Palestinians were killed at the Jalazone refugee camp near Ramallah, the Palestinian health ministry said on Monday.
Meanwhile, there were fresh exchanges of fire over Israel's northern border with Lebanon as fears grew that Hezbollah, a close ally of Hamas and Iran, could enter the conflict, prompting Israel's Netanyahu to warn it would be "the mistake of its life".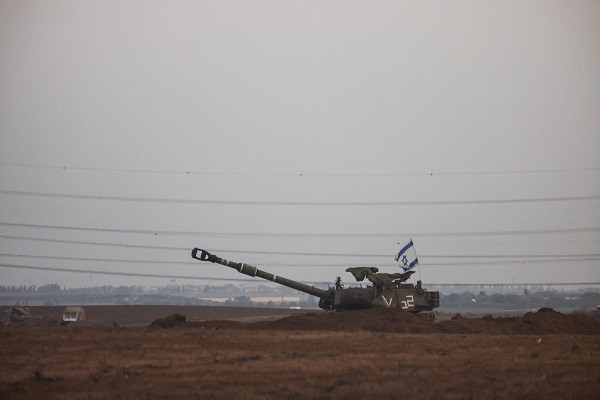 An Israeli flag flutters from a self-propelled howitzer near Israel's border with the Gaza Strip. PHOTO: Reuters
"We will strike it with a force it cannot even imagine, and the significance for it and the state of Lebanon will be devastating," he said.
Iran also warned about the conflict spreading on Sunday, with top diplomat Hossein Amir-Abdollahian cautioning that if Washington and Israel did not "immediately stop the crime against humanity and genocide in Gaza.. the region will go out of control".
But Washington also fired a shot across the bows of any actors looking to inflame the conflict, saying it wouldn't hesitate to act in the event of any "escalation".
"If any group or any country is looking to widen this conflict and take advantage of this very unfortunate situation that we see, our advice is: don't," US Defence Secretary Lloyd Austin said on ABC News.
On Sunday, Pope Francis used his weekly Angelus prayer in Rome to plead for an end to the bloodshed.
"War is always a defeat, it is a destruction of human fraternity. Brothers, stop!" he said.
He later held a 20-minute conversation with US President Joe Biden about "conflict situations in the world and the need to identify paths to peace", the Vatican said.
Biden later discussed with war with the leaders of Britain, Canada, France, Germany and Italy, the White House said.
Meanwhile, protesters hit the streets of several European capitals on Sunday with at least 10,000 people rallying in support of Israel in Berlin as Chancellor Olaf Scholz vowed to stamp out a resurgence of anti-Semitic incidents linked to the Israel-Hamas conflict.
And thousands rallied in Paris to demand an end to Israel's operation in Gaza in the first pro-Palestinian rally in the French capital that wasn't banned on security grounds.