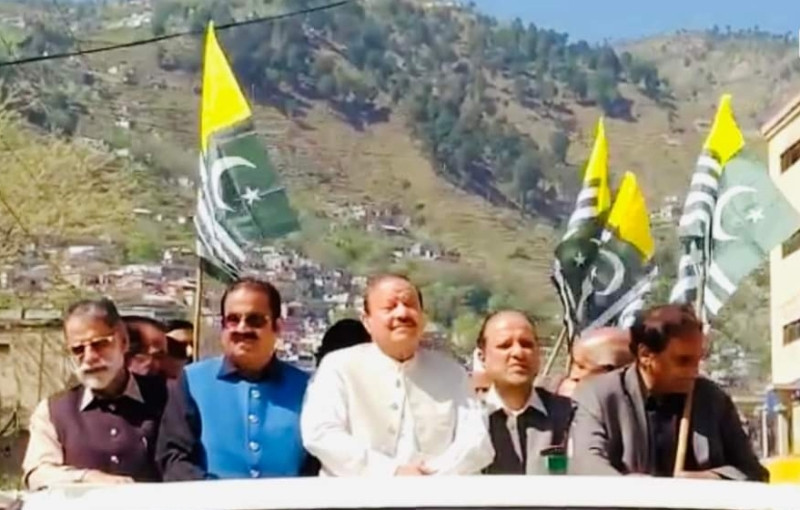 Kashmir Solidarity rally was taken out in Muzaffarabad to show solidarity with the people of Indian Illegally Occupied Jammu and Kashmir (IIOJK).
The rally was led by Azad Jammu and Kashmir Prime Minister Sardar Abdul Qayyum Khan Niazi, President Barrister Sultan Mahmood, Pakistan Peoples Party President Chaudhry Muhammad Yaseen, former prime minister Sardar Attique Ahamd Khan and the leaders of other political and religious parties.
The participants of the ally carried the banners and placards inscribed with the slogans like "we want freedom", and "stop human rights violations in occupied Kashmir".
The participants of the rally were also shouting pro-freedom and anti-India slogans "go India go back".
Read more: Kashmiri leaders urge UN to fulfill its obligations on longstanding dispute
While addressing the rally Prime Minister Niazi said that people of IIOJK want their birthright 'right of self-determination granted by the United Nations and accepted by the whole world including India.
"It is time for the implementation of long pending UN resolutions on IIOJK aimed to make the South Asia region peaceful," he added.
Premier Niazi further said that the Indian army is violating basic human rights while closing madrassas and locking down mosques that are interfering in the religious matters of the people of IIOJK. Global powers should come forward and put pressure on India to settle IIOJK once for all.
President Barrister Sultan while addressing the rally said that the world should give plebiscite to the people of IIOJK to decide about their political future.
He also appealed to the global human rights organisations to take the notice of rising human rights abuses in IIOJK.
Kashmir Solidarity rally is underway. PHOTO: EXPRESS
PPP AJK chapter president Yaseen said that the rally is an open message to the people of IIOJK that their brothers and sisters living in AJK are with them in their freedom struggle.
"State terrorism in IIOJK will never break the will of Kashmiris and freedom struggle will be continued till its logical end. The world must take the notice of the political leaders' killings and arrest of thousands of political and human rights activists in IIOJK, " he added.
Ex-PM of AJK Sardar Attique said that people in IIOJK are fighting for their basic rights and for this, they sacrificed more than one lakh people, thousands were sent to jails and one lakh children lost their parents.
"The global forums the United Nations and the European Union must use their office to put pressure on India to release all political prisoners in IIOJK," he added.
The other speakers also appealed to the Organisation of Islamic Conference (OIC) and world human rights bodies to come forward and take the notice of the sufferings of IIOJK people.



Source link