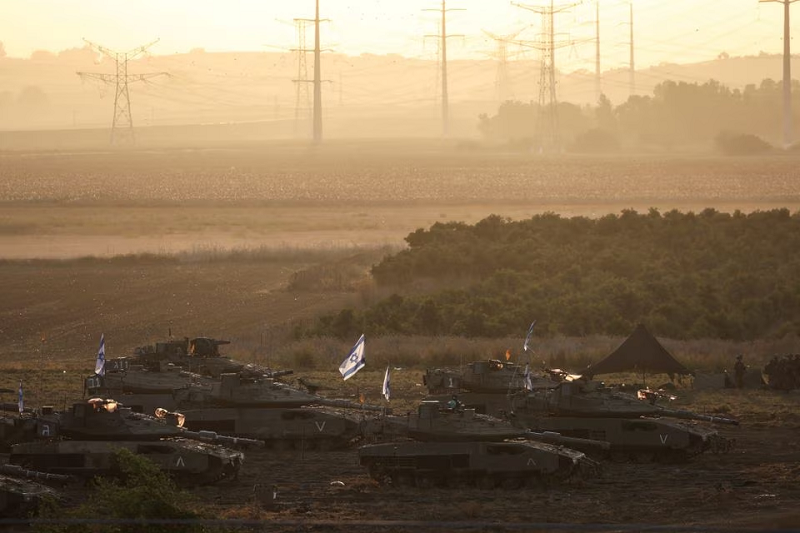 JERUSALEM/
GAZA:

Israeli Defence Minister Yoav Gallant told troops gathered at the Gaza border on Thursday that they will soon see the Palestinian enclave "from inside", suggesting an expected ground invasion with the aim of annihilating Hamas could be nearing.
Israel pounded Gaza with more air strikes following the Oct. 7 rampage by Hamas gunmen who killed 1,400 Israelis, as British Prime Minister Rishi Sunak followed US President Joe Biden with a visit to demonstrate Western support for the war against Hamas fighters.
Israel has responded to the deadliest attack in its 75-year history by vowing to destroy Hamas, putting the entire Gaza Strip's 2.3 million people under a total siege, and bombarding the enclave in strikes that have killed thousands and made more than a million homeless.
In Gaza's north, footage obtained by Reuters from the Jabaliya refugee camp showed residents digging with their bare hands inside a damaged building to free a small boy and girl trapped under masonry. The body of a man was pulled out as residents tried to light up the site with their mobile phones.
Meanwhile, Egypt took steps to let in aid with first deliveries not expected before Friday, amid deteriorating conditions.
"You see Gaza now from a distance, you will soon see it from inside. The command will come," Gallant told soldiers. Troops were not expected to enter while foreign leaders were visiting.
Gallant also said the battle will be long and hard.
Shortly after Gallant's statement, Israeli Prime Minister Benjamin Netanyahu issued a video of himself with troops near the border promising victory.
Sunak, who landed in Tel Aviv hours after Biden left, told Israelis: "You have suffered an unspeakable, horrific act of terrorism and I want you to know that the United Kingdom and I stand with you."
Biden flew home on Wednesday night after an eight-hour visit, having pledged to stand with Israel but achieving only limited success in his mission to get aid to Gaza.
Read also: Trip to Israel ties Biden and US to any Gaza offensive
The second half of his itinerary – a planned meeting with Arab allies – was called off in response to a blast at a Gaza hospital, which Palestinians called an Israeli air strike but Israel said was caused by a failed rocket launch by fighters. Biden backed the Israeli account.
Biden said he had secured a deal to allow 20 aid trucks to reach Gaza from Egypt in the coming days, still a fraction of the 100 per day that UN aid chief Martin Griffiths told the Security Council were needed.
Two Egyptian security sources said equipment was sent on Thursday through the crossing to repair roads on the Gaza side for aid to cross. More than 100 trucks were waiting on the Egyptian side although none was expected to cross before Friday.
Israel said it would allow limited aid to reach Gaza from Egypt, but only provided none of it benefited Hamas. It repeated its position that it will open its own checkpoints to let in aid only when all of the more than 200 hostages captured by the gunmen were set free.
The bombing and anticipated ground invasion has heightened fears of the conflict spreading. Iran-backed Lebanese group Hezbollah said it fired rockets at an Israeli position in the village of Manara on Thursday and drew an Israeli artillery barrage in response, in the latest exchange in the worst escalation in violence on the border in 17 years.
The Israeli military said at least 20 rockets and an anti-tank missile had been fired from Lebanon.
Eight Palestinians were killed in clashes with Israeli forces in the Nur Shams refugee camp in the West Bank city of Tulkarm, the Palestinian Red Crescent said on Thursday.
'They killed children!'
According to Palestinian health officials, the toll from Israeli strikes on Gaza has risen to more than 3,500 dead and more than 12,000 wounded.
In Khan Younis in the southern Gaza Strip men rushed to the main Nasser hospital carrying dead and wounded children in their arms, in ambulances and the back of a flatbed truck after a bomb struck a house in broad daylight.
Medics said four people were killed and many wounded, mainly displaced children from northern Gaza who had been playing soccer in a lot next door.
"I saw body parts, dismembered children, what shall I describe to you?" said Hassan Al-Hindi, a neighbour who saw the strike. "They killed children," he cried.
Gaza residents scoffed at the gesture of promising just 20 truckloads of aid for 2.3 million people cut off from food, water, fuel and medical supplies.
"We want nothing from Arab and foreign countries except to stop the violent bombardment on our houses," said El-Awad El-Dali, 65, speaking near ruined homes.
Read: At least 3,478 Palestinians killed by Israel as aid remains stuck on border
In another area, a shopping district was reduced to rubble, with a toddler's pink cot overturned on the ground, windows blown off a clothing store and damaged vehicles.
"I'm over 70 years old, I've lived through several wars, it's never been like this," said Rafat Al-Nakhala, who had come there after obeying Israel's order for civilians to flee Gaza City in the north.
The United Nations says around half of Gazans have been made homeless, still trapped inside the enclave, one of the most densely populated places on earth.
Their plight has enraged the Middle East, making it harder for Biden and other Western leaders to rally Arab allies to prevent the war from spreading.
Before Biden left, he made a plea for Israelis to rein in their wrath: "While you feel that rage, don't be consumed by it. After 9/11, we were enraged in the United States. And while we sought justice and got justice, we also made mistakes."