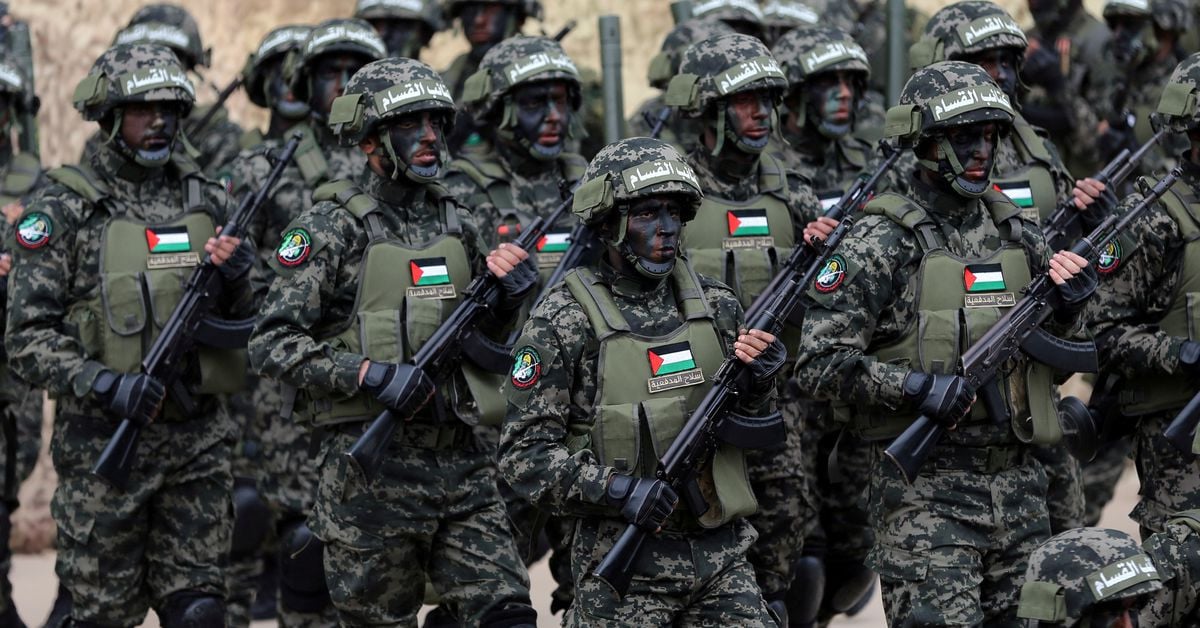 How Hamas aims to trap Israel in Gaza quagmire
Hamas has prepared for a long, drawn-out war in the Gaza Strip and believes it can hold up Israel's advance long enough to force its arch-enemy to agree to a ceasefire, two sources close to the organization's leadership said.
Hamas has stockpiled weapons, missiles, food and medical supplies, according to people who declined to be named due to the sensitivity of the situation. The group is confident its thousands of fighters can survive for months in a city of tunnels carved deep beneath the Palestinian enclave and frustrate Israeli forces with urban guerrilla tactics, the people told Reuters.
Ultimately, Hamas believes international pressure for Israel to end the siege, as civilian casualties mount, could force a ceasefire and a negotiated settlement that would see the militant group emerge with a tangible concession such as the release of thousands of Palestinian prisoners in exchange for Israeli hostages, the sources said.
The group has made it clear to the US and Israel at indirect, Qatar-mediated hostage negotiations that it wants to force such a prisoner release in exchange for hostages, according to four Hamas officials, a regional official, and a person familiar with the White House's thinking.
Longer term, Hamas has said it wants to end Israel's 17-year blockade of Gaza, as well as to halt Israeli settlement expansion and what Palestinians see as heavy-handed actions by Israeli security forces at the al-Aqsa mosque, the most sacred Muslim shrine in Jerusalem.
Read Israel strikes ambulance in Gaza City, many reported killed
On Thursday, UN experts called for a humanitarian ceasefire in Gaza, saying Palestinians there were at "grave risk of genocide". Many experts see a spiraling crisis, with no clear endgame in sight for either side.
"The mission to destroy Hamas is not easily achieved," said Marwan Al-Muasher, Jordan's former foreign minister and deputy prime minister who now works for the Carnegie Endowment for International Peace in Washington.
"There is no military solution to this conflict. We are in some dark times. This war is not going to be short."
Israel has deployed overwhelming aerial firepower since the Oct. 7 attack. The Gazan death toll has surpassed 9,000, with every day of violence fuelling protests around the world for the plight of more than 2 million Gazans trapped in the tiny enclave, many without water, food or power. Israeli airstrikes hit a crowded refugee camp in Gaza on Tuesday, killing at least 50 Palestinians.
Israeli Prime Minister Benjamin Netanyahu vows to wipe out Hamas and has rejected calls for a ceasefire. Israeli officials say they're under no illusions about what may lie ahead.
The country has braced itself for a "long and painful war", said Danny Danon, a former Israeli ambassador to the UN and ex-member of the Knesset foreign affairs and defense committee.
"We know at the end that we will prevail and that we will defeat Hamas," he told Reuters. "The question will be the price, and we have to be very cautious and very careful and understand that it's a very complex urban area to maneuver."
The United States has said now is not the time for a general ceasefire, though says pauses in hostilities are needed to deliver humanitarian aid.
Hamas 'fully prepared'
Adeeb Ziadeh, a Palestinian expert in international affairs at Qatar University who has studied Hamas, said the group must have had a longer-term plan to follow its assault on Israel.
"Those who carried out the Oct. 7 attack with its level of proficiency, this level of expertise, precision and intensity, would have prepared for a long-term battle. It's not possible for Hamas to engage in such an attack without being fully prepared and mobilized for the outcome," Ziadeh told Reuters.
Washington expects Hamas to try to bog Israeli forces down in street-by-street combat in Gaza and inflict heavy enough military casualties to also Israeli public support for a drawn-out conflict, said the source familiar with the White House's thinking, who asked to remain anonymous to speak freely.
Read more Hezbollah tells US to halt Israel's Gaza attack to prevent regional war
Israeli officials have nonetheless stressed to their American counterparts that they're prepared to confront Hamas' guerrilla tactics as well as withstand international criticism of their offensive, according to the person. Whether the country has the capability to eliminate Hamas or merely severely degrade the organization remains an open question, the source added.
Hamas has about 40,000 fighters, according to the sources at the group. They can move around the enclave using a vast web of fortified tunnels, hundreds of kilometers long and up to 80 meters deep, built over many years.
On Thursday, fighters in Gaza were seen emerging from tunnels to fire at tanks, then disappearing back into the network, according to residents and videos.
The Israeli military says soldiers from its Yahalom special combat engineering unit have been working with other forces to locate and destroy tunnel shafts, during what a spokesman called a "complex urban fight" in Gaza.
Hamas has fought a series of wars with Israel in recent decades and Ali Baraka, the Beirut-based head of Hamas' External Relations, said it had gradually improved its military capabilities, particularly its missiles. In the 2008 Gaza war, Hamas rockets had a maximum range of 40 km (25 miles), but that had risen to 230 km by the 2021 conflict, he added.
"In every war, we surprise the Israelis with something new," Baraka told Reuters.
An official close to the Iranian-backed Lebanese movement Hezbollah, which is allied to Hamas, said the Palestinian group's fighting strength remained mostly intact after weeks of bombardment. Hezbollah has a joint military operation room in Lebanon with Hamas and other allied factions, according to Hezbollah and Hamas officials.