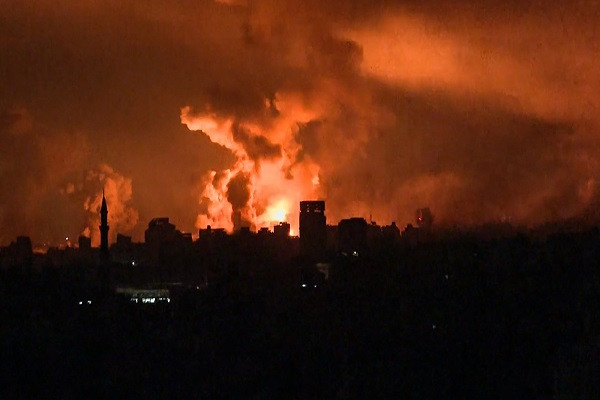 GAZA:

Battles raged in Gaza on Saturday as Israel's army said it expanded ground operations after intensifying its bombardment of the besieged Palestinian enclave three weeks after the Hamas carried out a raid in Israel.
The Palestinian health ministry in the Gaza Strip said Friday that Israeli strikes had now killed 7,326 people, more than 3,000 of them children.
The United Nations warned of a looming "unprecedented avalanche of human suffering" inside the Gaza Strip, after weeks of relentless Israeli bombing, while the General Assembly called for an "immediate humanitarian truce".
The first footage of Gaza earlier this morning.

Footage shows the sounds of fighting in the eastern Gaza Strip after a long night of bombing. pic.twitter.com/haFX4Ptv6o

— Clash Report (@clashreport) October 28, 2023
"We are confronting an Israeli ground incursion in Beit Hanoun (in the northern Gaza Strip) and east Bureij (in the centre) and violent engagements are taking place on the ground," Hamas's armed wing the Ezzedine al-Qassam Brigades said.
Israeli military spokesman Major Nir Dinar told AFP: "Our troops are operating inside Gaza as they did yesterday."
With tens of thousands of troops massed along the Gaza border ahead of an expected full-blown invasion, Israeli forces had also made limited ground incursions on Wednesday and Thursday nights.
"The ground forces are extending the ground operations tonight," military spokesman Daniel Hagari said late Friday.
The Israeli army said it had increased its strikes "in a very significant way", while the Ezzedine al-Qassam Brigades said on Telegram it responded with "salvos of rockets".
In overnight raids, Israeli fighter jets hit 150 "terror tunnels, underground combat spaces and additional underground infrastructure" and "several Hamas terrorists were killed", the army claimed on Saturday morning.
This image grab from an AFP TV footage shows fire and smoke rising above Gaza City during relentless Israeli strikes. PHOTO: AFP
AFP live footage had shown air strike after air strike light up the night sky of northern Gaza late Friday as thick black smoke clouded the horizon.
In a bombed-out street in the Tal al-Hawa neighbourhood, 50-year-old Om Walid Basal said her apartment block had been destroyed by Israel.
"This was our house. We lived here just with our children. It was full of children," she said. "Why are they bombing us? Why are they destroying our homes?"
Hamas insisted it was "ready" for an invasion.
"If (Prime Minister Benjamin) Netanyahu decides to enter Gaza tonight, the resistance is ready," Ezzat al-Rishaq, a senior member of the Hamas political bureau, said on Telegram on Friday.
"The remains of his soldiers will be swallowed up by the land of Gaza."
Hamas said all internet connections and communications across Gaza had been cut, and accused Israel of taking the measure "to perpetrate massacres with bloody retaliatory strikes from the air, land and sea".
Human Rights Watch also warned the near-total telecommunications blackout in Gaza risks providing cover for "mass atrocities".
The Palestinian Red Crescent said the communications outage had disrupted ambulance services.
"We have completely lost contact with the operations room in the Gaza Strip and all our teams operating there," it said on X, formerly Twitter.
Lynne Hastings, the UN humanitarian coordinator for the Palestinian territories, also stressed on X that "hospitals & humanitarian operations can't continue without communications".
Scotland's First Minister Humza Yousaf, whose inlaws are trapped in Gaza, voiced alarm at the communications shutdown.
"Telecommunications have been cut. We can't get through to our family who have been trapped in this war zone for almost 3 weeks," he wrote on X.
"We can only pray they survive the night."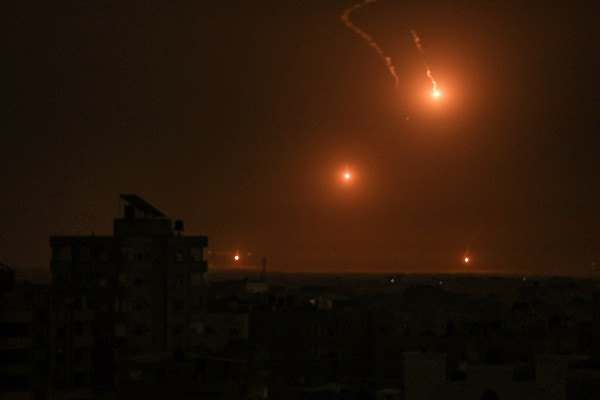 Flares fired by the Israeli army light up the sky east of Khan Yunis in the southern Gaza Strip. PHOTO: AFP
The reports of ground fighting came after the UN General Assembly called on Friday for an "immediate humanitarian truce" in Gaza.
The non-binding resolution received overwhelming support, with 120 votes in favour, 14 against and 45 abstentions.
"Today the General Assembly declared a call: stop the war," the Palestinian ambassador to the UN, Riyad Mansour, told reporters at the United Nations headquarters in New York.
It was also welcomed by Hamas, but it was harshly criticised by Israel and the United States for failing to mention Hamas, with Israeli ambassador Gilad Erdan calling it an "infamy".
Washington had earlier said it supports a "humanitarian pause" so aid can get into Gaza.
Israel's bombardment has displaced more than 1.4 million people inside the crowded territory, according to the UN, even as supplies of food, water and power to Gaza have been almost completely cut off.
And Israel has blocked all deliveries of fuel, saying it would be exploited by Hamas to manufacture weapons and explosives.
UN Secretary-General Antonio Guterres warned that misery was "growing by the minute".
"I repeat my call for a humanitarian ceasefire, the unconditional release of all hostages, and the delivery of life-saving supplies," Guterres said.
"Without a fundamental change, the people of Gaza will face an unprecedented avalanche of human suffering."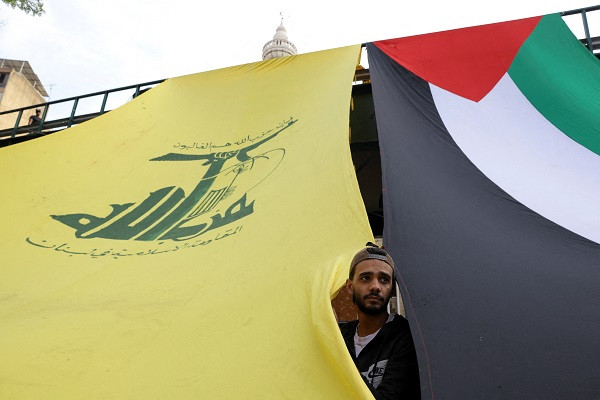 Hezbollah supporters protest in solidarity with Palestinians in Gaza. PHOTO: Reuters
The UN agency for Palestinian refugees, UNRWA, has cautioned that "many more will die" in Gaza from catastrophic shortages.
"People in Gaza are dying, they are not only dying from bombs and strikes, soon many more will die from the consequences of (the) siege," said UNRWA chief Philippe Lazzarini.
A first tranche of critically needed aid was allowed in last weekend, but only 74 trucks have crossed since then. The UN says an average of 500 trucks entered Gaza every day before the conflict.
"These few trucks are nothing more than crumbs that will not make a difference," Lazzarini said.
Between the bombardments and the fuel shortages, 12 of Gaza's 35 hospitals have been forced to close, and UNRWA said it has had to "significantly reduce its operations".
Israel's military accused Hamas of using hospitals in Gaza as operations centres for directing attacks, an allegation Hamas swiftly denied.
The growing toll in Gaza has spurred demonstrations in the occupied West Bank and across the Muslim world, but also in a number of Western countries.
Late Friday, hundreds of people were arrested when police broke up a large demonstration of mostly Jewish New Yorkers who had taken over the main hall of Grand Central station to protest Israel's bombardment of Gaza and demanding a ceasefire.
Violence has also risen sharply in the occupied West Bank since the October 7 attacks, with more than 100 Palestinians killed and nearly 2,000 wounded, according to the UN.