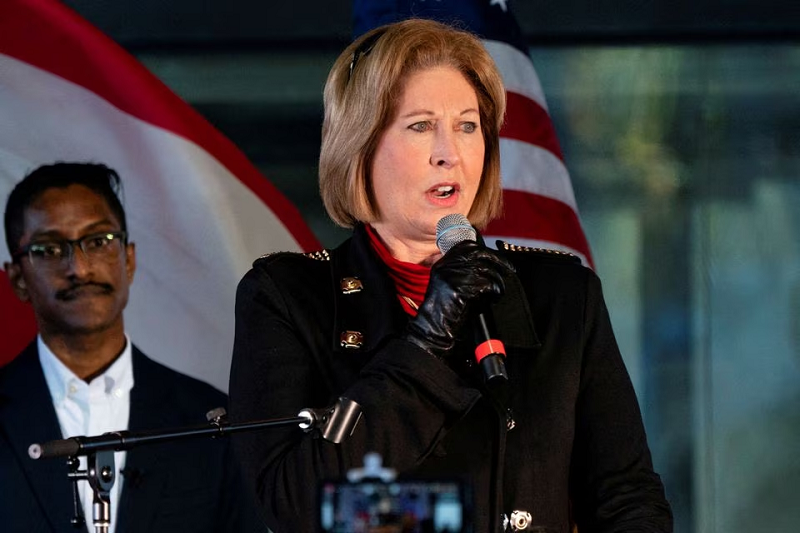 Ex-Trump lawyer Powell pleads guilty, may testify in Georgia case

WASHINGTON:

A former lawyer for Donald Trump on Thursday pleaded guilty to aiding the former US president's efforts to overturn his election defeat in the state of Georgia, agreeing to testify against him if called.
The lawyer, Sidney Powell, pleaded guilty to six counts of conspiracy to commit intentional interference with performance of election duties, a misdemeanour charge. She agreed to testify against Trump and the other 16 co-defendants in the case if prosecutors ask her too.
The Georgia case is one of four concurrent criminal cases that Trump, the frontrunner for the 2024 Republican presidential nomination, is facing, and one of two specifically focused on his attempts to overturn his election defeat. Trump continues to falsely claim his loss was the result of fraud.
Powell's plea came just days before she was set to go to trial beginning on Monday on charges including racketeering and conspiracy to commit election fraud.
A lawyer for Powell did not immediately return a request for comment.
Trump has pleaded not guilty to a sweeping Fulton County, Georgia, indictment charging him with violating the state's Racketeer Influenced and Corrupt Organizations, or RICO, act in his efforts to overturn his loss to Democratic President Joe Biden.
Powell admitted to plotting to unlawfully access secure election machines in rural Coffee County in southeastern Georgia in January 2021. The plea agreement calls for her to be sentenced to six years of probation.
Read also: Trump pleads not guilty to Georgia election subversion charges
Powell's guilty plea is a significant victory for Fulton County District Attorney Fani Willis, whose team has now gained the cooperation of a lawyer closely tied to Trump's efforts to reverse his election defeat.
Powell represented Trump following the 2020 presidential election and helped spread his false claims that the election had been marred by widespread voter fraud. She famously threatened to "release the kraken," a mythological sea monster.
Prosecutors said Powell and other co-defendants tampered with electronic ballot markers and accessed data belonging to Dominion Voting Systems, the voting machine company that Powell and other Trump allies falsely claimed helped rig the election against Trump.
Powell's attorneys contested the charges in legal motions ahead of trial, arguing that access to voting equipment in Coffee County had been authorized.
Powell was scheduled to be tried alongside Kenneth Chesebro, another lawyer who assisted Trump following the election.
If Chesebro goes ahead with trial, Trump could gain a strategic advantage in preparing for his own upcoming Georgia trial, since his attorneys would get a preview of much of the case against him.