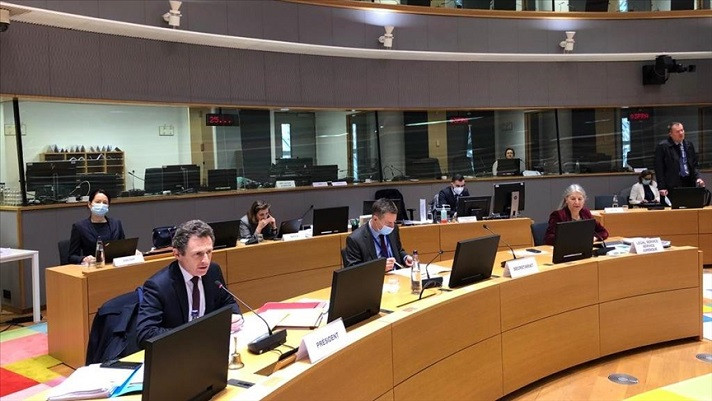 [ad_1]
EU ambassadors on Wednesday agreed to put sanctions on Belarusian officials and military leaders "involved in the Russian aggression against Ukraine," the French Presidency of the Council of the European Union said.
In a Twitter post, it said that "certain sectors of the Belarusian economy, in particular wood, steel and potash sectors" will also be hit by the bloc's new restrictive measures.
🔴#Ukraine | COREPER II just approved new sanctions against :
📌Belarusian officials and military involved in the Russian aggression against Ukraine ⤵️ 1/2 #EU2022FR pic.twitter.com/7bxfWbwEUA
— Présidence française du Conseil de l'UE 🇫🇷🇪🇺 (@Europe2022FR) March 2, 2022
EU capitals have yet to officially approve the decision which is expected in a short time.
The new sanctions will add up to the restrictive measures that the bloc has imposed against Belarus over human rights violations related to a crackdown on protests against alleged rigged elections of August 2020.
On Tuesday, the European Parliament called on EU member states to exclude Belarus as well from the SWIFT international banking system after the bloc adopted similar measures on certain Russian banks.
Also read: Russia warns Kyiv as Ukraine's cities shelled
Since Russia's war on Ukraine began last Thursday, it has been met by outrage from the international community, with the EU, UK, and US implementing a range of economic sanctions on Russia.
At least 136 civilians, including 13 children, have been killed and 400 others, including 26 children, injured in Ukraine, according to UN figures.
Nearly 680,000 people have fled Ukraine to neighbouring countries, the international body said on Tuesday.
The EU adopted last week three sanctions packages against Russia, targeting among others Russian President Vladimir Putin, Foreign Minister Sergey Lavrov, the Russian banking sector, and key state-owned companies.

[ad_2]
Source link