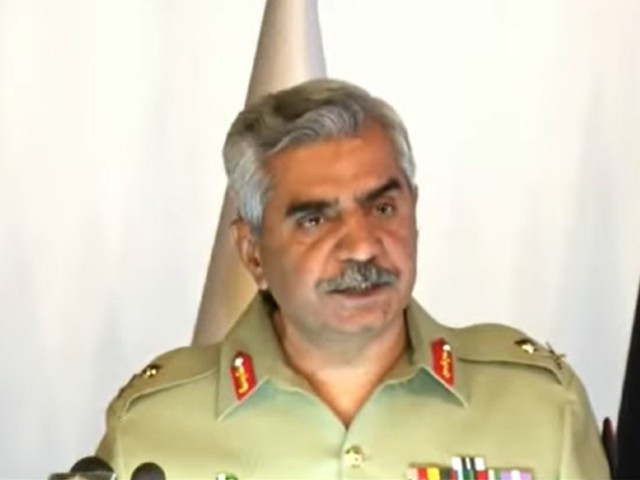 Reiterating earlier stance that the army has nothing to do with the politics in the country, Director-General Inter-Services Public Relations (ISPR) Major General Babar Iftikhar urged not to speculate in this regard.
"It is better for all of us to avoid unnecessary speculation on this matter," the military's top spokesperson said while addressing a news conference on Thursday.
Read more: Constitution mandates army to stand by govt: Fawad
He said that this had been the stance of the Pakistan Army and "will continue to be its stance", urging everyone to avoid speculation.
DG ISPR Press Conference – 10 March 2022 https://t.co/W5HTbFll3V
— DG ISPR (@OfficialDGISPR) March 10, 2022
The statement comes a few hours after Federal Minister for Information and Broadcasting Chaudhry Fawad Hussain painted the top opposition leadership as anti-army and linked their no-confidence motion to their long-standing unfulfilled desire to have political control over the institution.
"Under the constitutional scheme," the government's spokesperson while replying to a question said, "The army always stands by the sitting government."
The army has to obey the Constitution, he added.
Fawad's news conference was loaded with video clips and news stories that, apparently, conveyed that the opposition leadership had issued anti-army statements in the past and their attacks continued till the recent past.
During the presser, the DG ISPR revealed that an unarmed "high-speed flying object" was fired from India's Sirsa area into Pakistan that landed in Punjab province's Mian Chunnu on Wednesday.
Also read: Do not drag the military into politics: DG ISPR
He said that the object destroyed the wall of a building but no casualties on the Pakistani side was reported, condemning the Indian side for its careless approach that had endangered lives on both sides of the border.
"Whatever caused this to happen, it is for the Indian to explain… it reflects very poorly on their part and could have resulted in a disaster," he added.
Terming the object a supersonic missile, he said that a detailed inquiry is underway and further details will be provided soon but added that the object was definitely unarmed.
"This [the object] was 100 kilometres inside India but we had picked it up… when its trajectory shifted towards Pakistan, our tactical and technical procedures were put in place… we knew from where it started [its flight] and where it was going to fall… as soon as it fell our forces reached the spot and later Pakistan Air Force took over… we had detected the object in a timely manner," he added.
More to come…



Source link