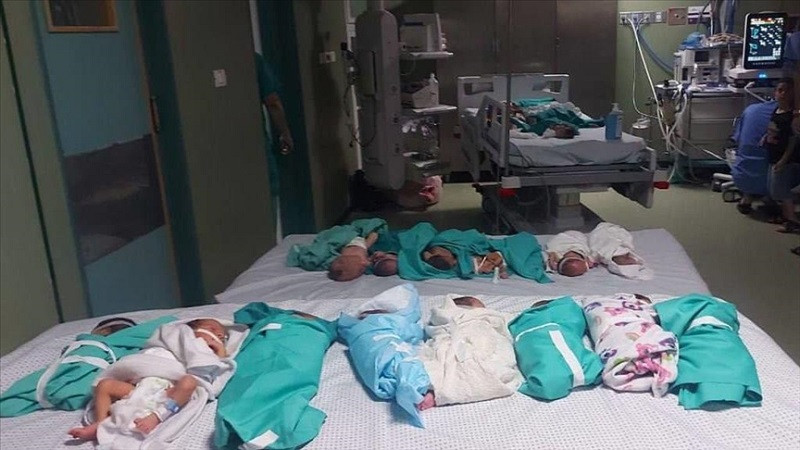 Al-Shifa evacuation process starts after Israel's 1-hour deadline

GAZA:

Patients, medical staff, and civilians seeking refuge at the Al-Shifa Medical Complex in Gaza began evacuating from the hospital on Saturday following a one-hour deadline imposed by the Israeli army, according to the facility's director.
"But about 120 patients who are unable to walk will remain in the hospital due to their injuries, while five medical staff will take care of them," Muhammad Abu Salmiya told Anadolu.
He added that Al-Shifa Hospital is coordinating with the UN and that these patients would also be evacuated later once the necessary arrangements are complete.
"Thirty premature babies are also at the hospital," said the director, who noted that hospital authorities were also coordinating with the Red Cross to secure their departure.
Abu Salmiya also said that Israeli troops had destroyed Al-Shifa Hospital's oxygen stations, water lines, and drug stores.
For its part, the Israeli army claimed in a statement that it "did not request the evacuation of patients and medical staff," but that it "responded to the request of the hospital director to allow the displaced Gazans to head to the south through a secured road."
A Palestinian medical source told Anadolu earlier on Saturday that the Israeli army had given the administration at Al-Shifa Hospital an hour to evacuate the hospital of patients, displaced persons, and medical staff.
The source added that the army "continues to besiege the hospital," while "combing, searching and digging operations inside the hospital" were also ongoing.
Separately, the Health Ministry in Gaza said in a statement that "no food or water supplies have entered Al-Shifa Hospital in eight days," confirming that 51 patients have so far died since the Israeli assault on the facility began, including four premature babies.
The ministry stated Al-Shifa "has become completely isolated from the world due to the loss of communications."
"Patients are starving and the accumulated garbage poses a new threat to those trapped in the hospital," it added.
Khan Younis evacuation orders
Reuters reported that Israel issued a fresh warning to Palestinians in the southern city of Khan Younis to relocate west 'out of the line of fire' and closer to humanitarian aid, in the latest indication that it plans to attack Hamas in south Gaza after subduing the north.
"We're asking people to relocate. I know it's not easy for many of them, but we don't want to see civilians caught up in the crossfire," Mark Regev, an aide to Israeli Prime Minister Benjamin Netanyahu, told MSNBC on Friday.
Read Israel-Hamas conflict: Gaza's Al Shifa hospital has tanks at its gates
Such a move will compel hundreds of thousands of Palestinians who fled south from the Israeli assault on Gaza City to relocate again, along with residents of Khan Younis, worsening a dire humanitarian crisis.
Khan Younis has a population of more than 400,000.
Israel vowed to annihilate the resistance group Hamas that controls the Gaza Strip following an October 7 rampage into Israel in which 1,200 people were killed, as per the latter's revised figures, and 240 taken as hostages into the enclave.
Since then, Israel has bombed much of Gaza City to rubble and killed over 12,000 people – 5,000 of them children – ordered the depopulation of the entire northern half of the enclave and left homeless around two-thirds of the strip's 2.3 million Palestinians.
Many of those who have fled fear their displacement could become permanent.
The United Nations deems Gaza death toll figures credible, though they are now updated infrequently due to the difficulty of collecting information.
Israel dropped leaflets over eastern areas of Khan Younis telling people to evacuate to shelters, suggesting that military operations there are imminent.
Regev said that Israeli troops will have to advance into the city to oust Hamas fighters from underground tunnels and bunkers, but that no such "enormous infrastructure" exists in less built-up areas to the west.
"I'm pretty sure that they won't have to move again" if they move west, he continued. "We're asking them to move to an area where hopefully there will be tents and a field hospital."
Because the western areas are closer to the Rafah border crossing with Egypt, humanitarian aid could be brought in "as quickly as possible," he said.
Fuel deliveries
With the war entering its seventh week, there was no sign of any let-up despite international calls for a ceasefire or at least for humanitarian pauses.
"We have prepared ourselves for a long and sustained defence from all directions. The more time the occupation's forces stay in Gaza, the heavier their continuous losses," Abu Ubaida, Hamas armed wing spokesman, said in a video statement.
Fresh violence flared in the occupied West Bank, with at least five Palestinians killed and two injured in an Israeli strike on a building in the Balata refugee camp in the central city of Nablus, the Palestinian Red Crescent ambulance service said early on Saturday.
There was no immediate comment from the Israeli military.
Amid warnings that its siege would cause starvation and disease, Israel on Friday appeared to bow to international pressure, agreeing to allow fuel trucks into Gaza and promising "no limitation" on aid requested by the United Nations.
Israel said it would allow two truckloads of fuel a day at the request of Washington to help the United Nations meet basic needs, and spoke of plans to increase aid more broadly.
"We will increase the capacity of the humanitarian convoys and trucks as long as there is a need," Colonel Elad Goren, from COGAT, the ministry of defence agency that coordinates administrative issues with the Palestinians, told a briefing.
While Israel has promised to allow in aid in the past, the remarks appeared to signal a shift in tone after UN agencies warned that humanitarian conditions in Gaza were rapidly deteriorating, including a stark warning from the World Food Programme of the "immediate possibility of starvation".
The White House said in a post on X, formerly known as Twitter, that it was "glad" that Israel had agreed to the fuel deliveries and that they should "continue on a regular basis and in larger quantities".
Read more Hamas fighters seek to block Israeli advance on Gaza City
At Gaza's biggest hospital, Al Shifa, Israel claimed its forces had found in two days of searching a vehicle with a large number of weapons and an underground structure it called a Hamas tunnel shaft.
However, the credibility of the evidence released by the Israeli military has been greatly questioned.
The facility has been a primary target of Israel's ground assault and a focus of international alarm over the deepening humanitarian crisis.
The army released a video it said showed a tunnel entrance in an outdoor area of the hospital, littered with concrete and wood rubble and sand. It appeared the area had been excavated. A bulldozer appeared in the background.
Israel has long maintained that the hospital sat above a vast underground bunker housing a Hamas command headquarters. Hospital staff say this is false and that Israel's findings there have so far established no such thing.
Hamas denies using hospitals for military purposes. It says some hostages have received treatment at medical centres but they have not been held inside them.
Baby, hostage die
Al Shifa staff said a premature baby died at the hospital on Friday, the fourth baby to die there in the days since Israeli forces' much controversial raids on it.
Hamas also announced the death of a captive from Israel, an 85-year-old it said died of a panic attack during an air strike.
In Modiin, Israel, family held a funeral for Noa Marciano, 19, an Israeli army conscript whose body the Israeli military claims to have recovered from Gaza City near Shifa hospital on Thursday. She had been abducted from a military base during the October 7 Hamas onslaught.
The military said it had also recovered the body of Yehudit Weiss, 65, a mother of five who was seized from Kibbutz Be'eri.
Russian news agencies quoted Russia's Emergencies Ministry as saying 170 Russian citizens on Friday crossed from Gaza into Egypt, part of a group of some 200 people that made their way out.
With additional reporting from Reuters and Anadolu Agency