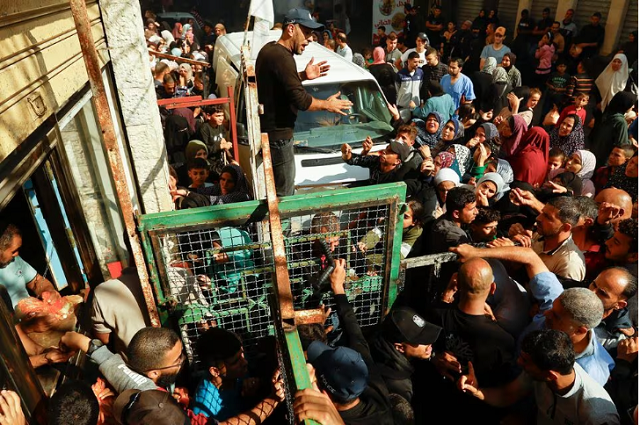 Al-Shifa a 'death zone', says WHO as Israel pounds Gaza Strip
The Israeli onslaught against the people of Gaza continued for the 44th consecutive day on Sunday with hospitals in the narrow enclave ceasing to function amid bombardment on refugee camps and United Nations-run schools. 
The World Health Organization described Gaza's largest hospital Al-Shifa as a "death zone" announcing plans to evacuate the last remaining patients while the Israeli army said it was expanding operations to destroy Hamas. 
Meanwhile, Israeli bombardment targetting hospitals, refugee camps, schools and residential areas in north and south Gaza is ongoing round the clock allowing for no respite even as Hamas fighters continue to resist. 
At least 31 Palestinians were killed in separate strikes at the Nuseirat refugee camp and another refugee camp, reported Al Jazeera. Besides, dozens of people, including children, were killed in Israeli air attacks on UN-run schools in northern Gaza, including the Al-Fakhoora school in the Jabalia refugee camp and a school in Tall Az-Zaatar. 
Over 12,300 Palestinians, including at least 5,000 children, have been killed in the Gaza Strip since October 7 by Israel's relentess air and ground military campaign while thousands have been injured and displaced. 
The fresh wave of Israeli atrocities against the Palestinian people commenced after Hamas launched a surprise attack on October 7, which Israel claims led to the deaths of 1,200 Israelis and captivity of around 240 people.
The war in beseiged Gaza has gone on for over a month despite growing calls for a ceasefire. Health facilities, essential services and basic necessities including food, water, electricity and fuel remain depleted resulting in a dire humanitarian situation. Thousands of Gazans have been displaced as the Israeli army continues its calls for evacuation. 
Read Over 80 dead in Israeli strikes on Gaza camp
The UN says some 1.6 million people have been displaced inside the Gaza Strip by six weeks of fighting.
'Death Zone'
WHO's assesment of Al-Shifa Hospital came after a visit by its teams along with other UN officials following an Israeli raid at the hospital earlier this week.
On Sunday, the WHO described the hospital as a "death zone", with a mass grave at the entrance and nearly 300 patients left inside with 25 health workers.
It said it was planning "the immediate evacuation of the remaining patients, staff and their families", warning, however, that nearby facilities were already overstretched and urging an immediate ceasefire given the "extreme suffering of the people of Gaza".
AP news agency quoted Medhat Abbas, a spokesperson for the Palestinian health ministry as stating that 30 premature babies were evacuated from the hospital.
On Saturday, hundreds of people fled the hospital on foot on orders from the Israeli army, according to the facility's director.
Israeli forces had ordered doctors, patients and displaced people at Al-Shifa Hospital on Saturday to evacuate the medical compound, forcing some to leave by gunpoint, according to doctors and Palestinian officials.
Columns of sick and injured – some of them amputees – were seen leaving with displaced people, doctors and nurses, as loud explosions were heard around the complex.
At least 15 bodies, some in advanced stages of decomposition, were strewn along the route, lined with heavily damaged shops and overturned vehicles, an AFP journalist there said.
Non-government group Doctors without Borders said a convoy carrying its staff and family members came under attack Saturday while evacuating from near Al-Shifa, despite coordinating with both sides. One person was killed.
The WHO said 29 patients at the hospital with serious spinal injuries cannot move without medical assistance, and others have infected wounds due to lack of antibiotics.
There are also 32 babies in "extremely critical condition," WHO said.
In Khan Younis, where an explosion was heard on Sunday afternoon, according to Al-Jazeera, the Al-Amal Hospital has been running without electricity and water for at least six days. 
The situation in the south of the territory is similar to the situation in the north. Israel keeps pounding the southern areas of the Gaza Strip.
The Palestinian health ministry reported over 80 people killed on Saturday in twin strikes on a northern refugee camp, including a UN school sheltering displaced persons.
Social media videos verified by AFP showed bodies covered in blood and dust on the floor of a building where mattresses had been wedged under school tables, in Jabalia, the Palestinian territory's biggest refugee camp.
Read More Palestinians report Israeli abuse amid West Bank arrests
Philippe Lazzarini, head of the UN agency for Palestinian refugees UNRWA, described "horrifying images" from the incident, while Egypt called the bombing a "war crime" and "a deliberate insult to the United Nations".
UNRWA further said that the people in Gaza are facing a severe shortage of clean water expounded by depletion of fuel. 
Without full amount of fuel:
🔺People only have 2/3 daily needs of clean drinking water
🔺#Gaza will be flooded with sewage- increasing risks of diseases
🔺70% solid waste not removed, major health hazard
🔺@UNRWA forced to handle reduced number of aid trucks crossing into Rafah https://t.co/kFLMS7Fvc8

— UNRWA (@UNRWA) November 19, 2023
In a post on X, it said UNRWA is forced to handle reduced number of aid trucks crossing into Rafah.
Describing the horrific situation in Gaza, UNRWA Director of External Relations and Communications Tamara Alrifai said "we were truly outraged". 
"These attacks cannot become commonplace, they must stop," she told CNN in an interview. 
A separate strike Saturday on another building in Jabalia camp killed 32 people from the same family, 19 of them children, Palestinian health authorities said.
Without mentioning the strikes, the Israeli army said "an incident in the Jabalia region" was under review.
Under US pressure, Israel permitted a first consignment of fuel to enter late Friday, allowing telecommunications to resume after a two-day blackout.
The UN said Israel had agreed to allow in 60,000 litres (16,000 gallons) of fuel a day from Saturday, but warned it only around a third of what is needed.
Israel has told Palestinians to move south for their safety, but deadly strikes continued there too.
At least 26 people were killed in a residential building on Saturday, according to the director of the Nasser hospital in Khan Yunis.
In a scene now tragically familiar in Gaza, mourning relatives wept at the hospital where the bodies of those killed were laid out on the ground in white, blood-stained shrouds, several children among them.
No deal yet
Diplomacy to secure the release of captives held by Hamas is continuing, with a US official saying more fuel deliveries and a "significant pause" in fighting would come "when hostages are released".
The White House denied, however, a Washington Post report of a tentative five-day agreement, with National Security Council spokeswoman Adrienne Watson saying "we continue to work hard to get to a deal".
Palestinian Authority President Mahmoud Abbas made a speech on Saturday night wherein he directly addressed US President Joe Biden.
He said it was incumbent for the American president to immediately intervene and stop what he said was the ongoing Israeli genocide of the Palestinian people.
Meanwhile, Al-Jazeera reported Qatar PM Mohammed bin Abdulrahman bin Jassim Al Thani expressing confidence on a potential deal. He termed challenges to to reaching an agreement remain "very minor" during a press conference in Doha on Sunday. 
European Union's foreign policy chief Josep Borrel called for "immediate humanitarian pauses" in the war in Gaza during the same press conference. 
"One horror does not justify another horror," he said, stressing that a "two state solution is the only way out."
"I am aware a two state solution will require an incredible effort not only economically but a political investment in order to build a state. This is where the Palestinian Authority has an important role to play. Palestinians deserve dignity, Israel deserves security and both deserve to live in peace and safety in the same land," Borrell added.
Separately, a spokesperson for Yemen's Iran-aligned Houthi military, Yahya Sarea, said on Sunday that the group will target all ships owned or operated by Israeli companies or carrying the Israeli flag, according to the group's Telegram channel.
The spokesperson called on all countries to withdraw their citizens working on the crews of any such ships.
Relatives of those taken, who range from infants to octogenarians, piled pressure on Israel's government Saturday after arriving outside Prime Minister Benjamin Netanyahu's Jerusalem office on a march from Tel Aviv.
The bodies of two female captives were recovered in Gaza this week, the Israeli military said, while four abductees have so far been released by Hamas and a fifth rescued by troops.
Gaza's fate after the conflict remains unclear, and Biden argued in an opinion piece published Saturday that the coastal territory and the Israeli-occupied West Bank should come under a single "revitalised" administration.
"As we strive for peace, Gaza and the West Bank should be reunited under a single governance structure, ultimately under a revitalised Palestinian Authority," he wrote in the Washington Post.
Netanyahu has insisted the Palestinian Authority "in its current form is not capable of receiving responsibility for Gaza".
Biden also threatened sanctions, including visa bans, against Israeli settlers who have ramped up attacks on Palestinians in the West Bank in recent weeks.