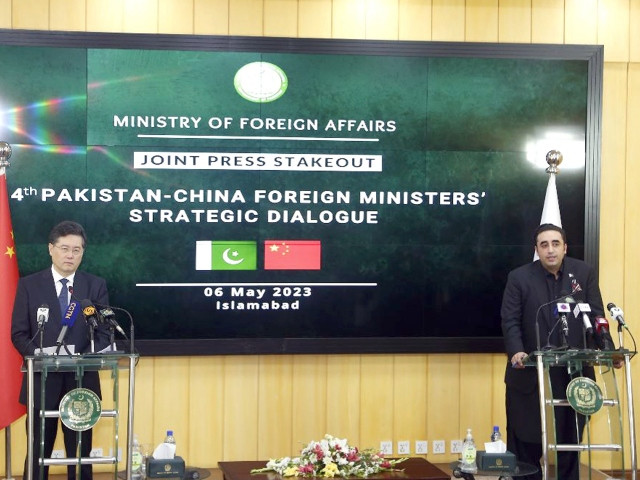 Pakistan and China on Saturday sought to reassure Afghanistan that they would work towards stabilizing the war-torn country amid concerns over terrorism spilling over to the neighbouring countries.
The top officials of the two countries also sought guarantees from the visiting Afghan Interim Foreign Minister Amir Khan Muttaqi to do their part of the deal and nip the terror organisation in the bud.
Foreign Minister Bilawal Bhutto Zardari reiterated that peace and stability in Afghanistan remained vital for the socioeconomic development, connectivity and prosperity of the region.
"We will continue to work together with all stakeholders for peaceful, stable, prosperous and united Afghanistan," the foreign minister said while addressing a joint news conference with the visiting Chinese Foreign Minister Qin Gang as Pakistan hosted the day-long 5th China-Pakistan-Afghanistan Trilateral Foreign Ministers dialogue at the Ministry of Foreign Affairs.
🇵🇰🤝🇨🇳 #Live: Foreign Minister @BBhuttoZardari and Chinese Foreign Minister @AmbQinGang addressing a joint press stakeout on the occasion of 4th Pakistan-China Foreign Ministers' Strategic Dialogue@ForeignOfficePk #PakChinaFriendship https://t.co/VMvuaP5KB1
— Radio Pakistan (@RadioPakistan) May 6, 2023
According to a statement issued by the Foreign Office, Foreign Minister Bilawal Bhutto Zardari, China's Foreign Minister Qin Gang, and Acting Foreign Minister of Afghanistan Amir Khan Muttaqi held productive discussions on covering areas of political engagement, counterterrorism, trade and connectivity.
"Pakistan is looking forward to advancing our common agenda for regional cooperation under the trilateral framework," the Foreign Office statement added.
While this will be the Chinese foreign minister's first visit to Pakistan, Muttaqi last travelled to Pakistan in November 2021, just a few months after the Afghan Taliban took control in Kabul.
The visit to Pakistan by the Afghan minister comes in the same week the UN hosted a conference on Afghanistan in Doha, Qatar, without inviting the country's Taliban rulers.
Amir Khan Muttaqi is barred by international sanctions from leaving Afghanistan but was granted an exemption for a trip to Islamabad just days after the United Nations secretary-general again condemned the Taliban government's curbs on women.
With the minister for commerce and industry in tow, the Afghan delegation was one of the most high-profile to travel abroad since the Taliban seized power in August 2021 following the withdrawal of US-led foreign forces and collapse of the Western-backed government.
Read FM urges SCO unity to confront plethora of challenges
"Our message consistently to the Afghan authorities has been 'help us help you'," Foreign Minister Bilawal Bhutto Zardari told media.
Chinese Foreign Minister Qin Gang said both Beijing and Islamabad were "ready to actively support Afghanistan with its economic reconstruction".
"We hope that the Taliban will embrace inclusive governance and moderate policies and maintain friendly relations with its neighbours," he told reporters.
But, he warned, "it is important the Taliban take the security concerns of its neighbours seriously and take stronger measures to counter the various terrorist forces within Afghanistan".
While referring to the longstanding and time-tested friendly ties between Pakistan and China, he said the two countries, like in the past, would continue to support each other in the decades to come.
The minister reiterated Pakistan's firm support for China "on all its core issues, including One-China policy, Taiwan, Tibet, Xinjiang, Hong Kong and the South China Sea".
"We are committed to remaining engaged with China to promote south-south cooperation, especially in light of emerging global concerns like human-induced climate change," he added.
The minister further termed Pakistan-China friendship as irreversible, 'a historic reality and a consensus choice of the two nations'.
Bilawal also expressed gratitude to the Chinese leadership for its generous and timely assistance as their country was facing the meltdown effects of the global economy.
About China-Pakistan Economic Corridor (CPEC), Bilawal termed it 'a win-win economic initiative, open to all investors around the world'.
He reiterated Pakistan's abiding commitment to its high-quality development, adding the CPEC remained a shining example of the Belt and Road cooperation, which spurred the socio-economic development, job creation and improvement in the livelihoods of the people of Pakistan.
Bilawal appreciated China's "principled and just stance" on the issue of Indian Illegally Occupied Jammu and Kashmir (IIOJK). The foreign minister said that the two countries were celebrating the 72 years of friendship.
Read More COAS meets Chinese, Afghan FM, discuss regional security
During their delegation level talks, they discussed the entire spectrum of bilateral friendship and ties, adding they were also celebrating the completion of decade of CPEC.
The foreign minister said that engagement of the Afghan authorities was a must and it was their consistent message to them 'help us help you.'
He said they discussed how to best achieve peace and stability in the region, adding to unlock the potential of Afghanistan for the benefits of the Afghan people, stability and peace there was critical.
For them, he said the core issue, the red line was the issue of terrorism which posed serious threat to the regional peace and stumbling block in the way of prosperity of Afghan people.
He said that during his recent SCO-CFM meetings, they discussed different projects within framework of SCO including CASA, Trans-Afghan railways, but all these projects hinged upon addressing the security issues in Afghanistan.
Speaking on the occasion, Chinese Foreign Minister Qin Gang said that the all-weather cooperation and friendship between the two countries had been forged by history and consensus.
He thanked Pakistan for its support to China's core issues and reiterated support to Pakistan's territorial integrity, sovereignty and national development.
The Chinese foreign minister also hoped Pakistan's political forces would come on the same page for the country's stability. "After reaching a consensus, I hope that the political forces can get a grip on the country's problems," Gang told the media.
The Chinese foreign minister noted that stability would help the rulers effectively address internal and external issues. He added that stability would also help the South Asian nation boost its economy.
He viewed the increasingly fortified and deepened cooperation between the two countries which was contributing to the world's peace and development.
He also expressed satisfaction over the pace of work on CPEC and stressed upon exploring new areas of cooperation in agriculture and energy.
The Chinese foreign minister said they encouraged Chinese companies to invest in Pakistan and also welcomed quality products from Pakistan into China.
He reiterated to continue their all out support to Pakistan's economic stability in the face of global economic situation and the natural disasters.
He further said that Foreign Minister Bilawal had informed about the measures for protection of Chinese citizens in Pakistan. The Chinese foreign minister said that mutual flights between Pakistan and China had become normal.
Qin Gang also acknowledged Pakistan's sacrifices and contributions in the fight against terrorism.
Read Also Bilawal shows his mettle in hostile India
About Afghanistan, he stressed that international community should take concrete efforts to alleviate sufferings of the Afghan people and expressed the hope that the trilateral dialogue would create further consensus on the issue of Afghanistan among countries of the region.
Pakistan and China were committed to help in the reconstruction of Afghanistan, he added. He also thanked for the warm hospitality extended to him and apprised of his meeting with President Dr Arif Alvi.
Meanwhile, the foreign minister of Afghanistan's Taliban government held talks on Saturday with his counterparts from Pakistan and China during a rare visit abroad.
Qin, making his first visit to Pakistan since being appointed in December, also held bilateral talks with his Pakistani counterpart.
Meanwhile, China is ready to help Afghanistan realize self-reliance, peace, stability, development and prosperity at an early date, Chinese State Councilor and Foreign Minister Qin Gang said.
While meeting with Amir Khan Muttaqi, acting foreign minister of the Afghan interim government, Qin said China and Afghanistan are traditionally friendly neighbors connected by mountains and rivers.
The two countries have been supporting, understanding and trusting each other, he said, noting that no matter how the international situation evolves, China will always stand firmly with the Afghan people and support Afghanistan in pursuing a development path that suits its national conditions.
The Chinese side will continue to respect Afghanistan's sovereignty, independence and territorial integrity, and deepen cooperation with Afghanistan in various fields, Qin said.
Afghanistan should earnestly fulfill its commitment to fighting terrorism, resolutely crack down on terrorist forces, including the East Turkistan Islamic Movement, and ensure the safety of Chinese personnel and institutions in Afghanistan, the Chinese foreign minister said.
He noted that China will continue to advance the China-Afghanistan-Pakistan trilateral dialogue and cooperation based on the principles of equal consultation, pragmatic cooperation and friendship, and mutual benefit.
For his part, Muttaqi said Afghanistan attaches great importance to developing relations with China and will never allow any force to use its territory for anti-China activities.
Afghanistan hopes to strengthen cooperation with China in such fields as economy, trade, people-to-people exchanges and infrastructure within the framework of the Belt and Road Initiative to safeguard common interests and benefit the two peoples, Muttaqi said.
He said Afghanistan hopes to live in harmony with China, Pakistan and other neighboring countries and is willing to actively promote trilateral cooperation with China and Pakistan to promote regional stability and prosperity.
With additional input from Agencies


Source link