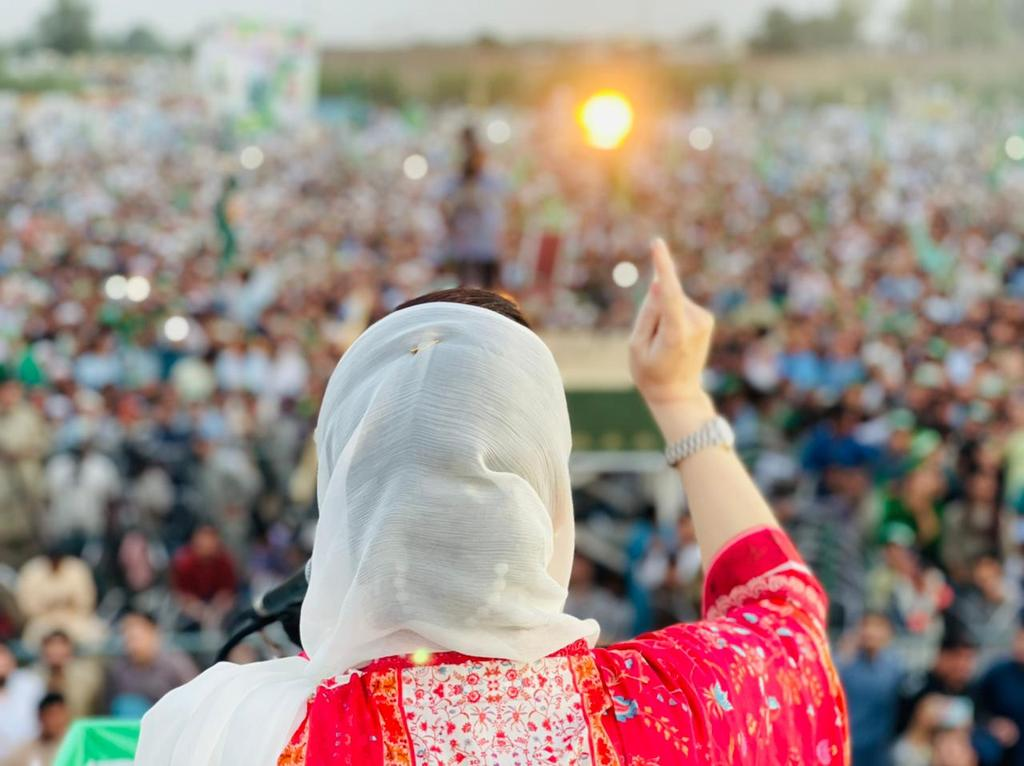 PML-N Vice President Maryam Nawaz on Wednesday lashed out at PTI Chairman Imran Khan for churning out excuses to paper over his "failures", questioning why the army should bear the brunt of trash left behind by the former prime minister and said, "You will have to carry the burden of your filth yourself".
Addressing a public gathering in Swabi, Khyber-Pakhtunkhwa, the PML-N leader recalled all state institutions remained admirable for Imran Khan for as long as he remained in the power "but the moment he was ousted, he began to see Mir Jafar and Mir Sadiq".
Those who used to aid Imran have withdrawn their support, she added.
نائب صدر پاکستان مسلم لیگ ن مریم نواز شریف کا صوابی میں جلسہ سے خطاب۔ https://t.co/z0HRp51bGz
— PML(N) (@pmln_org) May 11, 2022
Her statements come as the PTI chairman's speeches have come under increasing scrutiny and strong criticism for their vitriolic insinuations against the military.
On Sunday, the media wing of the armed forces took strong exception to defamatory remarks made by various political parties against the military and its leadership. It noted that attempts to involve the armed forces and its senior leadership in the political discourse were "manifest through direct, insinuated or nuanced references made by some political leaders, few journalists and analysts on public forums and various communication platforms, including social media".
'Conspiracy hoax'
Lambasting Imran Khan for crying foul and claiming he was ousted through a "foreign conspiracy", Maryam said the former was not the subject of any conspiracy but that his own MNAs and MPAs cast a no-trust vote against him.
"Imran Khan needed to rely on a fake letter and resort to a conspiracy drama to cover his government's lack of performance during the past four years," she said.
"You were neither ousted by Nawaz nor by a foreign conspiracy, but by your own MNAs and MPAs," she added.
Maryam, daughter of PML-N supremo and three-time prime minister Nawaz Sharif, also said the nation of 220 million people would not let Imran hide behind his conspiracy claims.
She added that the people of K-P will have to think carefully about who they wanted as the next rulers as it is linked with their progress and prosperity.
Maryam asked the people of the province to vote for PML-N's Ameer Muqam and rid the province of Imran Khan in the next elections.
Continuing her tirade against the former premier, she claimed that he was a complete failure when it came to detailing his party's performance during his rule.
She went on to say that Imran lost his senses after he lost power.
Also read: 'Major decisions' on the cards as Shehbaz meets Nawaz in London
According to the PML-N stalwart, Imran remained oblivious of the masses' issues. "It will take two to three years for the incumbent government to undo what Imran did during his rule."
She added: "Imran destroyed the economy and we found the country on a ventilator" after taking over the reins of the regime.
مشیر وزیر اعظم صدر پاکستان مسلم لیگ ن خیبرپختونخوا پختونخوا انجنیئر امیر مقام کا صوابی جلسہ سے خطاب https://t.co/7mjkhX1jKz
— PML(N) (@pmln_org) May 11, 2022
Maryam accused the deposed premier of misuse of the state's helicopter, looting the exchequer through Farah Khan – former first lady Bushra Bibi's close acquaintance who is under NAB scrutiny for her alleged assets beyond means – as well as Imran's role in the Tosha Khana case pertaining to the gifts received from foreign states, and running his residence of Bani Gala on state's expenses.


Source link