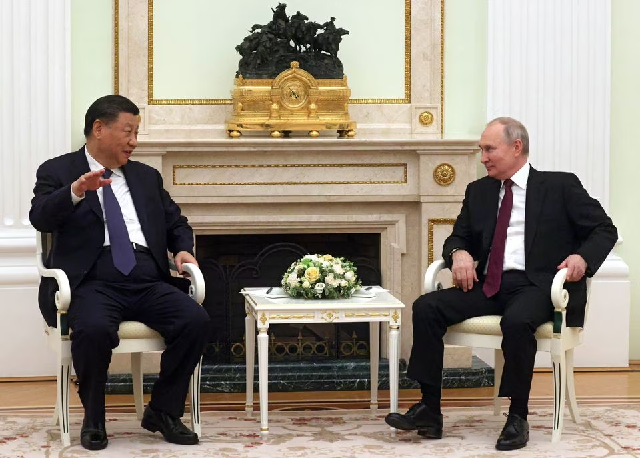 Chinese President Xi Jinping held talks with his Russian counterpart Vladimir Putin on Tuesday at the Kremlin in Moscow, where he praised the robust growth of China-Russia relations.
According to the Chinese Foreign Ministry, the two countries have been enjoying deepening political mutual trust, convergence of interests, and understanding between the peoples.
The two leaders discussed a number of important common understandings and advancements in cooperation on trade, investment, energy, and exchanges at people-to-people and sub-national levels.
"China-Russia cooperation is covering more areas, building greater consensus and delivering early harvests. More cooperation is being comprehensively advanced," said the official statement.
Xi's visit to Russia comes as China is in the first year of fully implementing the guiding principles set forth by the 20th National Congress of the Communist Party of China.
The statement said China will foster a new development paradigm at a faster pace, promote high-quality development, and advance Chinese modernisation in all respects. Russia, on the other hand, is pursuing its national development goals through 2030.
Also read: Putin praised by China's Xi on visit to Moscow
"The two sides need to step up communication and coordination for new and greater progress in practical cooperation," the statement added.
Xi expressed his willingness to work with Putin to provide guidance and instructions for the bilateral relations and practical cooperation to boost the development and rejuvenation of both countries.
Xi arrived in the Russian capital on Monday afternoon for a state visit that will last until Wednesday. When Xi reached the Kremlin, he was greeted by the Kremlin Commandant at the alighting point. Putin warmly shook hands and took photos with Xi.
This is Xi's first visit to a foreign country this year, and also the first one since his reelection as Chinese president earlier this month.
Noting that he was pleased to pay another state visit to Russia at the invitation of Putin, the Chinese president said that Russia was the first country he visited after he was elected president 10 years ago and memories from that visit remain fresh today.


Source link