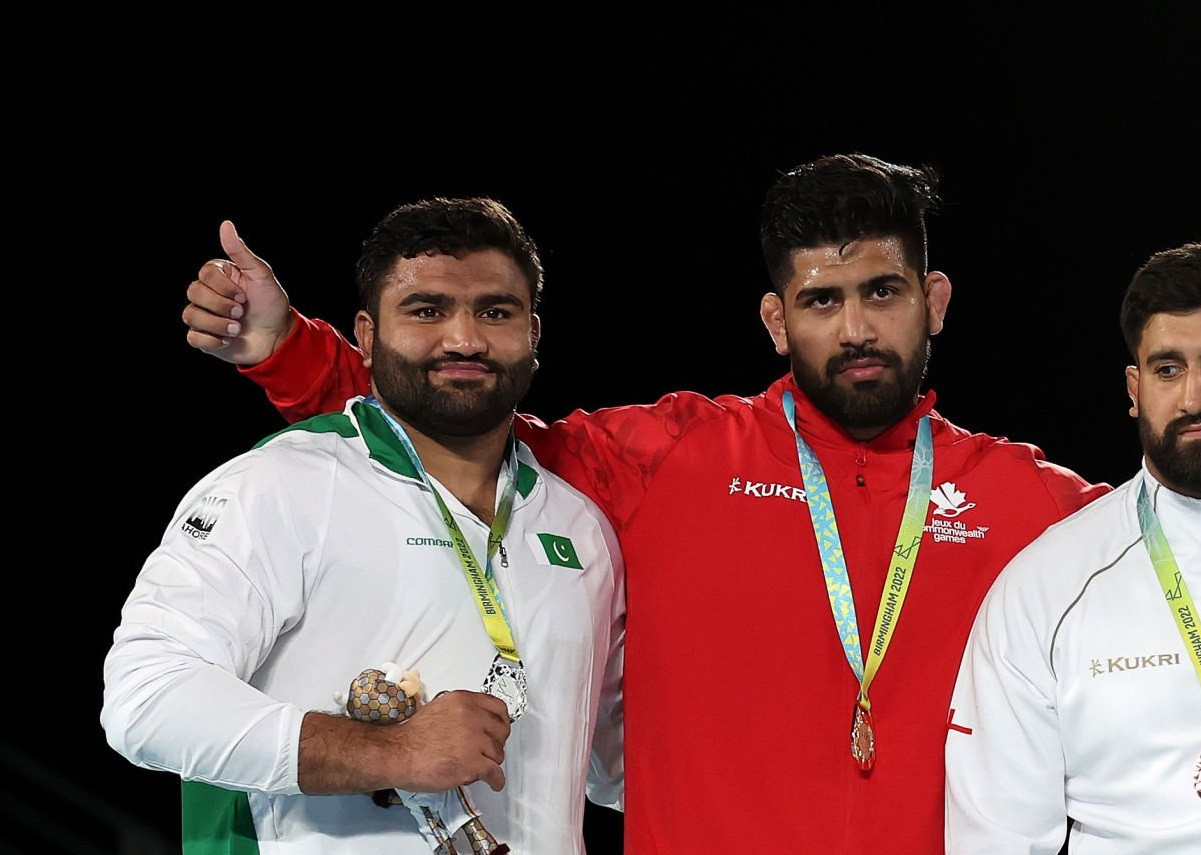 Pakistan's premier heavyweight wrestling champion Zaman Anwar and the 125kg silver medallist will be the flag-bearer for the country at the closing ceremony of the Commonwealth Games in Birmingham.
Zaman, 31, reached in the final of the 125kg freestyle event and grabbed Pakistan the silver medal after a tough fight against Canada's Amarveer Dhesi, which he lost 9-2 on August 5.
Zaman is the South Asian Games gold medallist twice and World Beach Wrestling Games bronze medallist.
"What do I say on this," Zaman told The Express Tribune. "This is my first time that I will be the flag-bearer for Pakistan. I am feeling very happy and blessed that I got chosen for this honour. It is a huge honour for athletes to be the flag-bearers for the country."
Pakistan finished their campaign at the Games with two gold medals won by Nooh Dastgir Butt in +109 weightlifting and Arshad Nadeem in javelin throw. Both athletes created Games records as well.
Including Zaman's, Pakistan bagged three silver medals. The other two came courtesy Muhammad Inam in 86kg wrestling and wrestler Muhammad Sharif Tahir in the 74kg event.
The country also grabbed three bronze medals. They were won by wrestler Inayatullah in the 65kg event, another wrestler Ali Asad in the 57kg event and by Judoka Shah Hussain Shah.
Meanwhile, on the last day of the Games, Amna Fayyaz and Faiza Zafar lost their squash plate competition doubles final 2-0 to Australia's Alex Hayden and Jess Turnball. The plate event offers no medal and is played among players who exit in the first round of main draw.
The Chef de Mission Syed Muhammad Qadri confirmed that there are around 30 members of the contingent who will attend the closing ceremony.
Pakistan sent a contingent of 104 people at the 2022 Commonwealth Games.
The top players of the Pakistani contingent, including javelin thrower Arshad Nadeem who won the gold medal, weightlifter Nooh Dastgir Butt who won gold medal in +109kg event and Muhammad Inam who won silver medal in the 86kg wrestling event all left for the Islamic Solidarity Games in Turkey.
The Islamic Games will begin on Tuesday, August 9 in Konya, Turkey.


Source link