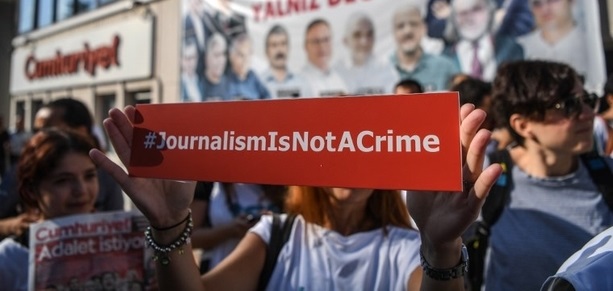 World Press Freedom Day is being observed across the globe on Tuesday. This year's theme of the day is "journalism under digital siege," which spotlights the multiple ways in which journalism is endangered by surveillance and digitally-mediated attacks on journalists, and the consequences of all this on public trust in digital communications.
Minister for Information and Broadcasting Marriyum Aurangzeb, in her message on the day, tweeted that the ultimate conscience of society is a responsible conscientious free press and its contribution is transparency, accountability as well as a healthy discourse with high standards of ethics and journalism.
ultimate conscience of society is a responsible conscientious free press,their contribution is transparency,accountability &healthy discourse with high standards of ethics and journalism.Our collective duty,to be unified in condemnation of persecution& intimidation of the press https://t.co/SrUwAPasgy
— Marriyum Aurangzeb (@Marriyum_A) May 3, 2022
"Our collective duty should be unified in condemnation of persecution and intimidation of the press," she added.
Pakistan is ranked among the countries most dangerous for journalists. According to a Freedom Network report, at least 86 cases of attacks and violations against media and its practitioners, including journalists, took place in Pakistan over the course of one year – between May 2021 and April 2022.
Read more: 45 journalists killed in 2021: media watchdog
While the overall number of documented violations in the preceding year has gone down several notches, there is a continuing trend of targeting journalists working for digital media, according to the report.
The report, released in Pakistan in 2022 to mark the World Press Freedom Day marked globally on May 3 every year, reveals that the state actors continue to be the largest threat source for journalists in Pakistan in a period marked by a dramatic escalation of coercion by the erstwhile Imran Khan government resulting in murders, legal cases, assaults, abductions, detentions and threats.
"As the digital media landscape is the new horizon over Pakistan, the government is more than anxious to crack down on online freedom and digital journalists are the systematic target of harassment, abuses and legal threats. We must protect our borderless Internet freedom," Iqbal Khattak, the Executive Director of Freedom Network, said.
The data shows that no place in the four Pakistani provinces, federal capital Islamabad or even Gilgit-Baltistan and Azad Jammu and Kashmir is safe – attacks against journalists are taking place everywhere.
World Press Freedom Day was established by the General Assembly of the United Nations in December 1993 as an outgrowth of the Seminar on Promoting an Independent and Pluralistic African Press.
Read 86 attacks, violations against journalists recorded in one year: report
This seminar took place in Namibia in 1991 and led to the adoption of the Windhoek Declaration on Promoting Independent and Pluralistic Media.
The Windhoek Declaration called to establish, maintain and foster an independent, pluralistic, and free press. It emphasised the importance of a free press for developing and maintaining democracy in a nation and for economic development.
The day is celebrated annually on May 3, the date on which the Windhoek Declaration was adopted. Although World Press Freedom Day has only been celebrated since 1993, it has much deeper roots in the United Nations.


Source link