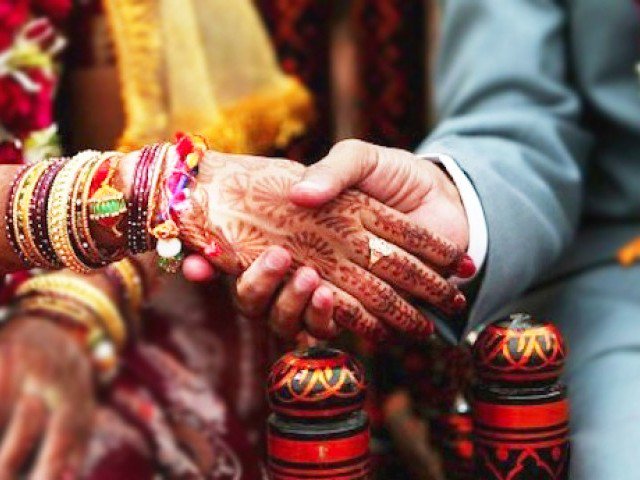 A woman has been accused of marrying several suitors only to dump them after swindling them of gold ornaments, properties and millions of rupees in cash as mahr (dower) and in gifts, the startling development came to light on Wednesday.
A man, named Kazim Raza, resident of Karachi's Shah Latif Colony, married a woman, identified as Fatimah four months ago, according to an FIR registered on a court's orders.
The woman's father received Rs5 million as dower from his son-in-law at the time of marriage, it states. However, she escaped from her husband's house along with 18 tolas of gold and Rs3.1 million in cash.
Later it came to light that the woman has allegedly married multiple times in the past only to dump her husbands and make off with dower, gold jewellery and properties gifted to her. The complainant claims that his wife fled after her previous marriages were exposed.
Read more: Saudi man marries 53 times in search of 'peace of mind'
According to police, the woman is also accused of robbing an uncle of her husband who had lodged a robbery case against her in Ferozabad police station. She has been on bail in that case since July.
According to the counsel for the complainant, two years ago, Fatimah had married a nephew of his client in Hyderabad and they have a daughter together. However, she fled to Karachi after her secret was revealed as her husband caught her talking to someone on the phone.
The lawyer claimed that Fatimah had fled to Karachi along with 50 tolas of gold jewellery, an expensive car, cash, and documents of four properties which she had received as gifts at the time of marriage. A little inquiry also revealed that she had contracted two nikahs before that.
An uncle of her first husband alleged that the woman and her family have been swindling people in the name of marriage. "She has a daughter from her marriage with my nephew," he said, adding that the accused ran away with money, jewellery and property documents after the birth of her daughter.
In Karachi, she also got engaged to a jeweller who, however, broke the relationship after her secret was revealed, according to him. He further alleged that a sister and an aunt of Fatimah had also swindled people after marrying them abroad. Her sister married a man in the United States, received American nationality, and then divorced him after the birth of their first daughter. She has also grabbed half of her husband's property, he alleged.


Source link