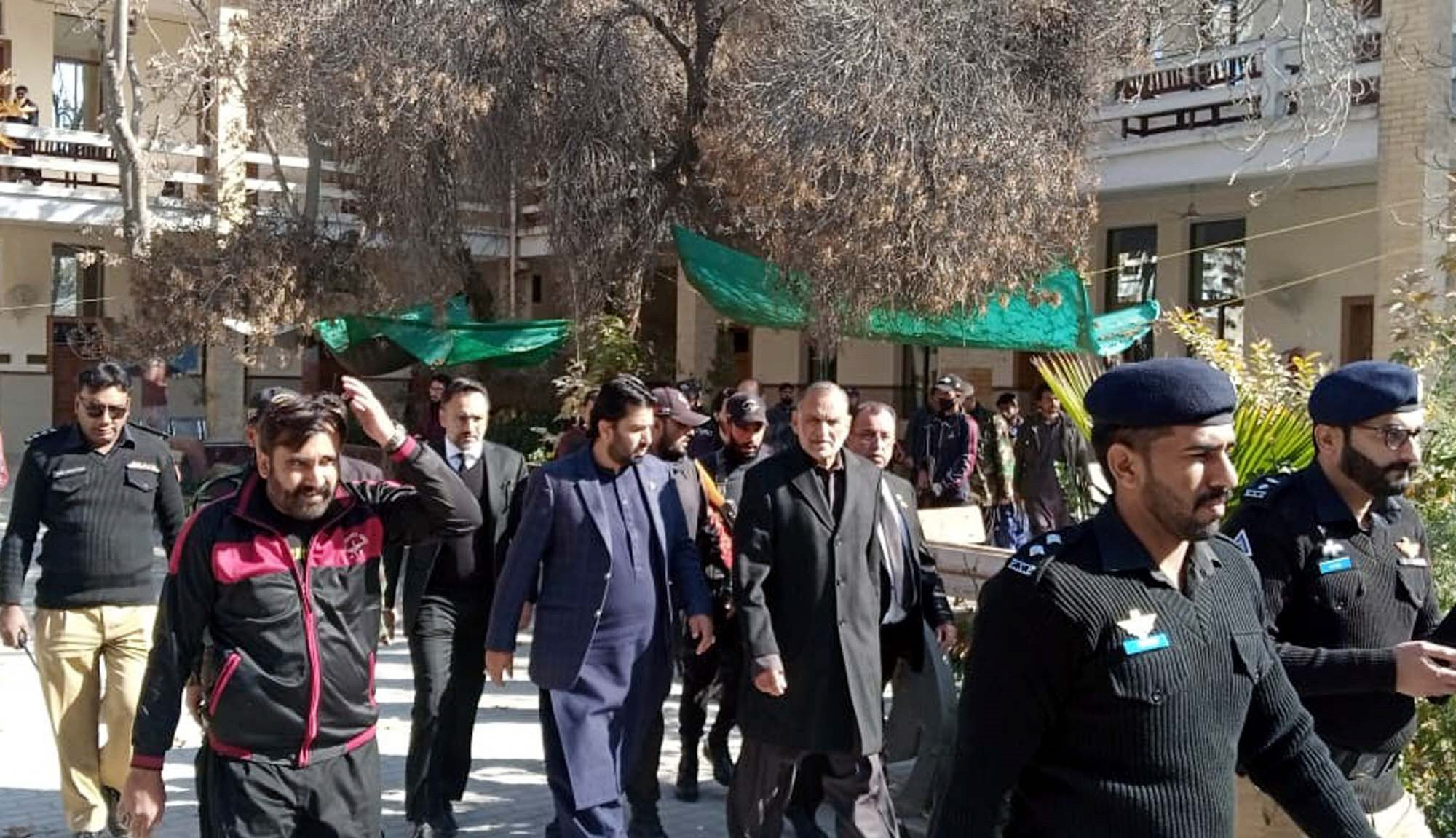 A district and sessions court on Thursday adjourned the proceeding of Pakistan Tehreek-e-Insaf (PTI) Senator Azam Swati's post-arrest bail plea without a hearing till December 12 as the judge said that he will be transferred to another court soon.
Special Judge Central Raja Asif Mehmood heard the plea in the case against Swati regarding his 'controversial tweets' targeting senior military officials and 'speech against institutions', where Advocate Babar Awan appeared in the court on behalf of the senator.
At the outset of the hearing, the judge informed that he is soon to be transferred to another court and thus, the newly appointed judge will hear the case on December 12.
He, however, added that if by next week, he is not transferred then he will resume hearing Swati's post-arrest plea in the case. Subsequently, Judge Mehmood adjourned the proceeding without hearing any arguments.
It is pertinent to note that Azam Swati is currently in the custody of Balochistan police on a five-day physical remand.
Read PTI submits petition for Swati in BHC
Over a week ago, the senator was taken into custody for the second time after a raid at his farmhouse in Chak Shahzad, Islamabad, by the Federal Investigation Agency's (FIA) Cyber Crime Wing for allegedly tweeting against senior military officials.
On December 1, a district and sessions court had sent the senator to jail on a 14-day judicial remand in the case after which he was transferred from Islamabad airport to Balochistan where he was ultimately taken to Kuchlak.
Multiple cases had been registered against the senator, including in Sindh and Balochistan, which he claimed earlier he only learned about after being handed over to the FIA on physical remand.
SHC moved to quash cases against Swati
Earlier today, Senator Azam Swati's son Usman Swati filed a petition in the Sindh High Court (SHC) requesting to quash the cases registered against his father and stop the police from taking further action.
In the petition, Barrister Usman Swati stated that the police should be stopped from registering more cases against Azam Swati in Sindh and all existing cases should be declared null and void.
Usman was accompanied by opposition leaders Haleem Adil Sheikh, Khurram Sher Zaman and Firdous Shamim Naqvi, among others.
Speaking to the media outside the court, the PTI senator's son said that they have requested the court to summon all the cases, provide a count of how many cases are registered and direct the police to inform them of how many more cases exist.
He maintained that according to the law, "only one case can be filed".
Read more Quetta court remands Swati in police custody for 5 days
He said that in addition to his request to declare the cases null and void, he has also requested the SHC to halt the proceedings of the cases as well as bar Sindh police from registering more FIRs against Swati till the decision on this petition is announced.
Usman said that his father is currently in police custody in Quetta, while he has come to Sindh on his behalf, adding that former Attorney General Anwar Mansoor Khan is also looking into the case.
On the occasion, Naqvi said "we have come here to talk about conscience, a person's privacy has been violated. What happened to Swati is unprecedented in history."
He furthered that the case of Swati's private video being shared is "an insult to the entire nation".
Naqvi also informed that registering 40 cases against Swati was part of "a plan" and questioned whose tactics were these. "Which jungle rules in this country?" he added.
"Azam Swati is not a weak man. He is a taxpayer," he concluded.


Source link