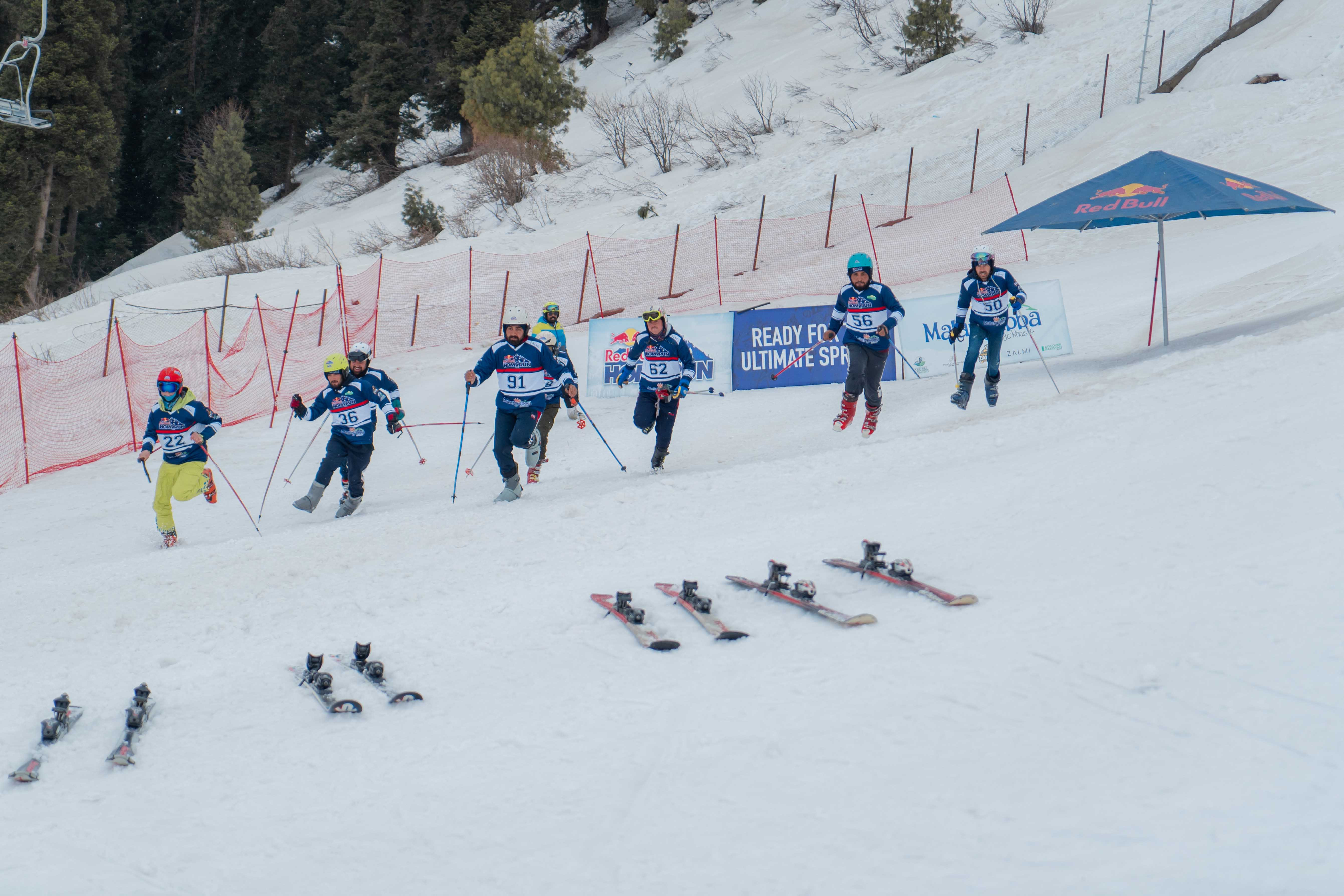 Home to mountain ranges like the Himalayas, Karakoram, and Hindu Kush, with cooler weather through the year and snow-covered peaks in winter, the northern region of Pakistan has tremendous potential to become a winter sport tourist destination.
Despite the challenges that include limited facilities and infrastructure for winter sports and security concerns in some areas of the country, the PTDC is working to promote winter sport tourism in Pakistan. With plans to develop more ski resorts and other winter sports facilities, it has initiated cultural and adventure tourism festivals in the northern regions, which include winter sports activities.
Although further investment is required for facilities and infrastructure, as well as efforts to promote the winter sport offerings internationally, a polo festival and significant winter sport competitions that include skiing, ice skating, ice climbing, snowboarding, ice hockey, are being held for the past few years, and gradually becoming popular.
Skiing
Located in the Swat valley, Malam Jabba is one of Pakistan's largest and most developed ski resort. Offering excellent skiing opportunities for beginners and experienced skiers, the resort has several slopes of varying difficulty levels, with a maximum slope angle of 60 degrees.
Among the annual skiing tournaments held at the resort, is the Red Bull Homerun which offers skiing and snowboarding competitions.
"The valley's steep sides and powder snow offer perfect skiing conditions," explains Saad Qamar, the marketing manager of Malam Jabba Ski Resort. All the rides, sites, and equipment conform to state-of-the-art safety and quality procedures and are repeatedly tested and reviewed by a team of foreign experts and engineers. In addition to skiing, there are trekking, hiking and rock climbing facilities as well."
In 2019, the International Ski & Snowboarding Competition was also held at Malam Jabba, unlocking it as a destination for international skiers. Qamar plans to hold more skiing competitions as the situation is much more stable post-pandemic.
With three ski slopes, the Naltar valley in GB is the only ski resort in Pakistan that offers a chairlift. Gulmit in the Hunza valley offers skiing opportunities on the gentle slopes of the Passu glacier.
Other ski destinations in Pakistan include Shandur Pass, the highest polo ground in the world which is also used for skiing, and the Khaplu valley, which offers skiing opportunities on the slopes of the Karakoram Mountains.
Skiing in Pakistan is still developing, and the infrastructure and facilities at the resorts need further development.
Saman Saud, the Media Network Manager at Red Bull Pakistan, says that this skiing, snowboarders, and mountain climbing sites are majorly explored by winter sports athletes from other countries. "Andrzej Bargiel from Poland made a world record a few years ago by climbing K2 without oxygen and then skiing down. Nirmal Purja successfully climbed K2 in the harsh weather of winters and recently Tom & Horacio, European winter sports athletes was able to make a world record by taking a first paragliding flight around K2. They have even released a film Flying Between Giants," shared Saman.
Ice skating
Ice skating is another popular winter sport in the northern areas where lakes and ponds freeze during winter. One of the most popular destinations for ice skating is the Skardu Lake in Skardu city. As it freezes over in winter, a natural ice rink is created.
Apart from the Skardu rink surrounded by some of the world's highest mountains which offer a unique setting for ice skating enthusiasts, there are artificially maintained indoor and outdoor rinks as well. For example, the government of Gilgit-Baltistan has set up a temporary ice skating rink in Skardu, attracting locals and tourists during winter. There are indoor rinks in Karachi, Lahore and Islamabad too.
Snowboarding
Although still developing, this adrenaline-pumping winter sport is becoming popular in Pakistan. One of the most popular destinations for snowboarding in Pakistan, Malam Jabba offers snowboarding opportunities from beginner to advance on several slopes of varying difficulty levels. A chairlift allows visitors to easily access the slopes.
Recently, during the Red Bull Homerun competition, Samar Khan, a professional cyclist known for cycling up mountain ranges, won a gold medal in the women snowboarding competition.
"Since last year, I have been dreaming of passing through the finishing line," says Khan who began adventure sports five years ago. "I fell in love with this sport the first time I participated. Events like Homerun are helping women come forward and develop acceptance among people of women participating in sports in a safe environment."
Other snowboarding destinations include Shandur Pass, Khaplu Valley, and the Deosai Plains. Located at high altitudes, the valleys receive heavy snowfall during winter and provide ideal conditions for snowboarding enthusiasts.
Ice climbing
The Gilgit-Baltistan (GB) region offers some of the most challenging ice-climbing opportunities in the world. The popular ice-climbing destinations here are Shimshal Valley, Hispar Glacier, and Biafo Glacier.
The Karakoram Range is a popular destination that offers a variety of ice climbs, ranging from beginner to advanced. The Shimshal Valley in the Hunza region has several icefalls and frozen waterfalls ideal for ice climbing enthusiasts. Other destinations for ice climbing include the Chitral Valley, the Deosai Plains, and the Nagar Valley. These areas have a variety of ice climbs, including icefalls and frozen waterfalls.
Ice climbing in Pakistan is still evolving, as the infrastructure and facilities need more development.
Ice hockey
Although we need a natural ice rink, GB is home to some of the best ice hockey players in the country. To overcome the lack of natural ice rinks, the Pakistan Ice Hockey Federation (PIHF) established in 2007, has promoted the sport through roller and ball hockey. These variations of the game are played on dry surfaces and have helped to develop the skills and techniques of Pakistani ice hockey players.
The PIHF has also been working to establish ice rinks in the country. In 2017, Pakistan's first ice rink opened in Islamabad, providing a venue for ice hockey players to play and practice. The rink has hosted several ice hockey tournaments, including the National Ice Hockey Championship.
Despite the challenges, ice hockey in Pakistan is slowly warming up, and the PIHF is working to develop the sport further by organising training camps and workshops for players, coaches, and officials as well as participation in international tournaments for exposure and experience.
Shandur Polo Festival
The Shandur Polo Festival is an annual tournament held in July, in the Shandur Pass, Chitral district. With the polo ground located over 12,000 feet above sea level, it is played between teams representing the Chitral district and the GB region and is one of the country's most significant sporting events.
The festival that falls in the winter sports category includes cultural events, music and dance performances, handicraft exhibitions, and traditional food stalls.
The Shandur Polo Festival has a long history, with some accounts dating back to the 1930s. It is said to have been initiated by the local ruler of Chitral, to promote friendly relations with the neighbouring regions through polo. Since then, the festival has become a symbol of unity and cultural exchange between the people of Chitral and GB.
The Shandur Polo Festival is a celebration of the game of polo and a showcase for the region's natural beauty and rich cultural heritage.
Winter Sport Athletes
Pakistan has produced some notable athletes in winter sports, despite the country's relatively warm climate and limited opportunities for winter sports training and competitions.
Muhammad Abbas, a skier who represented Pakistan at the 2010 Winter Olympics in Vancouver, Canada, for the first time ever, hails from the northern region of GB.
Another notable winter sports athlete from Pakistan is Samina Baig, a mountaineer from the Hunza Valley, who has also participated in skiing competitions. Baig became the first Pakistani woman to climb Mount Everest in 2013 and since then, she has climbed other high peaks in the Himalayas. Other new mountaineers include Naila Kiyani, who recently climbed K2 at first attempt.
Other emerging winter sports athletes include Karim Khan, a skier who has won several medals in national and international competitions and Zahanat Khan, a snowboarder, who has competed in the Winter X Games.
Winter sport tourism
Winter sports tourism is a growing industry in Pakistan. The ski resorts such as Malam Jabba and Naltar offer skiing and snowboarding activities, with some basic facilities such as ski lifts, ski rental shops, and accommodation. The Shandur Polo Festival attracts tourists to the Chitral district to watch the traditional polo match.
In addition to winter sports, northern Pakistan has rich cultural and natural attractions that can appeal to tourists, such as historical landmarks like the Baltit and Altit Forts, scenic valleys and lakes such as Hunza Valley and Lake Saiful Muluk, as well as trekking and mountaineering opportunities in the Karakoram range.
The PTDC is working to promote winter sport tourism in Pakistan, with plans to develop more ski resorts and other winter sports facilities. It has also initiated cultural and adventure tourism festivals in the northern regions, which include winter sports activities.
Saman Saud shared that the documentary 'Flying Between Giants' highlights the winter sport and paragliding culture in Pakistan which she believes that will help grow tourism and sport in the country. "Tom & Horacio's documentary on their successful world record of the first ever paragliding flight around K2. Entire documentary has been filmed in Pakistan and the role of Pakistan's winter sports and paragliding community is very prominently visible in the film. With this film being released globally, world can see the beauty and hospitality of Pakistan and a lot of winter sports and paragliding athletes are now interested in coming to Pakistan," she added.
The future of winter sport in Pakistan
Since the country's northern areas offering some of the world's most breath-taking and challenging winter sports destinations, the winter sport future looks promising. While winter sports are still nascent in Pakistan, the country's potential is increasingly being recognised, and steps are being taken to further develop and promote winter sports.
Other than providing skiing facilities, the Malam Jabba ski resort opened in 2021, will also generate employment opportunities, and boost tourism in the area.
Similarly, establishing the ice hockey federation and developing ice rinks in the country demonstrates the government's growing interest in winter sports and a commitment to their development.
With videos and photos of skiing, snowboarding, and ice climbing in the northern areas going viral on platforms such as TikTok, Instagram, and Facebook, social media platforms have played a significant role in promoting winter sports in Pakistan.
Winter sports enthusiasts from around the country showcase their journey on #TravelTok on TikTok. Other than this, there are several winter sports-related challenges on the platform. With its large audience, TikTok enables athletes, influencers, and organisers to promote events in the country. The more people learn about the events, the more participation comes about. This exposure helps to create awareness of winter sports and attract more visitors to Pakistan's northern areas.
With the growing popularity of winter sports, the potential of the northern areas and the government's commitment to developing winter sports infrastructure and facilities, Pakistan is poised to become a prominent destination for winter sports enthusiasts in the coming years.


Source link