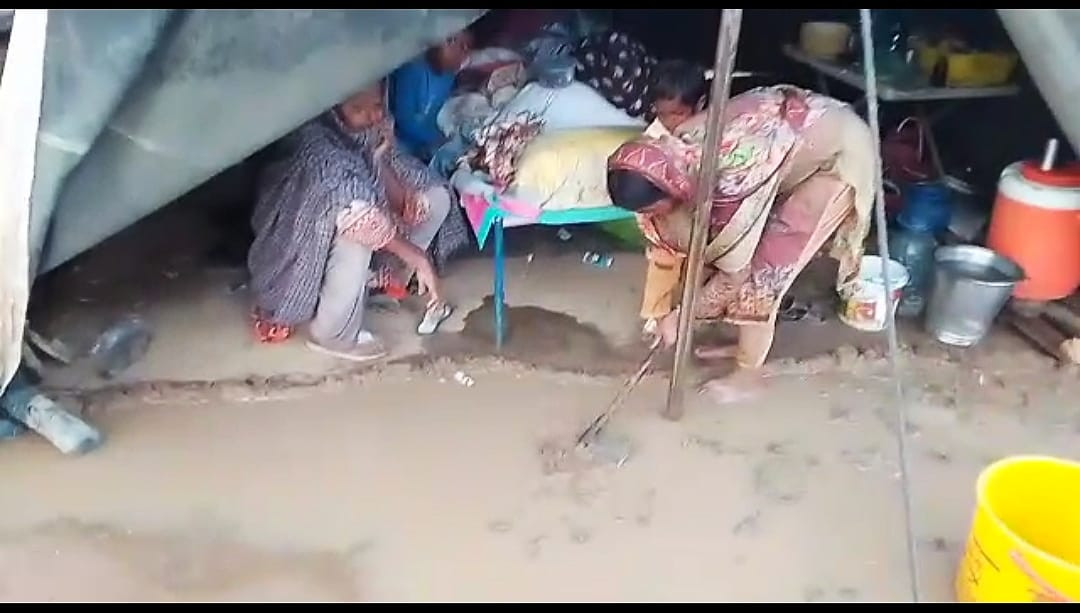 The rain water of first showers of winter season that lashed most parts of Karachi on Monday has inundated the tent city in Malir district.
More than five thousand people, affected by floods, live in the city, spread on 31 acres of land. The city has been established by the Malir Development Authority (MDA) near National Highway toll plaza.
The dwellers are trying to drain out water on self-help basis but are unable to do so due lack of facilities.
Talking to The Express Tribune, Engineer District Council Karachi, Imdad Solangi said that almost all items of daily use are under rain water now and they are facing serious difficulties. The tents are not water proof and there is mud all around the city of 2,000 tents, he mentioned.
Read more: PM seeks int'l community's support as flood losses estimated at $32b
The Deputy Commissioner District Malir, Irfan Salam informed that transferring more than 5,000 people from here is not an easy task. We are trying to provide them plastic sheets to cover tents. These flood-hit people are here until their villages are cleared, he said, adding that according to decision of Sindh government, we are trying to send people to their homes where the flood water has been drained out.
A flood affected woman Rehana Nisar from Khairpur said that our dresses are wet due to rain. There is rain outside as well as inside the tents. We don't have winter clothes while the rain is an added problem for us, she mentioned.
Rehana said that we are out of our homes since four months. We demand of the government to make proper arrangement so that we can live during rains and provide winter clothes to us and our children.
We want that government should make arrangement so that we go back to our homes as soon as possible.
Rizwan Bhatti of the District Sajawal said that rain water has mixed up with the stored drinking water. "We have no clean drinking water for our children."
He said that no government official comes here to see our problems.
Although, the meteorological department predicted the rain many days ago, the government did not take any preventive measures, he said, adding that "we want to go back to our homes before the next rainy season in winter".


Source link