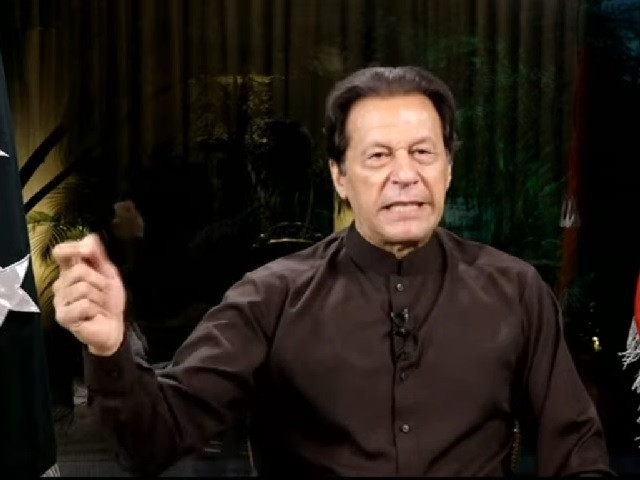 Pakistan Tehreek-e-Insaf (PTI) chief Imran Khan on Friday said he will announce the arrival date of the party's long march in Rawalpindi tomorrow (Saturday) as the former premier addressed the march's participants via video link.
After suffering a bullet wound to the leg in an attempted assassination bid, the former premier said he will rejoin the party's 'Haqeeqi Azadi' march once it enters the garrison city of Rawalpindi.
The party chief said he will be consulting his doctors tomorrow, adding that he will set a date for the long march's arrival in Islamabad accordingly.
Taking a dig at rival party supremo Nawaz Sharif, Imran Khan questioned how a person like him could be permitted to decide when the election will be held and who the next chief of army staff should be.
🚨Shortly Chairman PTI @ImranKhanPTI will be speaking to the Nation.
Link: https://t.co/UzXbVuEyDZ
— PTI (@PTIofficial) November 18, 2022
"The person whose children are sitting in Britain," said Imran, "how can he decide for Pakistan?"
"General Asif Nawaz's brother has written in his book that in 1992 when he [Nawaz] was prime minister, he tried to bribe the general with a BMW in Murree's Governor House," he continued, "which was rejected".
"Why did he do that?" lambasted Imran, claiming that Nawaz wanted to "escape accountability" and that is why he wanted to appoint an army chief of his liking and attempted to bribe him.
"He [Nawaz] has no idea how to play with a neutral empire," said Imran.
Imran also predicted that Nawaz will ask the army chief to "first of all try to get rid of me, because he [Nawaz] cannot compete with me", and then "he will try to finish all corruption cases against him. And finally, he will never hold elections until he knows for sure he will win."
Turning his attention towards the "threatening environment" that he claimed was being created to "scare people away", Imran revealed that a private media house owner "has also now been threatened for his life much like Arshad Sharif".
"Things were not this bad even when the country was under martial law under Pervez Musharraf," he exclaimed.
The PTI chief also questioned during his address that "if the largest political party cannot get justice in Pakistan, then who can?" as he pointed towards the difficulty he and his party faced in registering an FIR over the gun attack on him.
Imran said "prosperity is necessarily dependent upon justice" as he asserted that "hard-working" Pakistanis were leaving the country to seek economic security because the "system is not just".
"Whenever I ask overseas Pakistanis why they do not do business in Pakistan they tell me that they do not have faith in the system," he added.
Long march 'referendum against imported setup'
Earlier PTI Vice Chairman Shah Mehmood Qureshi said that "the massive public participation in the long march is a referendum against the imported setup, and in favor of true independence" as the party continued its march towards the capital.
Raising alarm over the country's dwindling economy, the PTI leader claimed that "the country's economy is on the brink of collapse".
اس وقت ملکی معیشت تباہی کے دہانے پر ھے، جب کہ واضح طور پر دیکھا جاسکتا ھے کہ صرف 8 ماہ قبل عمران خان کی قیادت میں تمام اعشاریے مثبت اور ملک ترقی کی راہ پر گامزن تھا ۔ لانگ مارچ میں بھرپور عوامی شرکت امپورٹڈ سیٹ اپ کے خلاف، اور حقیقی آزادی کے حق میں ریفرنڈم ھے۔ pic.twitter.com/DSWHg529eJ
— Shah Mahmood Qureshi (@SMQureshiPTI) November 18, 2022
On the other hand, he maintained that "just eight months ago, under the leadership of Imran Khan, all decimals were positive and the country was on the path of progress".
Read PTI 'steps back' from next COAS appointment issue
Meanwhile, PTI secretary general Asad Umar while addressing a public rally in Balkasar said that the country was "truly at a crossroads".
He maintained that Pakistan faced a choice between the "75-year-old path of oppression" and "the path of dignity and freedom".
Secretary General PTI @Asad_Umar addressing the crowd at Balkasar interchange. #الیکشن_کراؤ_ملک_بچاؤ pic.twitter.com/Peutpshq44
— PTI (@PTIofficial) November 18, 2022
"Your captain is waging a war for you. The captain's team is sanding with him," he added as he urged supporters to join the party's cause.
Dullah, Chakwal, welcomed Secretary General PTI @Asad_Umar ! #الیکشن_کراؤ_ملک_بچاؤ pic.twitter.com/UlJiaP0Fas
— PTI (@PTIofficial) November 18, 2022
Later, Umar spoke at a gathering at Dhalan in Chakwal where he said a "massive conspiracy" was being hatched to "weaken the country" and claimed that the country did not face "kinetic threats alone" but a "real threat to its freedom".
Read more 'No foul play': PTI denies businessman's claims about receiving Toshakhana gifts
According to the schedule published by the PTI, Umar's rally is to rest in Chakwal today, while Shah Mehmood Qureshi will reach Gujjar Khan followed by Pervez Khattak who is expected to reach Khyber today while Murad Saeed is expected to be in Buner.
Haqeeqi Azadi March schedule for today:
Chairman @ImranKhanPTI will address at 4.30PM@Asad_Umar – in Chakwal@SMQureshiPTI – in Gujjar Khan@PervezKhattakPK – in Khyber @MuradSaeedPTI – in Buner#الیکشن_کراؤ_ملک_بچاؤ
— PTI (@PTIofficial) November 18, 2022
As to the PTI chief's arrival in Rawalpindi, party ally and Awami Muslim League chief Sheikh Rashid has also hinted that it "could be delayed by two to three days".
آئی ایم ایف مذاکرات موخر ہنگامی کیبنٹ موخراسمبلی کاجوائنٹ سیشن بھی موخرہو گیاہےہونےکیاجا رہا ہےکسی کوخبرنہیں ملک ہیجان قیاس اور افواہوں کی زدمیں ہےعمران خان کی راولپنڈی لانگ مارچ آمد 2. 3 روز آگے جاسکتی ہے30 نومبر تک سارےفیصلےہو جائیں گئےآج 3 بجےلال حویلی میں پریس کانفرنس کروں گا
— Sheikh Rashid Ahmed (@ShkhRasheed) November 18, 2022
"The IMF talks have been postponed, the joint session of the emergency cabinet has also been postponed. No one knows what is going to happen. The country is under the influence of speculation and rumours," he said, adding that "all decisions will be made until November 30".
A day earlier, Chief Justice of Pakistan (CJP) Umar Ata Bandial had dismissed a petition to stop the 'Haqeeqi Azadi' march and remarked that it was a political problem that can be solved politically.
On the other hand, earlier today the Islamabad High Court (IHC) directed the PTI to submit a fresh application to the capital's administration for permission to hold a rally, asking the party to ensure that the fundamental rights of the citizens are not affected.


Source link