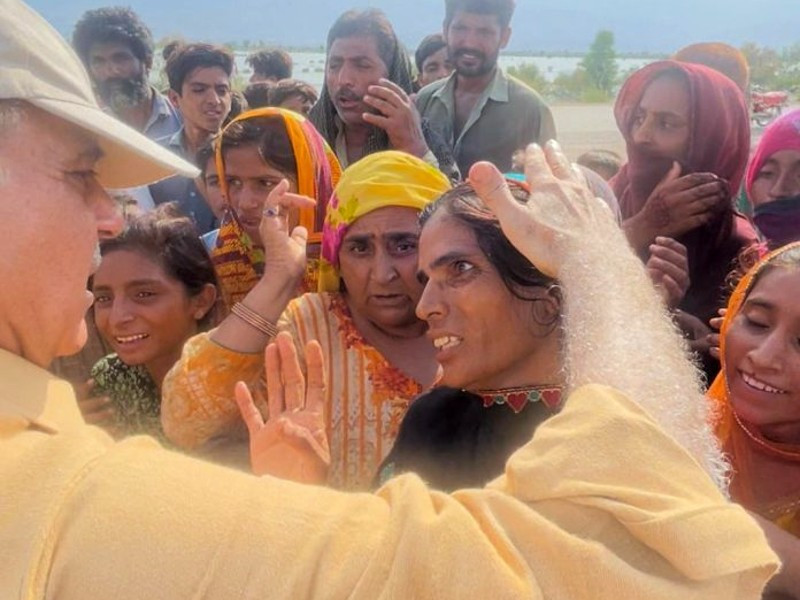 Prime Minister Shehbaz Sharif on Saturday said that the federal government would not leave the flood-affected people alone in this hour of trial.
The premier said this during his visit to Balochistan's Jhal Magsi district, where he reviewed the pace of rescue and relief operations.
Chief Secretary Balochistan Abdul Aziz Uqaili, Balochistan Awami Party (BAP) MNA Nawabzada Khalid Magsi and other high-level officials received the premier at the airport.
Shehbaz Sharif announced Rs1 million compensation for the heirs of those who lost their lives in recent floods in Balochistan.
As per the announcement, Rs0.5 million would be provided to those whose houses have been damaged completely and Rs0.2 million to those whose residences have been partially damaged.
Floods have wreaked havoc in the Jhal Magsi and Lasbela districts of Balochistan. The premier also met the flood-affected people and assured them that his government was committed to rehabilitating all flood-affected people.
"We will not leave you alone," the prime minister told an elderly man. He said it was the responsibility of the provincial and federal governments to support the affected people.
He said he had constituted four committees which would hold consultation with the provinces to assess the losses of livestock and damage to the crops, adding that in the next meeting in Islamabad on August 3, the situation after floods would be further reviewed.
The prime minister took an aerial view of Goth Ali Mardan Shambani in Jhal Magsi and other affected areas to assess the losses and the chief secretary Balochistan during the flight gave details about the flood situation and the relief operations.
He stopped at the Shambani village and met with the people affected by the floods. The prime minister directed for establishing of a medical camp and provision of medicines for the affected village.
He also ordered posting of a veterinary doctor for the livestock and asked the authorities to immediately arrange two boats and ration for the villages and speed up the relief activities for the affectees.
Chief Secretary Balochistan immediately sent additional teams for relief activities in the flood-affected areas.
The PM's scheduled visit to flood-affected areas of Balochistan province was earlier deferred due to inclement weather, according to a press release issued by the PM Office.
PAF continues relief efforts
The Pakistan Air Force, on special instructions from Chief of the Air Staff Air Chief Marshal Zaheer Ahmed Baber Sidhu, continued its relief and rescue operations in the province, said a statement from the PAF.
The PAF added that its "personnel and helicopter fleet are actively engaged in providing humanitarian assistance and disaster relief support to the people stranded in flash floods affected areas of Balochistan".
The statement elaborated that the force has distributed 4,200 kgs of rations comprising flour, ghee, sugar, lentils and tea in the flood-affected areas.
"Additionally, several families have been evacuated from land-locked areas to safer places."
وزیراعظم @CMShehbaz جیکب آباد پہنچ گئے ہیں۔ این ڈی ایم اے کے حکام اور چیف سیکرٹری بلوچستان اور لیفٹیننٹ جنرل اختر نواز نے وزیراعظم کو بریفنگ دی جس کے بعد وہ سیلاب متاثرہ علاقوں کے دورے کے لئے جھل مگسی روانہ ہوگئے :@Marriyum_A #APPNews #Pakistan #Balochistan @PakPMO pic.twitter.com/yUtzWKJlhC
— APP 🇵🇰 (@appcsocialmedia) July 30, 2022
With additional input from APP


Source link