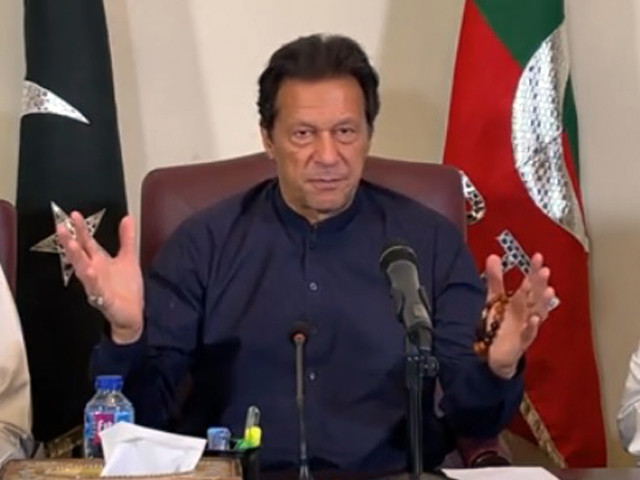 Responding to the backlash he received after delivering an "anti-state" speech a day earlier, former prime minister and Pakistan Tehreek-e-Insaf Chairman Imran Khan on Monday said that he will never do anything to damage the country saying he will always live here and never escape to London like former prime minister Nawaz Sharif.
The former premier has been accused of targeting the military, albeit in a subtle manner. In his latest public rally on Sunday in Abbottabad, the PTI chairman once again said "only animals were neutral" in remarks apparently aimed at the military leadership, which did not take any side when he was ousted from power through a no-trust move.
Read more: Imran to face the music for 'anti-state speech', says Shehbaz
The remarks prompted a response from Prime Minister Shehbaz Sharif, saying that Imran's speech was "a grand conspiracy against Pakistan" and its institutions.
The premier's statement came on the heels of military spokesperson's statement warning politicians, journalists and analysts against dragging Pakistan Army and its leadership in the country's political affairs, saying that the practice is "extremely damaging".
"Imran Khan will live and die in Pakistan… I have no properties abroad I have no bank accounts I will never escape to London… We have to live here. We know the importance of strong institutions whether it is the army or judiciary… we will never damage our country because we will always live here," Imran Khan said while addressing party workers in Islamabad.
Also read: Keep army out of politics in country's best interest, warns ISPR
Criticising PM Shehbaz for pointing fingers at him, he said his elder brother used to badmouth the army and that too only after leaving the country.
https://www.facebook.com/ImranKhanOfficial/videos/976577986356114/
"Now he's saying that he's the saviour of the army… his elder brother not too long ago used to say bad things about this army. Who are you to say that we're talking about the army?" he added.
Taking aim at Nawaz's daughter PML-N Vice President Maryam Nawaz, Imran said that she was only spared for her anti-army narrative because she was a woman. "The elder one (Nawaz) used to say bad things about army abroad and his daughter used to do the same here and because she was a woman no one used to say anything to her but both her brothers left the country," he added.
He said what he was doing was no less than "jihad" and added that Shehbaz Sharif and Nawaz Sharif were real Mir Jaffars and Mir Sadiqs of the country.
"India is most happy when you (Shehbaz) came into power and I was removed. Why is India happy? Because they know your elder brother Nawaz Sharif talks bad about his own army," he said and added that Nawaz Sharif used to meet Indian Prime Minister Narendra Modi secretly in Kathmandu.
"What were Dawn leaks? Simply, it was a message to India that our army is now in our control."
Imran Khan said that the current government should be ashamed for lodging FIR against them for the unruly incident in Madina. "We didn't even know they (the government members) were in Madina… we were busy with our Lailatul Qadr preparations," he added.
He claimed that Shehbaz Sharif has killed most people in police encounters and now a "criminal" is heading the interior ministry of the country, in a reference to Rana Sanaullah.
"Wherever you go, you will hear slogans such as thieves and traitors," he added.
Urging his workers not to respond, Imran urged them to prepare for his upcoming long march to Islamabad, which, according to him, will change the course of Pakistan.
"Those who can't come to Islamabad should protest in their own city. I will tell you what we will do in Islamabad when you will reach the capital. I have never seen such awareness… they have no idea where they have brought this nation. Whatever they plan, it will only backfire."
Reiterating his stance on the "threat letter" by the US, he challenged that America would have never sent such a "threat" to India as it would know it will draw a strong reaction.
"They say such things to us because they know we won't take a stand… they use us like tissue paper. They knew cherry blossom (Shehbaz Sharif) will be the next prime minister," he added.
"They have imposed this dirt upon our country… they have imposed thieves upon us. They have made a joke of this country and its constitution."
Saying that his long march would change the course of this country, Imran Khan urged everyone to participate. "When people become a nation they can achieve everything," he further said.


Source link