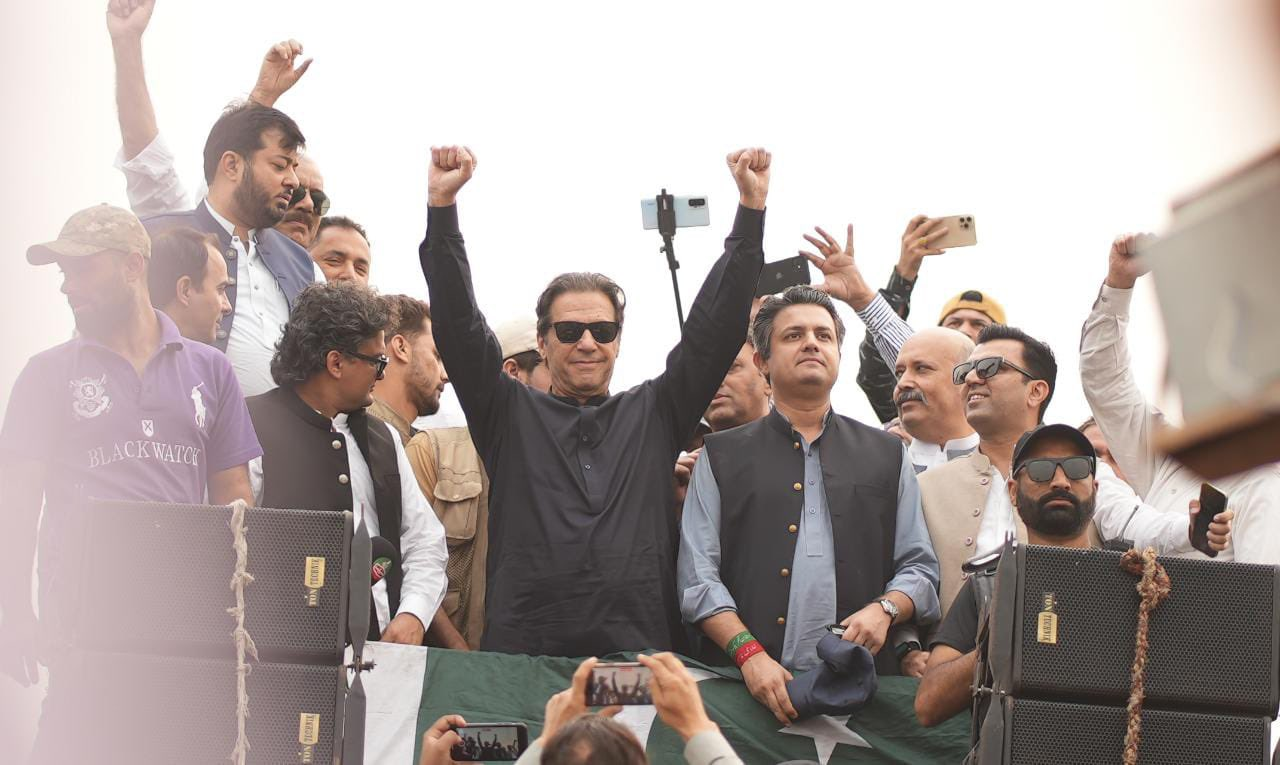 Pakistan Tehreek-e-Insaf (PTI) Chairperson Imran Khan vowed on Tuesday to defeat PML-N supremo Nawaz Sharif in "his own constituency" as the party resumed its 'Haqeeqi Azadi March' on Day 5 from Gujranwala.
"Nawaz Sharif, I challenge you, when you come back, I will beat you in your own constituency," said Imran in his first speech of the day.
He also warned the former three-time premier that when he returns to Pakistan, "we will take you to Adiala jail from the airport".
نوازشریف واپس آؤ اور الیکشن لڑو! میں چیلنج کرتا ہوں تمھارے حلقے میں تمھیں الیکشن ہراؤں گا۔ عمران خان
#حقیقی_آزادی_لانگ_مارچ pic.twitter.com/57zFFM56Nx
— PTI (@PTIofficial) November 1, 2022
Imran also took aim at former president Asif Ali Zardari and said he should "get ready" for his arrival in Sindh – the traditional bastion of the PPP.
Adding that the people of Sindh "need freedom the most", Imran warned Zardari that he is "coming after" him in Sindh.
The PTI chairperson reiterated that the time of "true freedom" had arrived and told the march participants that "we will attain it through justice and will fight for the supremacy of law and justice".
"This system cannot continue and we will have to change it," Imran told the march participants. "When it is asked who will save Pakistan, the answer is not Imran Khan. It will be you who will save Pakistan and set it free," he told the people.
Chairman PTI @ImranKhanPTI kicks off Day 5 of historic Haqeeqi Azadi March! #حقیقی_آزادی_لانگ_مارچ pic.twitter.com/qs5Uw62w5B
— PTI (@PTIofficial) November 1, 2022
Fawad criticises govt for 'extra security measures'
Addressing the media, PTI leader Fawad Chaudhry criticised the government for increased security measures in the federal capital and claimed the government had deployed at least 30,000 security personnel and released a large sum of funds to deal with the party's march.
He said the government was not "dealing with an enemy nation and they are your people". Fawad also announced a new schedule for the march.
New schedule for Haqeeqi Azadi March announced by @fawadchaudhry #حقیقی_آزادی_لانگ_مارچ pic.twitter.com/5Ux8Xo0lr6
— PTI (@PTIofficial) November 1, 2022
The PTI leader said after spending the night in Gujranwala, the march will resume from Pindi Bypass on November 2.
In Gujrat, Punjab Chief Minister Pervez Elahi and his son Moonis Elahi will welcome the participants of the march, said Fawad.
On November 4, the march aims to arrive in Lala Musa and the initial plan to reach Islamabad by Sunday will not be possible, said the PTI leader, adding that the march will no longer be able to travel through Sialkot.
The PTI leader asked supporters from Sialkot to join the march en route instead as "going to Sialkot would extend the march by 15 days".
'200pc larger than 2014'
PTI Senator Faisal Javed Khan said the march would resume "shortly". He added that party chairperson Imran Khan will address the supporters at "multiple spots during the course of the journey".
Faisal also claimed that the size of the march is "200 per cent larger" than the party's 2014 march.
اب سے کچھ دیر کے بعد #حقیقی_آزادی_لانگ_مارچ کے پانچویں دن کے سفر کا آغاز ہو گا ! آج گجرانوالہ سے ہوتا ہوا یہ تاریخی مارچ اسلام آباد کا رخ کریگا! عمران خان مختلف مقامات پر خطاب کرینگے- 2014 کے مارچ سے یہ 200 فیصد بڑا کارواں ہے – اب تبدیلی نہیں-انقلاب آرہا ہے انشاء اللہ
— Faisal Javed Khan (@FaisalJavedKhan) November 1, 2022
Imran hopes for the 'greatest gathering of Pakistanis'
Party chairperson Imran Khan said the 'Haqeeqi Azadi Caravan' has started its journey from Sindh and will join the party's leadership and supporters in Islamabad.
He expressed hope that it would be the "greatest gathering of Pakistanis" in Islamabad.
Haqeeqi Azadi Caravan from Sindh has started its journey to join us in Islamabad. InshaAllah there will be the greatest ever gathering of Pakistanis in Islamabad. pic.twitter.com/jSSYQ3EhNK
— Imran Khan (@ImranKhanPTI) November 1, 2022
Imran 'wants martial law'
Information Minister Marriyum Aurangzeb has accused Imran of "openly inviting the army to overthrow the government" and interfere in politics.
Reacting to the PTI chief's speech on Monday night, she claimed that Imran has admitted that he would prefer martial law be imposed in the country.
.Aurangzeb said that only "humiliation and disgrace" are written in Imran Khan's fate, calling him a "foreign-funded fitna" and a "coward who is only playing tricks".
Fifth day of march
According to PTI leader Musarrat Cheema, the fifth day of the march will begin from Chand Da Qila in Gujranwala.
Read PTI's march to pass through sensitive areas
He said the first stop will be at Super Asia Chowk and then they will aim to end the day by reaching Gondlanwala Chowk through Sheranwala Bagh.
حقیقی آزادی مارچ کے 5th دن کا آغاز صبح 12 بجے "چن دا قلعہ" سے ہوگا.
ہمارا پہلا پڑاؤ سپر ایشیا چوک ہوگا اور پھر شیراں والا باغ سے ہوتے ہوئے گوندلاں والا چوک پہنچ کر دن کے اختتام کی کوشش ہوگی.
مارچ میں ہر دن جوش میں اضافہ ہورہاہے اور اسی وجہ سے حکومت کی بوکھلاہٹ بھی بڑھتی جارہی ہے.
— Musarrat Cheema (@MusarratCheema) November 1, 2022
In another tweet earlier, the PTI chairman appreciated the "public reception and passion" at Eminabad.
Supporters were moving along the GT road at a speed of 12 kilometers an hour, he said, adding that the protesters will march through Gujranwala city today.
Today the public reception and passion at Eminabad. Because of such passion all along the GT road we are moving at around 12 kilometres an hour. So those waiting to receive us please adjust accordingly. Tomorrow we will be going through Gujranwala city. pic.twitter.com/6s1ShX2DQg
— Imran Khan (@ImranKhanPTI) October 31, 2022
The march began from Liberty Chowk in Lahore on October 28 and is en route to Islamabad, under the leadership of Imran Khan.
In his speech at the end of day four, the PTI chief reiterated that this is a defining moment for Pakistan to bring out the rule of law in the country.
The nation would not be prosperous until there was justice, and justice equated to freedom, he added.
He urged his supporters to follow him to Islamabad however possible, in any vehicle. "Come on foot if you must. This is the war for freedom, and everyone must make sacrifices," he said.
PTI leader Fawad Chaudhry said that supporters from Karachi would leave for Islamabad via Hyderabad and Sukkur, while the convoy from Khyber-Pakhtunkhwa would leave through Bada. All these convoys would reach Islamabad to demand free and fair elections in the country, he added.


Source link