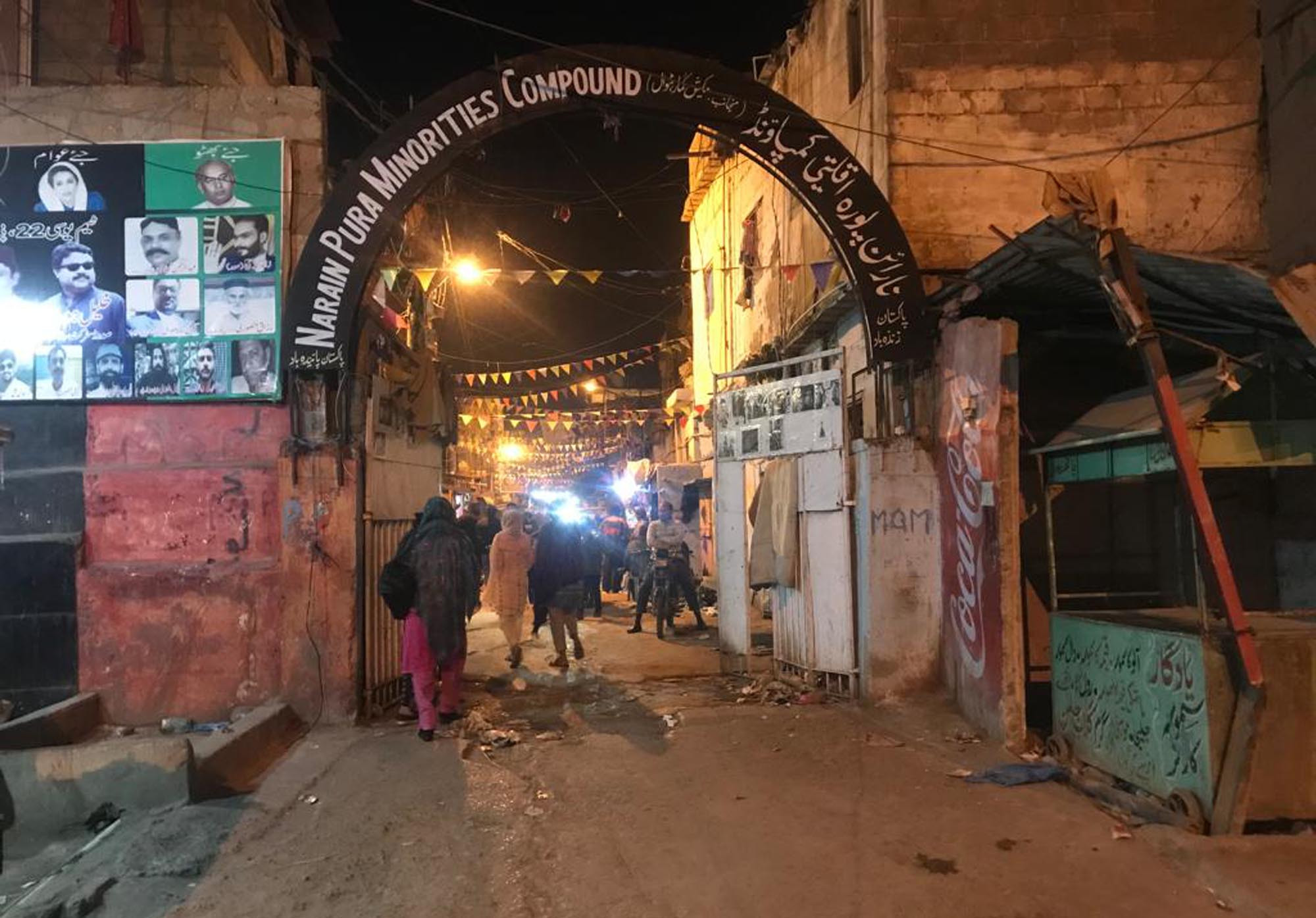 Usha Hatwan was the first person to encounter a vandal on the day her temple in Narayen Pura in Karachi was destroyed. She was inside the temple as usual to open the doors and arrange 'Arthee' for Hindu prayer when she saw a man enter with a hammer. When she protested, the man pushed Usha and she fell. He quickly put his hammer to use, smashing the religious figurines and leaving the temple in ruin. Usha shouted for help but by that time, it was too late.
The incident, which took place in December of last year, is but one example of the threats faced by minorities in Pakistan, where blasphemy allegations, forced conversions and attacks on holy places are common. Hindu devotees live in fear of such attacks on their religion as the space for diversity in Pakistan becomes increasingly limited.
After the incident, Usha's husband, Mukesh Kumar, filed a complaint against the vandal, Wali Muhammad, who lives in Gazer, a locality near Narayen Pura. Other devotees and residents of the area demanded increased security for their temples — prompting law enforcement to post three policemen outside the main gate. The security, however, was withdrawn shortly after. For Usha, the attack only reinforced her dedication to protecting Hindu places of worship. Instead of cowering to fear, she hopes her community can live with courage to defy these attacks on their faith.
Increased security
The temple in Narayen Pura is one of three clustered in an old area of Karachi within the remit of Ranchore, which has a majority Muslim population. Since December, devotees have begun coming regularly to the temple again.
At around seven o'clock in the evening, the group comprised mostly of women and children, begin to worship. A middle-aged man plays the bell for 'Aarthee,' a Hindu religious ritual, which is accompanied by religious songs. As the activities in the temple proceeded, someone heard the 'Azan' prayer and promptly lowered the volume of the bell out of respect.
After the temple was vandalized, policed filed an FIR and arrested Wali Muhammad. He is currently jailed under section seven of the anti-terrorism act of 1997, which gives the accused no option to compromise outside the court of law. Kumar, Usha's husband, and the complainant in the case said he is being pressured to withdraw his complaint. He says he won't compromise.
Police officials say they have removed the security from the temple because the situation has returned to normal. But since the incident, every visitor is now checked before entry. Officials said if security needs to be deployed again, the temple needs to apply for it in writing to the Senior House Office (SHO).
Dr. Ramesh Kumar Vankwani, a member of National Assembly on reserve seat of minorities name by Pakistan Tehreek Insaaf (PTI) and Chief Patron of the Pakistan Hindu Council, told The Express Tribune that the government has acted quickly to repair damage to the temples. He added that there are 1,800 temple properties that have been occupied by vandals. The previous government promised to evacuate these people but didn't fulfil that promise. Kumar said he is now putting these issues before the newly inducted federal government.
After a 2019 report published by the All-Party Parliamentary Group for International Freedom of Religion or Belief and the All-Party Parliamentary Group for the Pakistani Minorities found numerous issues with human rights and the treatment of minorities, the federal government vowed to act. A task force was set up to promote harmony and develop appropriate curricula at schools and colleges to teach social tolerance.
An Apex Court judgment also gave directions to curb hate speech in social media, directing the government to establish a special police force to protect places of worship for minorities.
Dr. Wankwani said one problem in Pakistan is that authorities ignore the international recommendations and judgments for their jurisdictions. He said directives from the Supreme Court also suffer from a lag in implementation, which creates problems for Pakistan. He said this issue compelled him to leave PTI because minority issues were not being adequately addressed.
Rising extremism
According to an Annual Security Assessment Report conducted by the Pakistan Institute for Conflict, extremism in Pakistan increased last year. The report found that there were 57 per cent more militant attacks in 2021 compared to 2020. As a result of these attacks, 395 people were killed and 629 were injured, a 48 per cent and 6 per cent increase in these respective numbers from last year.
Political dynamic and security situation in Afghanistan under the Taliban rule may only make things worse. On the other side of the border, tensions between Pakistan and India continue to be a problem with ultranationalist and extremist tendencies affecting both countries. This combination of factors could fuel extremism in Pakistan, which has longed struggled to curb these tendencies within its borders.
According to the Human Rights Commission of Pakistan, two temples were attacked in Sindh last year and two others in August 2021, one in Punjab and one in Karachi, in addition to the attack in Narayen Pura. HCRP data from 2020 showed 486 cases of people booked under blasphemy charges, the majority of which were in Punjab. There were also 50 cases in Sindh, 40 in KPK, eight in Islamabad, and one in Balochistan.
HCRP's fact-finding report found that at least three members of the Ahmadiyya community were killed in separate targeted attacks, including an elderly person who was shot dead inside a courtroom.
Nand Lal, a native of Lyari, another one of Karachi's oldest localities, was kidnapped twice because he stood up against forced conversions. "They had kidnaped some girls from our community, and had converted them forcibly," he said. "I was very vocal about that."
Lal said because of this unequal treatment, minorities are pushed into poverty, living with a constant feeling of insecurity. He said some people are even leaving their ancestral homes in Pakistan to flee to neighbouring India; He claims 100-200 families from Liyari have settled in Gujrat. "Sadly, the state is not on our side, which is why all this is happening," Lal said.
He said the incident at the temple traumatized his family. "My wife lives in fear all the time." However, he is hopeful this time because when the temple was attacked, the government took immediate action to arrest the culprits and increase security around the temple. He remembers the days when there was peace in Pakistan and religious differences were not a cause for conflict. He prays for that day to return.
"We have faced countless problems as [a] religious minority," he said. We are being treated as third-fourth-class citizens."


Source link