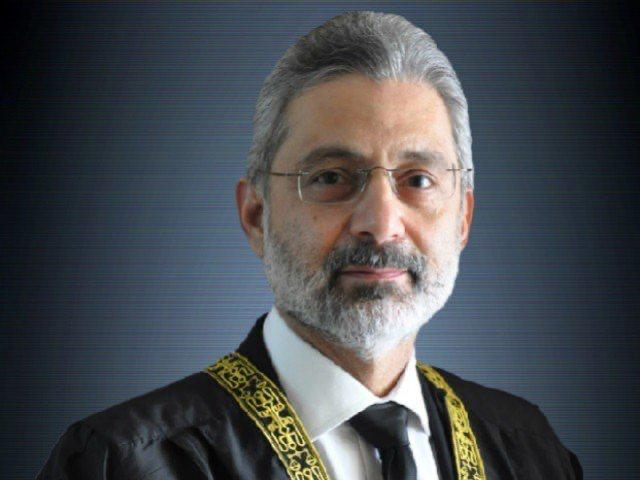 The Supreme Court has raised several questions regarding the interpretation of Section 20 of the Prevention of Electronic Crimes (Amended) Ordinance (PECA) that criminalised defamation.
Headed by Justice Qazi Faez Isa, a two-judge bench, while granting leave to appeal against the March 9 LHC rejection of a plea seeking to quash the FIR lodged by the Federal Investigation Agency (FIA) on Sept 25, 2020, against Meesha Shafi under Section 20 of PECA, has asked whether by invoking PECA against victims of sexual harassment and victims of other crimes amounts to silencing them and perpetuates injustice.
Justice Isa wondered whether Section 20 was contrary to Article 19 of the Constitution and if an individual could be convicted for hurling allegations of theft against someone, which we hear every now and then.
The bench also wondered whether the defence of truth is undermined by section 20 of PECA by criminalising defamation.
The detailed order further questioned whether the criminalisation of defamation negates, dilutes, or suppresses the fundamental right of freedom of speech and expression.
"Whether an anomalous situation is created if both a civil case, claiming damages on account of defamation, and a criminal prosecution for defamation proceed, and/or do so simultaneously, and whether this would undermine the fundamental right of a fair trial and due process enshrined in Article 10A of the Constitution", the order added.
Read Supreme Court questions ECL tweaks
On March 9, the Lahore High Court (LHC) had held that Section 20 of PECA was a valid piece of legislation and did not contravene Article 19 of the Constitution which ensured freedom of speech and expression.
However, on April 8, the Islamabad High Court (IHC) declared the law unconstitutional and ordered its scrapping.
"Whether section 20 of PECA deters the wronged from accusing the wrongdoer and infringes the permission specifically granted to the wronged, that, 'Allah does not like that evil should be uttered in public except by one who is wronged' (Al-Qur'an, Surah An-Nisa (4) verse 148)," the order read.
Seeking further clarity, the court also questioned whether the petitioners could have recourse to this court without having filed an ICA against the impugned judgment.
" Whether there is an exception to the above (not filing an ICA) when fundamental rights require enforcement, and when fundamental rights of the general may also be affected, and, if so, whether the constitutionality of a law which allegedly violates fundamental rights should not be determined at the earliest"
The bench has issued notices to respondents including Attorney General for Pakistan.
The bench also ordered to issue notice to the advocate general of Punjab since the said cases are pending in the province.


Source link