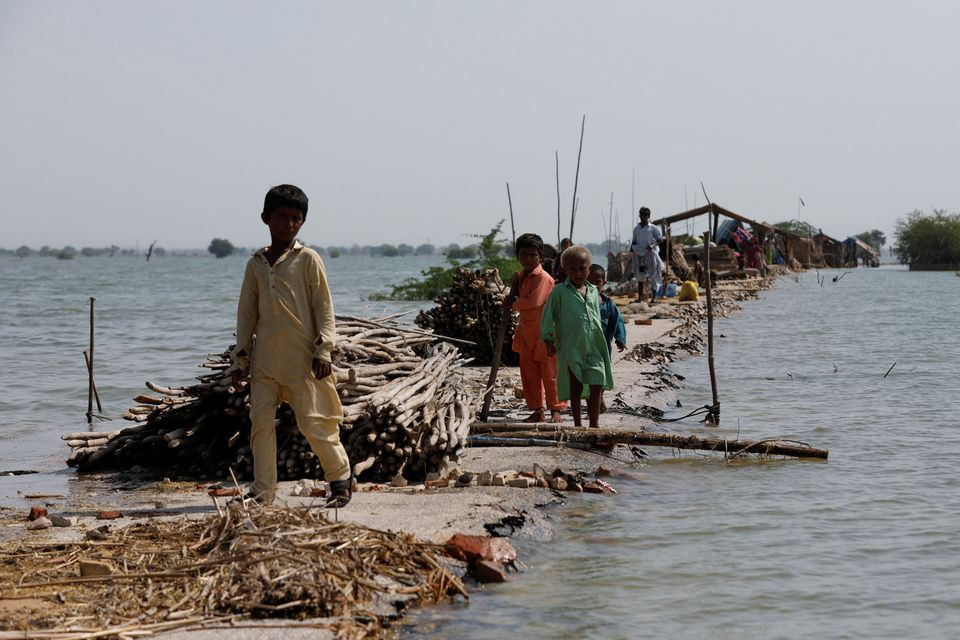 The World Health Organisation (WHO) expressed concern about an impending 'second disaster' of water-borne diseases waiting to spread in the country, particularly in the flood-hit regions of Sindh.
WHO Director-General Tedros Adhanom Ghebreyesus issued a statement late on Saturday and called for donations to "save lives and prevent more suffering" as a potential "wave of diseases and deaths" awaits the country already trying to grapple with the destruction caused by the calamity.
Deeply concerned about the potential for a 2nd disaster in #Pakistan, spreading disease and threatening lives following the flooding. If we act quickly to protect the health system and deliver essential services, we can reduce the impact of this impending health crisis. pic.twitter.com/4JbyY0gP6r
— Tedros Adhanom Ghebreyesus (@DrTedros) September 17, 2022
The chief of the international public health body further highlighted how the consumption of contaminated water in flood-hit areas was leading to a surge in diseases, such as, cholera, malaria, dengue and other diarrhoeal diseases.
"Health centres have been flooded, their supplies damaged, and people have moved away from home, which makes it harder for them to access their normal health services," he wrote in a statement shared on his official Twitter handle.
Read Waterborne diseases may kill more people than floods in Pakistan
"All this means more unsafe births, more untreated diabetes or heart disease, and more children missing vaccination, to name but a few of the impacts on health," he furthered.
He maintained that swift action against the impending disaster can significantly reduce the risk.
"Health workers in Pakistan are stretched to the limit as they do all they can to deliver critical services amid the destruction," he said, adding that the WHO will be setting up health facilities and medical camps nationwide.
Furthermore, he stated that the organisation will also be increasing the surveillance of diseases in the region to prevent outbreaks.
Women, children worst affected
Prime Minister Shehbaz Sharif on Friday addressed the Shanghai Cooperation Organisation (SCO) summit held in Samarkand, Uzbekistan and brought to light the many threats that are escalating in Pakistan in the aftermath of the wide-scale flooding.
"Stagnant water is giving rise to water-borne diseases. Children getting malaria and diarrhoea … all kinds of diseases," he said, adding, "millions of people are living under the open sky".
A total of 2.3 million patients have been treated since July 1 in the field and mobile hospitals set up in the flooded region of Sindh, which has been hit hardest by the calamity.
Many have been sleeping in the open by the side of elevated highways. Abdullah Fadil, UNICEF Representative in Pakistan said: "I have been in flood-affected areas for the past two days. The situation for families is beyond bleak, and the stories I heard paint a desperate picture."
Read More Flood death toll reaches 1,545 after 37 more perish
Thirty-seven more people died on Saturday in flood-related incidents across the country, taking the death toll from the catastrophe to 1,545.
According to data released by the National Disaster Management Authority (NDMA), 32 people perished in Sindh and five in Balochistan.
Moreover, at least 92 individuals were injured during the same time period, including 91 in Sindh and one in Gilgit-Baltistan, taking the total number of injured to 12,850.


Source link