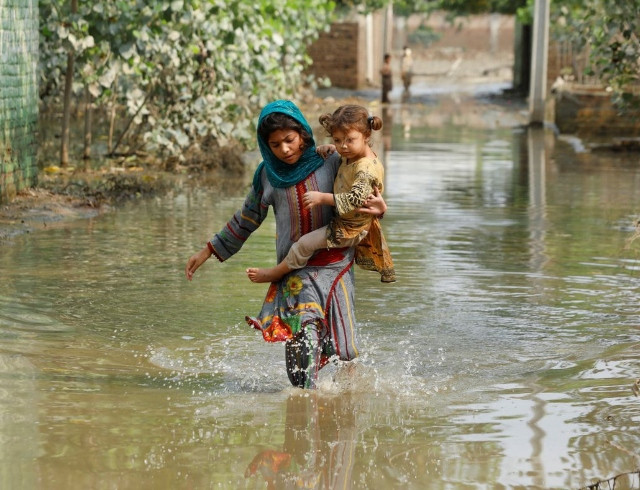 Authorities are struggling to prevent the country's biggest lake from bursting its banks and inundating nearby towns after unprecedented flooding, while the disaster management agency on Monday raised its toll of flood deaths by another 24.
Record monsoon rains and melting glaciers in the country's northern mountains have brought floods that have affected 33 million people and killed at least 1,314, including 458 children, the National Disaster Management Agency (NDMA) said.
The floods have followed record-breaking summer temperatures and the government and the United Nations have both blamed climate change for the extreme weather and the devastation it has brought.
Authorities on Sunday breached the country's largest freshwater lake, displacing up to 100,000 people from their homes in the hope of draining enough water to stop the lake from bursting its banks and swamping more densely populated areas.
Read: Better climate planning urged to cut flood risks
But water levels in Manchhar lake, to the west of the Indus river in Sindh, remain dangerously high.
"The water level at Manchar lake has not come down," Jam Khan Shoro, the provincial minister for irrigation told Reuters.
He declined to say if another attempt to drain water from the lake would be made.
The United Nations has called for $160 million in aid to help the victims of the floods but Finance Minister Miftah Ismail said the cost of the damage was far higher than that.
"The total damage is close to $10 billion, perhaps more," Ismail said in an interview with CNBC earlier.
Read: US Congress delegation visits flood-hit areas
"Clearly it is not enough. In spite of meagre resources Pakistan will have to do much of the heavy lifting."
Nevertheless, help from abroad is arriving. Relief flights from the United Nations and countries including Turkmenistan and the United Arab Emirates arrived on Monday, the foreign ministry said in a statement.
On Sunday, while visiting Manchar lake, Sindh Chief Minister Syed Murad Ali Shah said that the authorities concerned felt compelled to take that decision because the strong winds on Saturday night had begun to propel gushing water from the lake across the levees.
"These five UCs [Jaffarabad, Talti, Channa, Aarazi and Bubak] will be taking water," the chief minister said, referring to the torrents coming from parts of Balochistan and Larkana division, which raised Manchhar to a dangerous level.
There was fear that if the overflowing water was not channelled towards those UCs, Sehwan and Bhan Saeedabad would be inundated. The cut in the bank was made, near Bagh Yusuf, after the lake overflowed near Bubak.
Sehwan has a population of around 300,000 souls, while the five UCs combined were estimated to be inhabited by more than 125,000 people. According to an estimate, 50,000 to 60,000 people had already moved out of their homes before Sunday sunset.


Source link