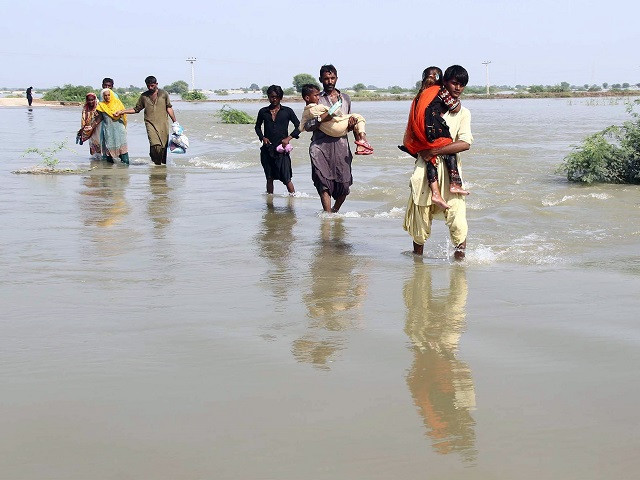 The floodwater in Dadu and Jamshoro districts had started to subside with a decrease in water level in the Indus River, it was reported on Thursday.
The water level had reduced around three feet in all union councils of Jamshoro district which were inundated by the rise in water level in Manchhar Lake last week.
An official of the irrigation department said, "The water level at Guddu Barrage was between 168,026 cusecs to 153,656 cusecs, at Sukkur between 155,948 cusecs to 153,810 cusecs and at Kotri between 437,292 cusecs to 413,877 cusecs."
Read Health experts warn of outbreak of diseases
The water level in the Manchhar Lake dropped, and is now at 121.65 feet.
An official confirmed the receding water levels and said that the situation will be better in a few days. "Even the water level at the main Indus Highway is going to recede," he said.
According to the officials, water level has also come down in Main Narra Valley (MNV) Drain that carries flood water from Kamber Shahdadkot and Dadu districts and releases it into Manchhar Lake. Around three feet of water has receded in MNV as well.
The district of Dadu has been surrounded by floodwaters, leaving only one passage for residents to leave the city.
Read more Flooding triggers fresh migrations in Sindh
Earlier in the day it was reported that five more people had lost their lives during the past 24 hours in flood-hit areas, bringing the total number of casualties to 1,486, including 530 children and 298 women.
Over 33 million of the country's approximately 220 million population has been affected by the raging floods, causing a staggering loss of around $30 billion in damages to an already weakened infrastructure.
Looming health crisis
Waterborne diseases have broken out in the areas devastated by the floods as affected people are increasingly reporting diarrhea, malaria, skin and acute respiratory diseases.
According to Federal Minister for Climate Change Sherry Rehman, floods have brought with it the menace of water-borne diseases such as dengue and cholera. Karachi is seeing an outbreak of dengue as hundreds and thousands of patients are reporting daily at government and private hospitals.
The dengue cases this year are 50 per cent higher than last year. With 584,246 people in camps throughout the country, the health crisis could wreak havoc if it will go unchecked.
Sindh Chief Minister Sindh Syed Murad Ali Shah has said clearing the water might take up to three to six months.


Source link