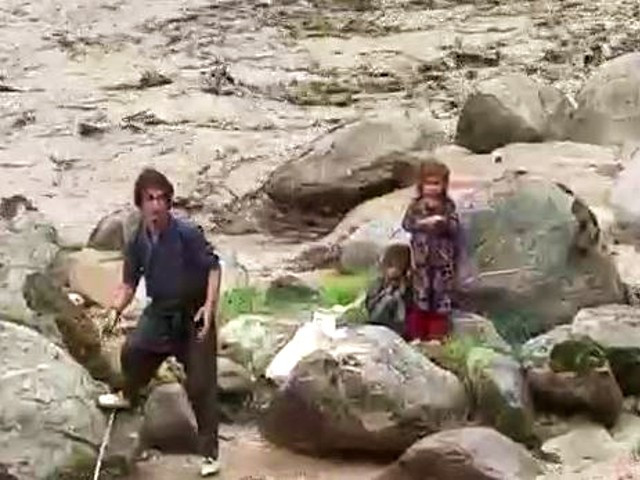 It was a hot sunny day of July in Khanbary, a remote valley of Gilgit-Baltistan's Diamer district. Muhammad Asim decided to stay indoors till sunset to escape the scorching heat of the day.
However, an hour later, dense clouds suddenly enveloped the sky followed by lightning. A sudden cloudburst resulted in flash floods hitting the valley.
The climate change phenomenon is blamed for changes in weather patterns across the globe. However, underdeveloped and mountainous regions are believed to be worse victims of it.
Asim, 20, stepped out of his home to take stock of the evolving situation. He then spotted two girls, stranded in the midst of gushing water.
Read more: Rescuer's heroic act saves eight people from drowning in Bajaur
As he closed in on the girls, he came to know they were about five to six years of age and sitting in a dry patch surrounded by water. He thought it was a matter of time before the gushing water could erode the safe patch to sweep the girls away.
As the news of girls getting stuck in the midst of water spread, people started assembling. A quick makeshift arrangement with the help of a rope was then made by the volunteers to reach out to the girls.
Two youths brave gushing flood waters to save two minor girls in Gilgit-Baltistan.
For more:https://t.co/rXBHkxOWgG#etribune #Latest #ViralVideo pic.twitter.com/eM9ScdRIsT
— The Express Tribune (@etribune) July 30, 2022
It was Asim who first ventured into it, risking his own life. He reached the girls with the help of rope. He was followed by Muhammad Jawaz, 22. "When I spotted the girls the first thought that came to my mind was to rescue them come what may," Asim told The Express Tribune.
"I knew I was endangering my life but there was a satisfaction inside somewhere that I was doing it to save two innocent lives," said the 20-year-old who wants to be a bread earner for his low-income family in future.
Also read: WATCH: Heroic driver speeds away burning oil tanker to save lives
The second person to take part in the rescue operation was Muhammad Jawaz. Speaking to The Express Tribune, Jawaz said, "When I reached the spot, Asim was alone trying to rescue the girls. I immediately decided to help him without giving a second thought to my own safety."
He said the girls were shivering when he reached them. "But thank God it went well and the kids returned safely," said Jawaz, a taxi driver.
In a video that went viral on social media, the stranded girls could be seen sitting in the midst of water encircling them as people tried to rescue them.
"You are the unsung heroes, we acknowledge your valour and courage," said G-B Chief Minister Khalid Khurshid as he gave away checks and certificates to the boys in his office.
"Your dedication to humanity is appreciable," he added.
Diamer district is serene but lagging far behind in infrastructure, education and health facilities from rest of the Gilgit-Baltistan.


Source link