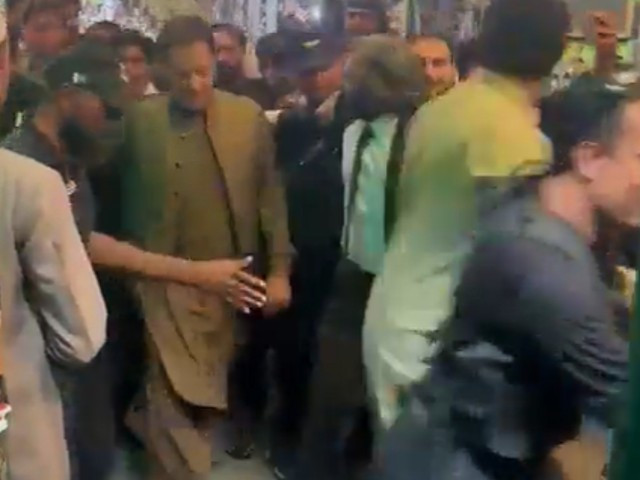 Former prime minister and Pakistan Tehreek-e-Insaf (PTI) Chairman Imran Khan on Thursday faced slogans of ghari chor (watch thief) during his visit to the Lahore Bar Association, a reference to Toshakhana reference in which he was disqualified by the Election Commission of Pakistan (ECP) recently.
According to Express News, Imran Khan approached the lawyers during his visit and invited them to participate in his party's long march to Islamabad.
People are chanting slogans against Imran khan " Ghari Chor ". pic.twitter.com/k8ufLguTde
— Dr Mahwish Tabani (@MahwishTabani) October 27, 2022
As the former premier was leaving, a number of people who were present at the venue started chanting slogans of ghari chor. Imran Khan's security guards and PTI leaders immediately moved him away.
According to sources, it was a rival group of lawyers who chanted the slogans. In a video on social media, a member of the pro-PTI lawyer group can be seen pushing a person who was apparently chanting slogans.
Read more: No option but to indict Imran after Nov 10: ECP
The development comes a day before PTI is going to hold its much-hyped long march to Islamabad against the government to squeeze out a date for snap polls.
The march will commence from Lahore's Liberty Chowk on Friday and will reach Rawat by November 3, where the leadership will decide on the next course of action. The first priority of the party would be to hold a public rally, whereas the second priority would be to turn the protest into a sit-in.
Revealing the itinerary, PTI leader Asad Umar has said that the march will reach Islamabad on November 4.
On behalf of the former ruling party, an application has also been submitted to the deputy commissioner of Islamabad for a rally and sit-in.
The former prime minister informed the elected representatives, including central and provincial officials about the schedule of the march.
He will stay in Lahore until the start of the march, which will commence after Friday prayers.
They will stop at Shahdara Interchange, where the party chief will address his supporters. Their next step will be in Gujranwala, from where they will head towards Gujrat on Sunday morning.
In Gujrat, Punjab Chief Minister Pervez Elahi and his son Moonis Elahi will welcome the participants of the march. Later, they will stop at Sarai Alamgir between Gujrat and Jhelum and will head towards Jhelum on Monday morning, where PTI leader Fawad Chaudhry will host the participants.
On Tuesday, Imran will encamp at Rawal, reaching through Gujar Khan, where he will address his supporters at night. It is here that the top leadership of the party will formulate the final strategy for advancing towards the federal capital.
While party leaders and allies would be the hosts for the march in its initial stages, as soon as they enter the limits of Islamabad, they will be confronted with Interior Minister Rana Sanaullah, so they will decide on their strategy wisely.


Source link