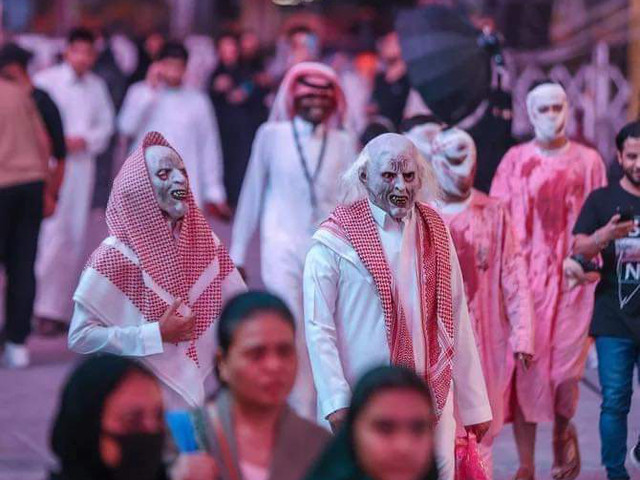 The festival of Halloween was celebrated in Saudi Arabia with revellers dressed up in scary costumes flocked to the event held in the capital city of Riyadh.
The event dubbed as the "Scary Weekend" took place on Thursday and Friday in Riyadh's Boulevard as part of the ongoing Riyadh Season.
ويكند الرعب في #بوليفارد_رياض_سيتي كسر مقاييس الخوف💀، سواء من حضور أو أجواء أو أزياء تنكّرية🧛🏽‍♂️🔥
احجز تذكرتك الآنhttps://t.co/Ra40CkXmSx#ويكند_الرعب#موسم_الرياض pic.twitter.com/PoqLqiUeJ0
— بوليفارد رياض سيتي | BLVD RUH CITY (@BlvdRuhCity) October 28, 2022
The Boulevard was transformed into a venue-wide costume party with dressed-up visitors granted free entry to the event on the condition that they wore scary costumes.
The event was dedicated to showcasing terrifying disguises and parading the creative designs of Saudis and residents. The goal was to create an atmosphere filled with fun, thrills and excitement as people discovered the stories behind various character costumes.
One attendee, Abdulrahman, showcased a costume of the North American mythological creature Wendigo. The legend says that the folkloric creature is a malevolent spirit that possesses human beings, calls on feelings of greed and hunger, and cannibalises people, feeding on their flesh. This was Abdulrahman's first time celebrating Halloween in the country.
"It's a great celebration, honestly, and there's a spirit of joy… in terms of haram or halal, I don't know about it. We celebrate it just for the fun of it and nothing else. We don't believe in anything," he told Arab News.
While Halloween has long been shunned across the Gulf, attendees at the event described the occasion as a form of harmless entertainment.
One eventgoer, Khaled Alharbi, said: "Actions are based on intentions. I'm just here to have fun."
Alharbi came with his family, with members dressed as a bloodied doctor, nurse and consultant. They created a backstory behind their costumes, arriving at the Boulevard just in time for the city's biggest costume party. Alharbi carried a two-year old family member dressed as witch, who playfully cast an insanity spell on the rest of the family.
This was also the family's first time celebrating Halloween.


Source link