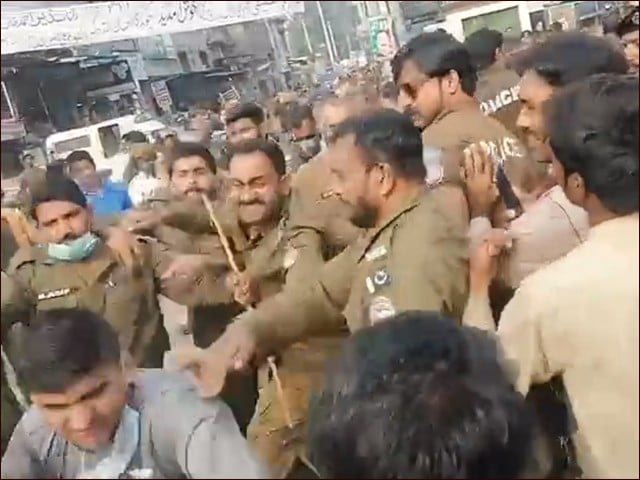 More than two dozen personnel of the Punjab police allegedly thrashed journalists covering the PTI's long march and damaged their equipment in Kamoke.
According to Express News, the police assaulted the journalists and broke the camera of a private TV channel for parking vehicles and setting up cameras along the Haqeeqi Azadi March route for coverage.
The Kamoke police reportedly assaulted the reporters and cameramen in the presence of a senior official.
The altercation took place when the SP police reportedly asked the media persons to remove their vehicles and DSNGs before the arrival of PTI's long march caravan.
The police official said the media would only be allowed to park their vehicles after the long march procession arrived in the city.
The incident caused outrage among the journalists and they staged a protest demonstration after which additional police personnel were called in.
صحافی PTIکے نشانے پر !!!!
پنجاب پولیس صحافیوں کوبدترین تشدد کا نشانہ بنا رہی ہے صرف اس لیے کہ صحافی وہ بتا اور دیکھا رہے ہیں جو وہ دیکھ رہے ہیں ۔یہ فسطائیت و فرعونیت نہیں تو اور کیا ہے ؟؟؟
(نوٹ:یہ ویڈیو پہلے والی ٹویٹ سے ڈیلٹ شو ہورہی ہے اس لیے دوبارہ ٹویٹ کی گئی ہے ) pic.twitter.com/WEleDnyLcY
— waqar satti 🇵🇰 (@waqarsatti) October 31, 2022
Footage of the incident shows an SHO and police officials torturing the cameraman using punches and slaps.
Punjab Chief Minister Pervaiz Elahi took notice of the incident and ordered immediate action against the responsible police officers.
On the instructions of the chief minister, the SHO involved in the violence was suspended.
According to chief minister's spokesperson Umar Sarfraz Cheema, the police and journalists engaged in a bitter argument over the matter of parking vehicles along the Azadi March route.


Source link