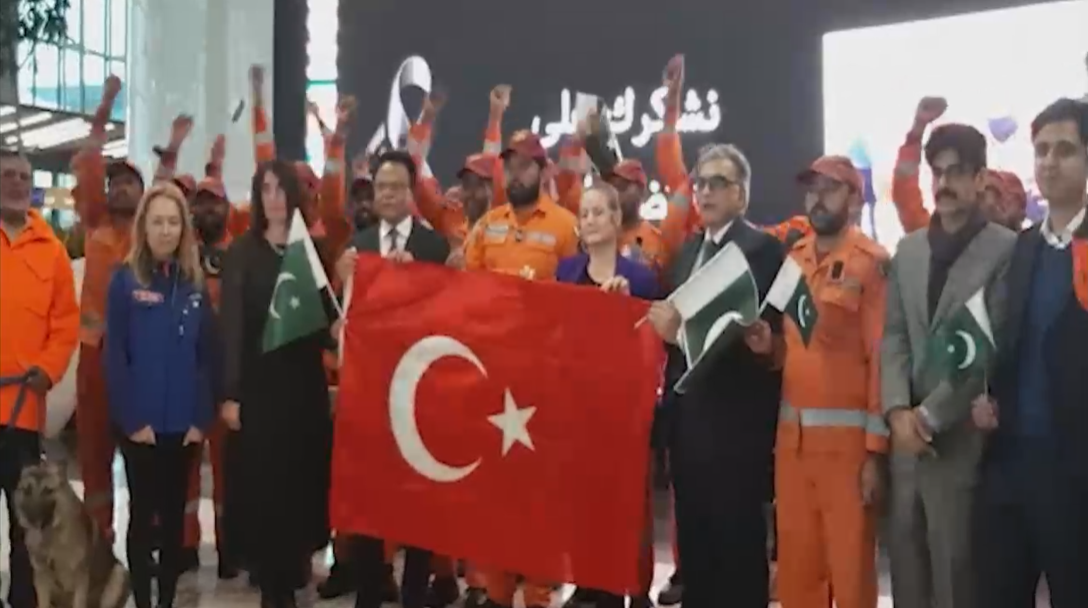 Pakistan's Urban Search and Rescue team will return to the country on Friday morning after conducting a 17-day operation in Adiyaman in the aftermath of the massive earthquake that hit Turkiye on February 6.
International and Turkish media praised the Pakistani team for arriving first and leaving at the very end of relief and rescue efforts in the brotherly country.
The Urban Search and Rescue (USAR) squad from Pakistan comprised a 33-member Pakistan Army USAR team and 53-member Rescue 1122 team.
The team searched 91 sites and rendered services at 39 different locations, managing to rescue eight precious lives, including children, through their relentless efforts.
In addition, the Pakistan team rescued five other people with the help of other rescue teams. The Pakistan team also recovered 138 dead bodies from the rubble and handed them over to Turkish authorities.
Read more: Turkey's Antakya turns into a ghost city after third quake
The Pakistani rescuers departed for home on Thursday night amidst applause at the airport.
قوم کے ان بہادر اور فرض شناس بیٹوں کو سلام پیش کرتے ہیں جنہوں نے ترکیہ کے بہنوں، بھائیوں اور بچوں کی زلزلہ کی تباہی کے دوران زندگیاں بچائیں، دن رات انسانیت کے جذبے سے کام کیا۔ ترکیہ میں ریسکیو آپریشن مکمل ہونے پر ریسکیو 1122 کے دستے کی وطن واپسی کا قابل فخر اور روح پرور نظارہ pic.twitter.com/Z1TNO8Mhrv
— Shehbaz Sharif (@CMShehbaz) February 23, 2023
At the farewell ceremony—attended by Deputy Governor of Istanbul Özlem Bozkurt Gevrek, Pakistan's Ambassador to Turkiye Dr Yousaf Junaid, Deputy Ambassador Zeynep Kaleli of Turkish Ministry of Foreign Affairs, AFAD Coordinator Istanbul Mrs Seval Dedeoglu and other dignitaries—the team was sent off to Pakistan with a loud round of applause and appreciation.
Bidding farewell to the team, Deputy Governor of Istanbul Özlem Bozkurt Gevrek thanked the rescuers for their support in the wake of the devastating earthquake.
Speaking on the occasion, Ambassador Dr Yousaf Junaid stated that Pakistan and Turkiye were like "two hearts, one soul". The people of Pakistan felt the same pain and anguish as their Turkish brothers after the devastating earthquakes.
Pakistan would continue playing an active part in relief and rehabilitation efforts, he added.
(With additional input from APP)


Source link