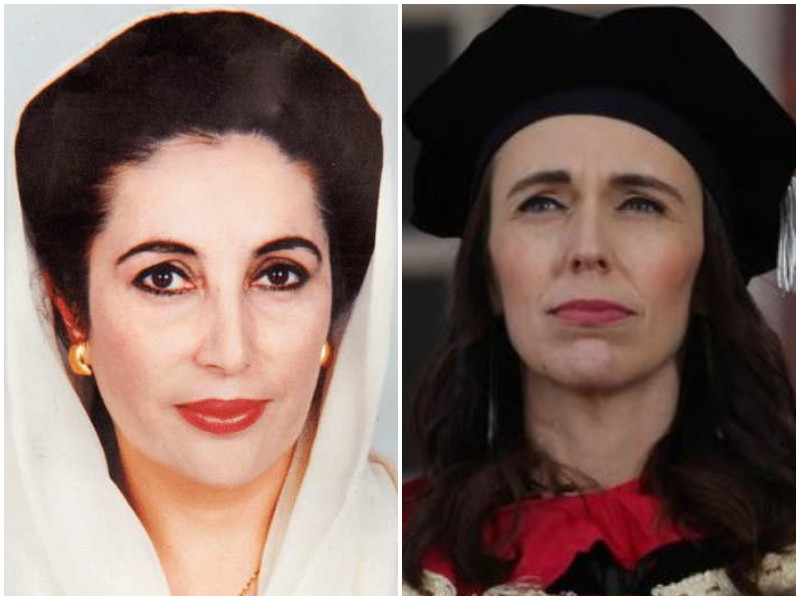 New Zealand's Prime Minister Jacinda Ardern, during her address at Harvard University Commencement, echoed former Pakistani prime minister Benazir Bhutto's call to deepen democracy.
"The path she carved as a woman feels as relevant today as it was decades ago, and so too is the message she shared here in this place," Ardern said while praising the first woman prime minister in the Muslim world.
The New Zealand PM was honoured by the storied US university on Thursday, when she addressed more than a thousand students from the same stage offered to leaders of nations and industry including Winston Churchill, Angela Merkel, Steven Spielberg and Oprah Winfrey.
Ardern's address was built around the need for democratic systems and informed debate, invoking the same plea from Benazir, who underscored the "fragility" of democracy in her own 1989 address at the university.
In an emotional commencement speech at Harvard University, New Zealand Prime Minister #JacindaArdern praised former premier #BenazirBhutto for paving the way for strong female leaders in politics and admired her for becoming the first female prime minister in a Muslim country. pic.twitter.com/cSc3b7R7Jd
— The Express Tribune (@etribune) May 27, 2022
"This imperfect but precious way that we organise ourselves, that has been created to give equal voice to the weak and to the strong, that is designed to help drive consensus – it is fragile," she said.
"For years it feels as though we have assumed that the fragility of democracy was determined by duration.
"That somehow the strength of your democracy was like a marriage; the longer you'd been in it, the more likely it was to stick.
"But that takes so much for granted."
Ardern has walked a similar path to former Pakistani PM; the pair were the first two female heads of government to give birth while in office, Ardern doing so on Benazir's birthday.
Read more: 14 years on, Benazir Bhutto's murder still remains a mystery
The pair met in Switzerland in June 2007, just before Ms Ardern's election to parliament and seven months before the PPP leader was assassinated.
She updated Bhutto's call for the 21st century, taking aim at online disinformation and calling on tech companies to do more to stop online conspiracy theories being spread, which can radicalise.
"The time has come for social media companies and other online providers to recognise their power and to act on it," she said.
She finished her speech with a call for kindness, and to bridge differences with others. "What we do as individuals in these spaces matters," she said.
"We are the richer for our difference, and poorer for our division."


Source link