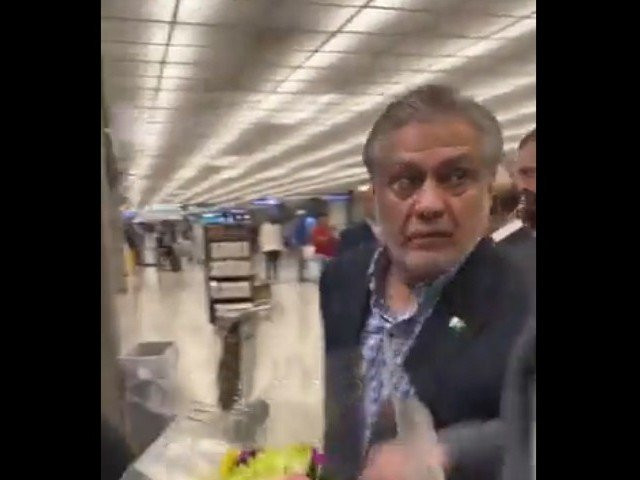 Finance Minister Ishaq Dar was heckled by unidentified protesters, supposed to be overseas Pakistanis, at Dulles International Airport in Washington on Thursday, where he has arrived to hold negotiations with international lenders.
In a short video clip which went viral on social media, one of the protesters can be heard saying harsh words to Dar as the finance minister called the aggressor a "liar".
The protester replies back by calling Dar a "thief and a liar". Another person, who is apparently guarding the financial czar, threatens the man by saying that "he doesn't know him" and also hurls abuses.
Finance Minister Ishaq Dar was confronted by vitriolic slogans of 'thief' and 'liar' at an airport in Washington US – to which his companion retorted through a shouting match of swear words as he ushered the financial czar away from the protesters.#etribune #news #ishaqdar pic.twitter.com/KaxzQ1bjf2
— The Express Tribune (@etribune) October 13, 2022
Earlier, Dar along with a delegation reached the US to hold negotiations with international lenders. During his four-day visit, Dar will meet officials of the International Monetary Fund (IMF), World Bank (WB) and other financial lenders.
He will also participate in the annual meeting of the IMF and the WB.
This is not the first time a PML-N leader has been meted with such treatment. In July, a video of Pakistan Tehreek-e-Insaf (PTI) supporters chanting slogans against Planning Minister Ahsan Iqbal at a McDonald's branch went viral over social media, pointing at the growing intolerance in the country.
Read more: Ahsan lets off hecklers with FIR 'in the court of people'
The incident took place at Bhera Interchange near Sargodha during which some PTI supporters started shouting "thief, thief" to the face of the minister.
However, Iqbal later revealed that the family which heckled him came to his hometown of Narowal and apologised for their actions.
"[The family] expressed remorse and embarrassment. I had already announced that I will not take legal action against them. We all are Pakistanis and we don't have to turn the right to disagree into hate and maintain mutual respect," he wrote on his official Twitter handle while sharing a picture of the meeting with the family.


Source link