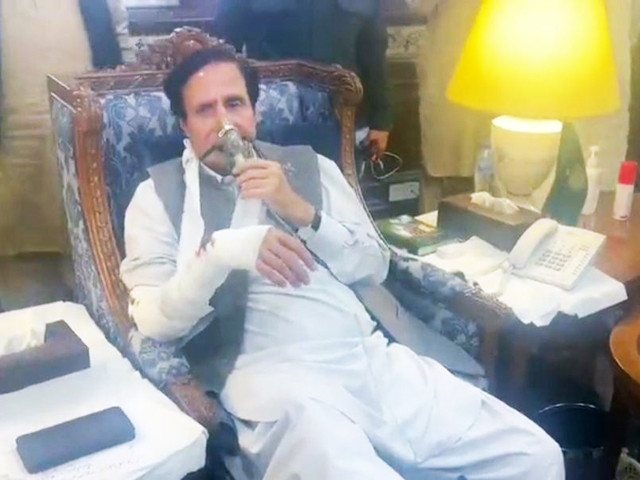 PML-Q leader and Punjab Assembly Speaker Pervaiz Elahi, who suffered injuries in a scuffle between treasury and opposition benches on Saturday, has cursed his opponents saying that he would not forgive them till the "Day of Judgement".
"I am making an appeal that Almighty Allah do justice to me… and make an example out of them," Elahi can be heard saying in a video that went viral on social media.
Referring to PML-N leaders, the provincial assembly speaker said he would not forgive them for "torturing and breaking his hand".
https://www.facebook.com/100001879211972/videos/553830262992668
The PML-Q leader accused PML-N MPA Rana Mashood of attacking him in the assembly and threatening to kill him.
"During their difficult times I helped them and would issue their production orders but they [PML-N leaders] have done this to me," he lamented.
Interestingly, former Punjab CM Usman Buzdar while interacting with Elahi expressed ignorance about the incident, saying, "we did not know what happened".
https://www.facebook.com/nadeemmalik/videos/3988466807945155/?_rdc=1&_rdr
Hamza Shehbaz, son of Prime Minister Shehbaz Sharif, was elected as new chief minister of Punjab with 197 votes on Saturday and rival candidate Prevaiz Ealhi of PML-Q along with PTI lawmakers boycotted the election as they failed to block voting for the new leader of the house.
After the scuffle that also left the Deputy Speaker Dost Muhammad Mazari injured, Elahi met members of local and international media at his chamber in the Punjab Assembly to clear his stance on the issue.
He blamed the scuffle on the police force accompanying Mazari for creating a ruckus in the house by allegedly assaulting the members of the government. The women lawmakers went to the dais of Mazari to "convince" him but they were assaulted by the police force deployed with the acting speaker, Elahi claimed.


Source link