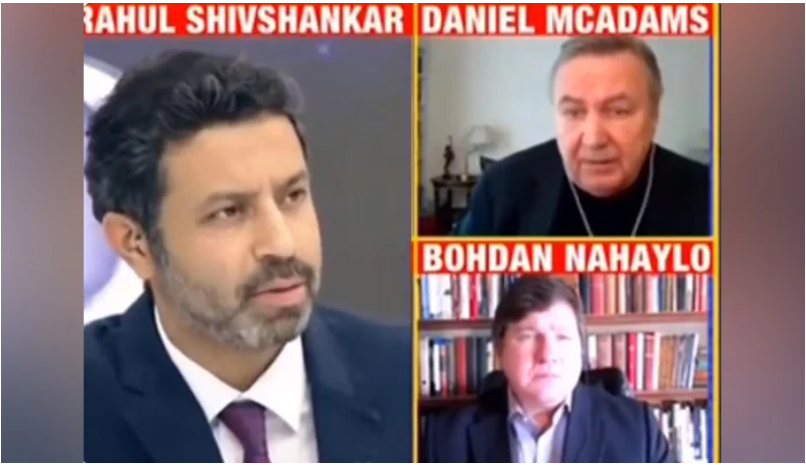 Rahul Shivshankar, the editor-in-chief of the Indian news channel Times Now, went viral on Thursday for berating Bohdan Nahaylo, the chief editor of Kyiv Post, after the anchorperson mistook him for Daniel McAdams the American panellist.
In the viral video clip that has been circulated on social media, Shivshankar can be seen haranguing the Ukrainian guest while referring to him as Daniel McAdams, who is the executive director of the Ron Paul Institute.
As the discussion got heated while debating the Ukrainian conflict, Shivshankar instructed McAdams to "take a chill pill"- but was in fact speaking to the Ukrainian chief editor.
Shivshankar proceeds to berate 'McAdams' for a one-and-a-half minute, saying that if the United States was "so concerned about Ukraine", then he should ask President Biden, "who flashes around his fancy credentials to get off the fence, send his forces and put boots on the ground".
Read: India's response on water projects sought
The anchor further accused 'McAdams', and thereby the US, of lecturing people in India referring to the wars in Afghanistan, Iraq, and Africa, stating that the country's "colonial agenda had wrecked the South".
Meanwhile, Bohdan Nahaylo in an effort to defend Ukraine, could be seen constantly telling Shivashankar that he was addressing the wrong person; however, the host continued to yell at him.
The real McAdams, upon being indirectly insulted, said that he had not said a word to which the anchor replied, "yes the man has gone completely ballistic".
The heated discussion went viral within a few hours and garnered massive views on social media platforms.
Brussels bureau chief for The Economist wrote on Twitter: "This is magnificent. It makes no sense until it makes perfect sense. Nobody outside Indian TV can produce this level of chaos."
Another journalist, Rana Ayyub lamented: "Thank God for the young independent journalists in India, because the 'star journalists' and our 'Editors' have shamed us."
Pakistani journalist Kamran Yousaf also shared the video saying "this is truly epic, Indian TV journalism at its best!!!"
International news websites, such as, The Daily Beast also picked up the story stating that "Indian TV news debate on the Ukraine crisis went wildly off the rails".
This isn't the first time Indian media had made a blatant blunder on national TV. Last year, Afghan Taliban's swift rise to power in Afghanistan and feeble resistance to them in Pangshir Valley had spawned a high volume of misinformation the Indian media had churned out – but only to embarrass themselves.
Read More: French media exposé leaves India red-faced, once again
Several independent journalists from various corners of the world ridiculed India for spreading lies through fake claims on social media that a fighter jet was shot down by the anti-Taliban forces in Afghanistan's Panjshir valley.
A 'masterpiece' tweet by Arnab Goswami last year had also served as a source of entertainment for Twitterati in which the controversial anchor claimed that Pakistani ISI officers were staying on the fifth floor of the Serena Hotel and his 'sources' told him what food they ordered. The hilarious video triggered memes on social media showing an imaginary fifth floor on the otherwise three-storied building.



Source link