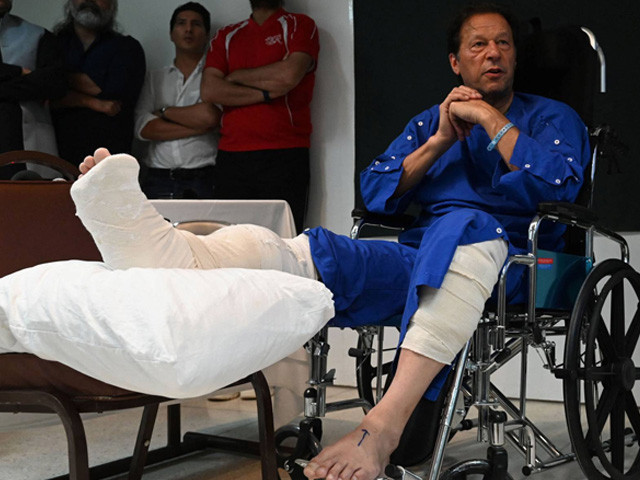 Videos and images of Pakistan Tehreek-e-Insaf (PTI) chief Imran Khan's bullet wound undergoing a change of dressing have made rounds on social media following allegations from government quarters that his injuries in the Wazirabad attack were 'fake'.
A video posted on journalist Shiffa Yousafzai's official Twitter handle revealed the bullet injuries on the former premier's legs.
ان تمام لوگوں کے لیے جو کہہ رہے تھے کہ عمران خان کے خخم اصلی ہیں یا جعلی۔ pic.twitter.com/G6KIOMoF70
— Shiffa Z. Yousafzai (@Shiffa_ZY) November 14, 2022
"For all those who were asking if Imran Khan's wounds are real or fake," she wrote.
Journalist Asad Kharal also posted pictures of the wounds, asking "those who do not believe" to "carefully look at the wounds".
جن کو یقین نہیں آتا وہ عمران خان کے ان زخموں کو غور سے دیکھ لیں pic.twitter.com/tr2QUgUmGl
— Asad Kharal (@AsadKharal) November 14, 2022
The reveal comes shortly after Minister for Information and PML-N leader Marriyum Aurangzeb said that Imran compromised national interests for personal political gains
In a statement, she said Imran is a 'foreign agent' and has made a mockery of himself, the country, and the nation. The minister said that now all antics of Imran had been 'exposed'.
Read PTI moves SC for naming three suspects in Wazirabad attack FIR
Earlier, Pakistan Democratic Movement (PDM) chief Maulana Fazlur Rehman accused Imran of staging a "drama" over the gun attack.
Addressing a press conference, the Jamiat Ulema-e-Islam-Fazl (JUI-F) chief said that the former prime minister has surpassed Bollywood actors Shahrukh Khan and Salman Khan in terms of acting.
"I don't understand his dramas, a JIT (joint investigation team) should be formed on Imran Khan's lies," he remarked.
Fazl said that a "lie" is being forged about the gun attack, adding that when he got the news of the attack, he condemned it, but with time, "things came to light".
The PTI chief had sustained bullet wounds to his leg after an armed attack on his container during the party's 'Haqeeqi Azadi March' in Wazirabad.
One person died in the incident, while several members of the PTI chairman's close circle, including Senator Faisal Javaid, former Sindh governor Imran Ismail, Ahmad Chattha and Imran Yousaf, were injured.
Imran was shifted to the Shaukat Khanum Memorial Cancer Hospital (SKMCH), Lahore.
Officials said that a citizen, who was later identified as Muazzam Nawaz, died in the armed attack, while 14 others, including top leaders of the PTI were injured.


Source link