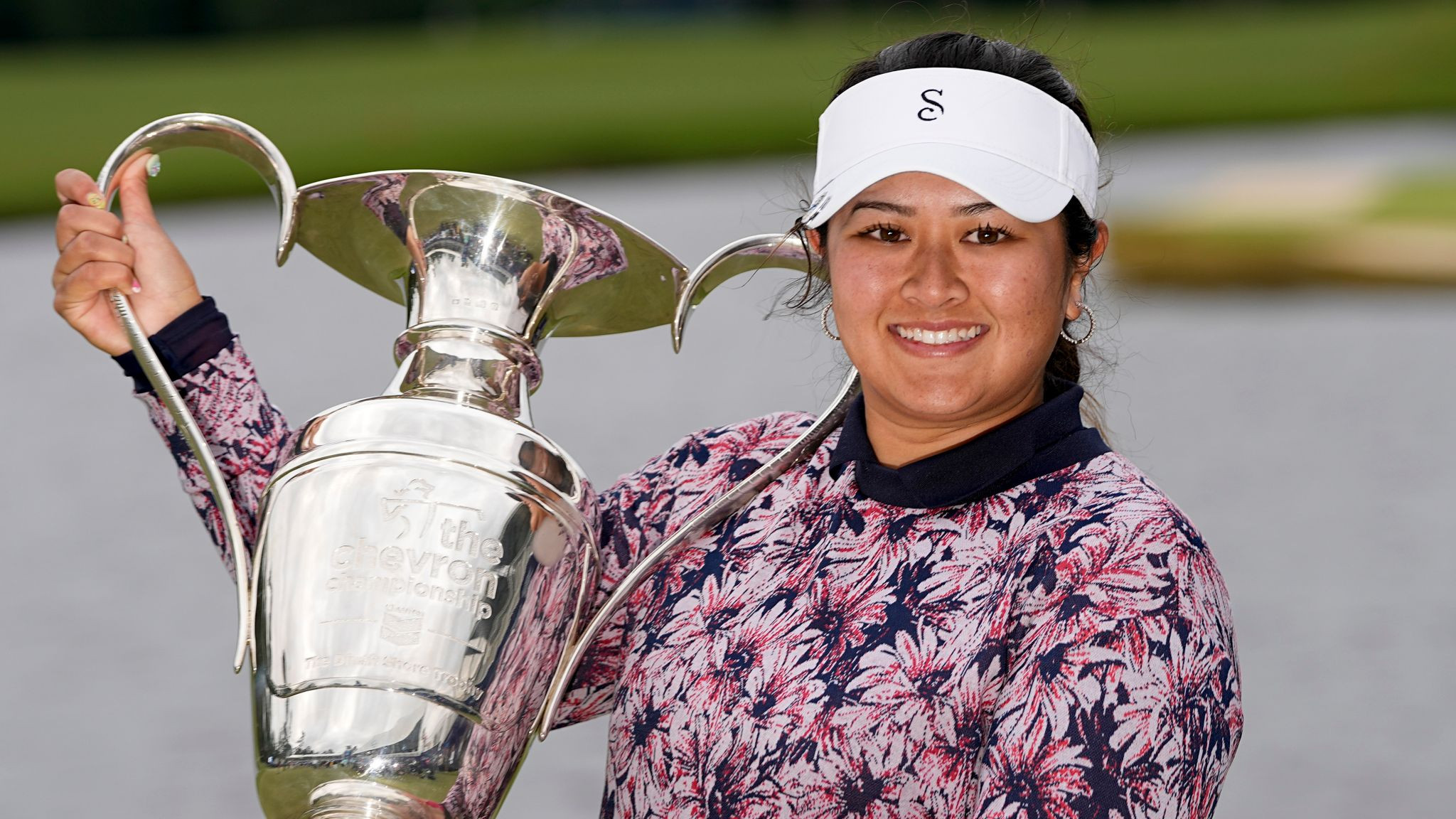 American Lilia Vu won her first major title on Sunday, defeating compatriot Angel Yin with a birdie on the first playoff hole to capture the LPGA Chevron Championship.
In the year's first women's golf major, Vu and Yin each finished 72 holes on 10-under par 278 on the Jack Nicklaus Signature course at The Woodlands near Houston, Texas.
Vu, who birdied 17 and 18 to grab the clubhouse lead, was forced to extra holes when Yin birdied 18 as well.
But Yin found water on her approach in the playoff and Vu sank a tension-packed 14-foot birdie putt for the victory.
"I can't even put into words what I was feeling," Vu said. "I was nervous. I was scared. I was cold. I just wanted to hit the putt and just be done with it.
"I just saw my line and speed – I knew it was going to be a fast putt – and trusted myself."
Moments after making the winning putt, Vu followed a tournament tradition that began at its former home in California of jumping into water, taking her plunge into the same chilly greenside lake where Yin's ball sank earlier.
"I had a tough, not easy, past two days," Vu said. "I was definitely my own enemy. I don't know how I pulled this out. I'm just really happy and proud."
Vu fired a four-under 68 and set the score to beat. Yin unraveled with bogeys at 16 and 17 but sank a six-foot birdie putt at the par-5 18th to shoot 72 and force the playoff.
Vu had considered giving up golf years before, but said after the win that, "everything happens for a reason," and for all the bad things she has faced, "I think of myself as the biggest obstacle."
World number 12 Vu won the $765,000 top prize in only her ninth major start. The 25-year-old American won her first LPGA title in February at Thailand and becomes the tour's first multi-event winner this year.
She became the 21st player to claim her first major title at the event.
World number 172 Yin, in only her third LPGA start of 2023, hadn't managed a top-10 LPGA finish since sharing third in last May's Founders Cup.
But the 24-year-old from Los Angeles had been the 2019 US Women's Open runner-up and took a Ladies European Tour victory at Dubai in 2017.
"I feel like I felt when I started the round," Yin said. "Not much has changed other than I lost. Just happy with how I am playing.
"Today just wasn't hitting it very good and 16 and 17 was just bad club decision, bad club decision and bad mindset on 16 off the tee."
Playing in cool and windy conditions, Vu was four adrift of co-leader Yin when the round began.
Vu birdied the second and par-3 third and added another at the par-5 eighth before stumbling with her lone bogey to close the front nine. She followed seven pars with birdies at 17 and 18.
Yin birdied the par-5 13th to seize the lead alone at 11-under, one ahead of Thailand's Atthaya Thitikul, who closed with a double bogey to fall out of contention.
Yin landed a pressure chip inches from the hole to set up a par at 14 and but stumbled late, finding a fairway bunker at 16 and missing a six-foot par putt then landing in a bunker on the way to a bogey at the par-3 17th, forcing her to birdie the 18th just to force a playoff.
Yin went six feet past the hole on a long eagle putt but made the comeback effort.


Source link