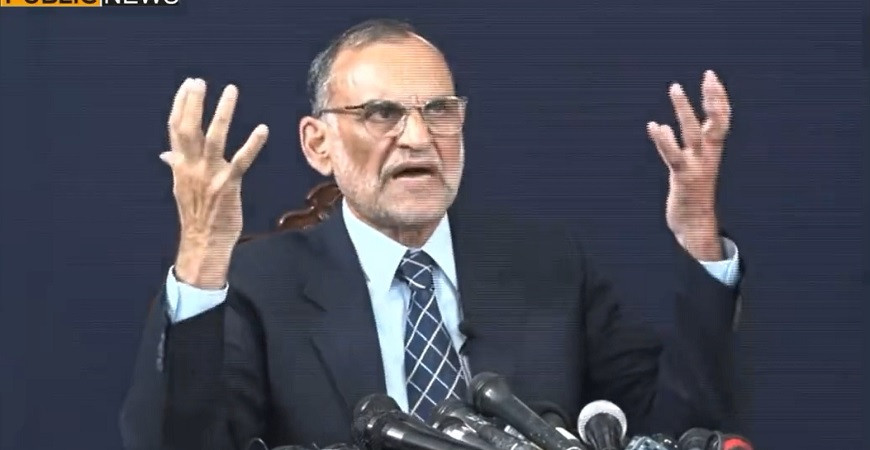 Pakistan Tehreek-e-Insaf (PTI) Senator Azam Swati said on Monday the controversial video sent to his family was original but a few additional things were included in it, insisting that the video was recorded during his stay on Quetta.
Talking to the media outside the Supreme Court, the senator said that he was not fighting the case of his or his wife rather he was fighting for every daughter in this country. He added Chief of Army Staff Gen Qamar Javed Bajwa had sent him a message and assured him justice.
The army chief, he added, "sent a message through his right-hand person that I will get justice", Swati said. He questioned why there was delay in his case. He said that the concerned assistant director of Federal Investigation Agency (FIA) should be summoned to GHQ to reveal at whose behest the incident happened.
Swati said that his video was sent to his daughter, adding that a few extras shots were added to it but the "rest is original". "I was the guest of the Senate Chairman in Quetta. I was told that government officers and judges had come to the place where I was staying," he continued. "The venue was Federal Lodge I Quetta."
Responding to a question, he said after leaving the government, he did not go anywhere with his wife. He then asked Senate Chairman, saying: "Your job is to protect everyone's honour." Referring to an inquiry committee formed the Senate chairman, he said: "Why is the so-called committee formed?"
Meanwhile, the PTI and other opposition parties in the Senate condemned the cruel, inhuman and immoral treatment meted out to Senator Swati and rejected the special committee set up by the Senate chairman for inquiring into the incident. The joint opposition demanded resignation of Chairman Sadiq Sanjrani.
The joint opposition strongly condemned the assassination attempt on PTI Chairman and former Prime Minister Imran Khan and urged that immediate first information report (FIR) must be lodged against the accused named by the party.


Source link