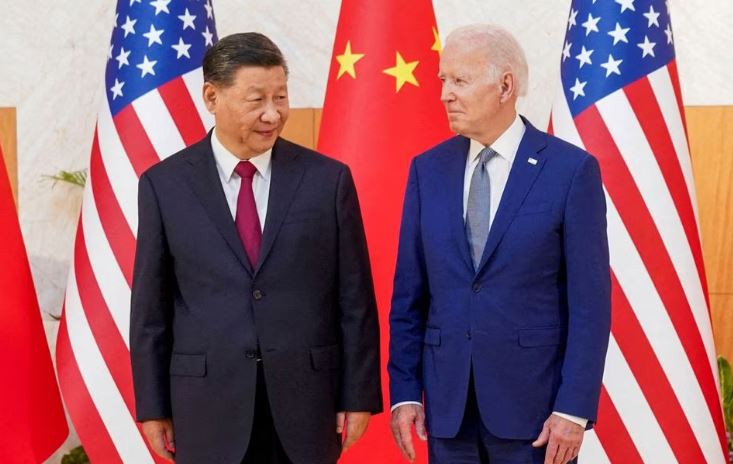 A senior US Treasury Department official said on Friday that the coalition of partners that has imposed sanctions on Russia over its invasion of Ukraine have found effective ways to communicate with China about not providing material support to Russia.
The official, speaking on condition of anonymity, said the communication has meant that though China and Russia have signaled an open partnership of sorts, the US has not seen Beijing provide Russia with the type of material support at a scale that would matter in this regard.
As a result, Russia is still focused on support from North Korea and Iran, the official said.
The United States and its allies, including the European Union and United Kingdom, imposed sanctions on Russia following the invasion of Ukraine more than a year ago and have continued to ratchet up pressure. Washington has since launched a push to crack down on sanctions evasion.
Washington's approach to China so far has been to directly communicate with Beijing and countries around the world about the risks of providing material support to Russia, the official said.
While travel by US officials to China has been limited, European counterparts have been in active communication and are visiting, the official said.
US relations with China are at what some analysts see as the low point since Washington normalized ties with Beijing in 1979 and switched diplomatic recognition from Taipei.
The United States expressed concern earlier this year that China was considering providing lethal support to Russia.
Also read: China sends warships and aircraft around Taiwan for second day
The US is warning countries that it is prepared to take actions against companies and individuals in any jurisdiction that are providing material support to Russia for its war effort in Ukraine, the official said.
Washington would like to see the United Arab Emirates do more in terms of sanctions compliance, which the US has previously said was "poor", the official added.
Top US economic officials will travel internationally this month to speak to a number of countries and their businesses about the continued risk of providing material support to Russia, the official said.
Brian Nelson, the Treasury's Under Secretary for Terrorism and Financial Intelligence, will travel to Switzerland, Italy, Austria and Germany, a second senior Treasury official said.
Elizabeth Rosenberg, the assistant secretary for Terrorist Financing and Financial Crimes, will travel to Kazakhstan and Kyrgyzstan.
At spring meetings of the International Monetary Fund and World Bank next week, the United States will provide select opportunities for counterparts and businesses to meet with top US intelligence officials to obtain information on how Russia is using its GRU military intelligence agency and Federal Security Service (FSB) to try and evade sanctions and export controls.


Source link