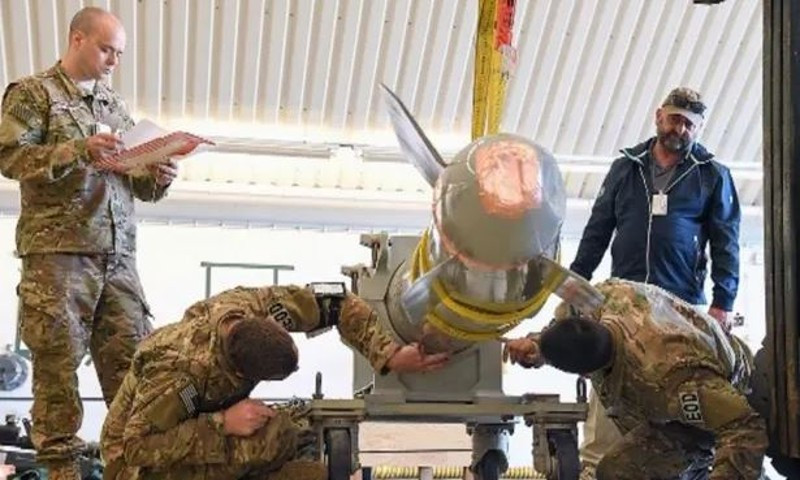 One of the US nuclear bombs stored at a Dutch air base may have been damaged in a recent accident, The Guardian quoted a report as saying on Monday. The report comes at a time when a new generation of the weapons are due to arrive on the continent.
According to the report, Federation of American Scientists (FAS) found a picture of US soldiers, including two from an explosive ordnance disposal unit, and a civilian, allegedly inspecting a B61 bomb.
The back of the bomb looks warped from the impact, and one of the fins at the end is absent. There seems to be a hole in the bomb covered by pink sticky tape.
The report stated that the photograph was shown in a presentation for student job applicants by Los Alamos National Laboratory in New Mexico, which is a nuclear weapons facility.
The report also indicated that the location of the image was traced to the Volkel air force base in the Netherlands. The air base is one of six bases situated in five European countries that currently store 100 B61 nuclear gravity bombs as part of an agreement to share nuclear weapons with the US.
Hans Kristensen, the director of the FAS nuclear information project and author of the report, emphasised that there is no official verification that the photo was taken at Volkel AB, that the distorted B61 shape in the photo is a genuine weapon (rather than a training model), or that the damage was caused by an accident (as opposed to a simulation).
Read more: Russia's nuclear rhetoric is dangerous and irresponsible, NATO says
"If the picture does depict a nuclear weapon event, it would be the initial recorded instance of a current nuclear weapon accident occurring at an airbase in Europe."
An occurrence where a nuclear weapon is damaged is referred to as a "bent spear" incident, and these are usually kept confidential.
When asked about the photograph, a spokesperson for the US air force in Europe declined to make a direct comment. Instead, they stated that the US takes extreme precautions when it comes to personnel and equipment that support the strategic arsenal. "This includes regular training, upkeep, and security measures to protect America's crucial capabilities."
The spokesperson declared that according to the US policy, they are unable to confirm or deny the existence or non-existence of nuclear weapons at any general or specific location, be it a real-world operation or a specific exercise.


Source link