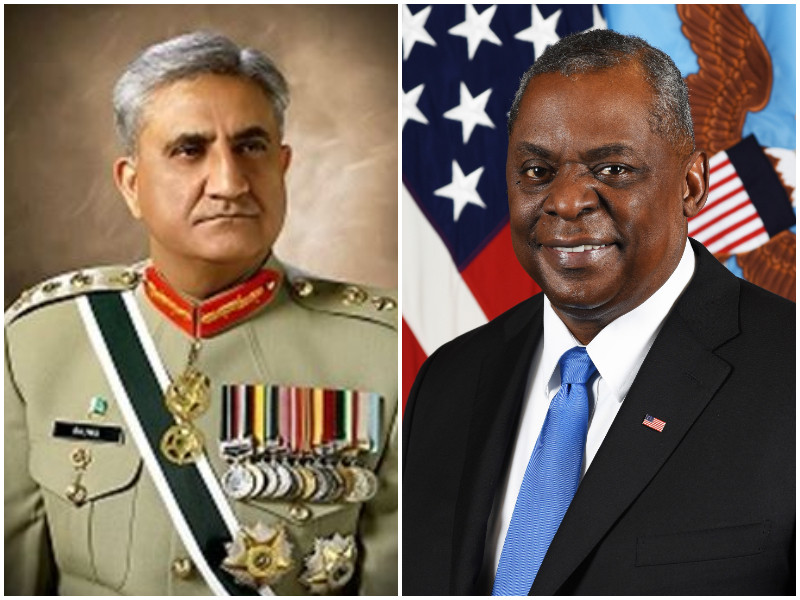 Chief of Army Staff (COAS) General Qamar Javed Bajwa and US Secretary of Defence Lloyd James Austin had a telephonic conversation on Friday, the military said in a statement.
According to the Inter-Services Public Relations (ISPR), during the call, matters of mutual interests, regional stability as well as defence and security cooperation were discussed.
It said that the defence secretary expressed his grief over the devastation caused by unprecedented floods in Pakistan and offered sincere condolence to the families of the victims. He offered full support to the people of Pakistan.
He also appreciated Pakistan Army's rescue and relief efforts in areas hit by flooding and pledged to play his role in enhancing cooperation with Pakistan at all levels.
Read more: Pakistan most impacted country despite minimal contribution to climate change: UN chief
Earlier in the day, US Agency for International Development (USAID) Chief Samantha Power announced $20 million in additional help for flood-hit Pakistan at a press conference in Islamabad.
Counsellor of the US State Department Derek Chollet on Thursday said that the United States would operate a massive humanitarian air bridge to Pakistan over the next 10 days to provide relief supplies to the flood-affected people.
Twenty US C-17 military aircraft will land in Pakistan carrying the food and shelter material worth $2.2 million as critical humanitarian assistance for flood response.
Asked about the US announcement to work with the United Nations to raise $160 million for flood victims, Chollet said the US is approaching other countries and allies to meet the appeal of the UN Secretary-General.
Read UN preparing for worse to come in Pakistan floods
He said that the US is committed to doing its part with its partners in the international community to help Pakistan respond to the terrible disaster.
"The US wants to lead by example by helping the communities in Pakistan during difficult times," he said.
Record monsoon rains and melting glaciers in Pakistan's northern mountains have brought floods that have affected over 33 million people and killed nearly 1,400, including children. The inundation, blamed on climate change, is still spreading.
Villagers near Manchhar lake fled their homes on Thursday due to rising flood waters. The disaster has estimated to have caused losses of about $10 billion, disrupting the lives of millions.
In Sindh, one of the worst-hit regions, people worked to strengthen an existing dyke as floodwaters threatened the town of Bhan Syedabad.
National disaster authorities said the death toll reached nearly 1,400. Seven were children, who make up 481 of the dead.
In July and August, Pakistan got 391mm of rain, or nearly 190% more than the 30-year average, while Sindh got 466% more than the average.
The World Health Organisation has said more than 6.4 million people need humanitarian support in the flooded areas.


Source link