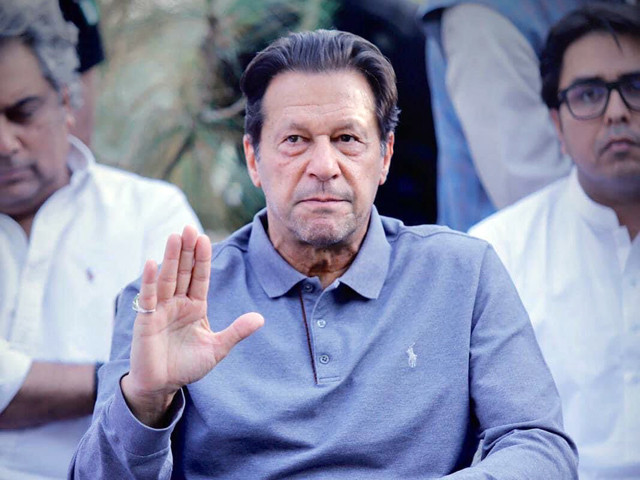 In his maiden press conference after being ousted as prime minister, PTI Chairman Imran Khan on Saturday accused PML-N supremo Nawaz Sharif of hatching a conspiracy to dislodge his government through vote of no-confidence.
"Supreme Court should hold open hearing on threat letter… we will not accept any in-camera hearing," he remarked.
The PTI chief also claimed that Prime Minister Shehbaz Sharif and PPP leader Asif Ali Zardari colluded with "foreign conspirators" to remove him from power.
"Nobody usually receives the type of threat that we have received. This whole thing is shameful for our country."-@ImranKhanPTI #ImranKhanMediaTalk #امپورٹڈ_حکومت_نامنظور pic.twitter.com/WjSzcokDOj
— PTI (@PTIofficial) April 23, 2022
"No prime minister would be able to hold out against foreign conspiracies in future if no investigation was carried out [into alleged threat letter]," he said while urging the state institutions to take a stand against alleged foreign plot to protect country's sovereignty.
Commenting on the diplomatic cipher, Imran said the language used by the US diplomat against his government was 'unprecedented' and 'threatening'.
He also lashed out at the opponents for terming the telegram as a routine matter, calling them "shameless".
"I'm instructing everyone to get ready for our Islamabad Haqeeqi Azadi March!"-@ImranKhanPTI #امپورٹڈ_حکومت_نامنظور #ImranKhanMediaTalk pic.twitter.com/PDOg0eSoDD
— PTI (@PTIofficial) April 23, 2022
"We came to know in January that a foreign conspiracy was being hatched against my government," said the former PM.
Speaking about the party dissidents, Imran urged the apex court to hold day-day to hearing on his petition seeking disqualification of rebel lawmakers.
"If our institutions do not take a stand against this [horse-trading]… then our country's future is in danger."
چیف الیکشن کمشنر ایک جانبدار انسان ہے جو سارے فیصلے ہمارے خلاف کرتا ہے اسے مستعفیٰ ہونا چاہییے اور میں سپریم کورٹ سے کہتا ہوں 63A پر فیصلہ دے کیونکہ ضمیر فروشی جمہوریت کی نفی ہے۔ عمران خان #ImranKhanMediaTalk
#امپورٹڈ_حکومت_نامنظور pic.twitter.com/kNOS1Yir0f
— PTI (@PTIofficial) April 23, 2022
He also accused the Election Commission of Pakistan (ECP) of being partial in foreign funding case, demanding its chief to step down immediately.
Imran said he has directed the party leaders and workers to begin preparations for a long march on Islamabad to achieve "real freedom".
"A sea of people will converge on Islamabad… people have woken to reality as to how corrupt rulers were imposed on them."
"Shahbaz Sharif must apologise for saying that the cypher was fake"-@ImranKhanPTI #ImranKhanMediaTalk #امپورٹڈ_حکومت_نامنظور pic.twitter.com/nzVnhbiFYp
— PTI (@PTIofficial) April 23, 2022
He also criticised the government's decision of striking down names from no-fly list, saying the decision was taken to provide "safe exit" to corrupt individuals.
"Put my name on exit control list (ECL) I don't want to go anywhere."
Imran said yesterday's high-powered National Security Committee (NSC) huddle "vindicated" his claim of foreign conspiracy and also "validated" minutes of the body's meeting held last month when he was the prime minister.
On Friday, the NSC meeting chaired by PM Shehbaz concluded that no evidence of "foreign conspiracy" to topple Imran Khan's government has been found, but at the same time it endorsed the decisions taken in its previous meeting.
"NSC confirmed that the [diplomatic] cable was original and the conversation between Pakistan and US officials was real," said Imran.
"Nobody usually receives the type of threat that we have received. This whole thing is shameful for our country."-@ImranKhanPTI #ImranKhanMediaTalk #امپورٹڈ_حکومت_نامنظور pic.twitter.com/WjSzcokDOj
— PTI (@PTIofficial) April 23, 2022
This will be updated…


Source link