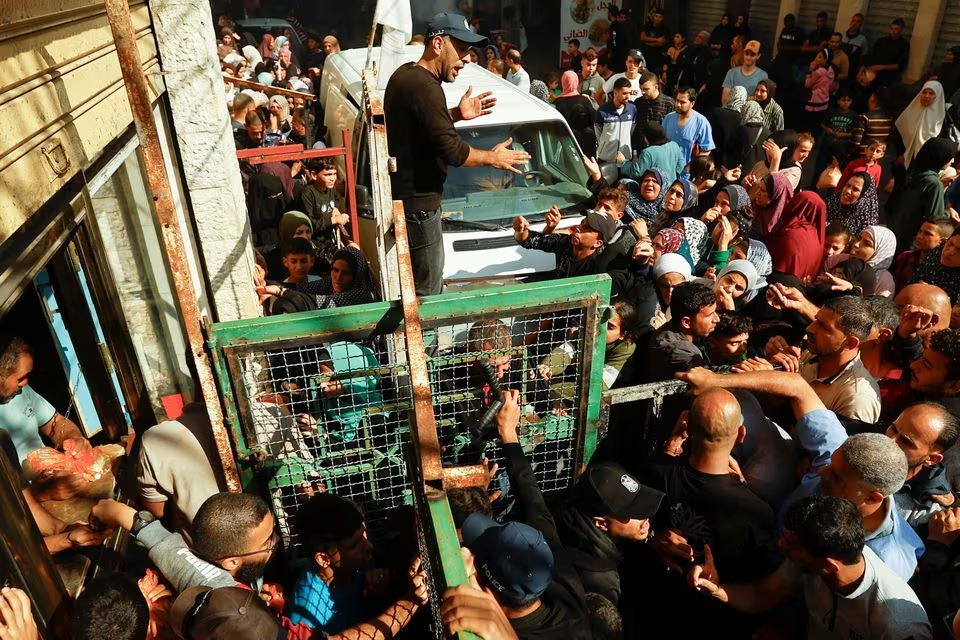 UN says starvation 'imminent' in Gaza
UN aid deliveries to Gaza were suspended again on Friday due to shortages of fuel and a communications shutdown, deepening the misery of thousands of hungry and homeless Palestinians as Israeli troops battled Hamas fighters in the enclave.
The United Nations' World Food Programme (WFP) said civilians faced the "immediate possibility of starvation" due to the lack of food supplies.
With the war about to enter its seventh week, there was no sign of any let-up despite international calls for a ceasefire or at least for humanitarian pauses.
Palestinian news agency WAFA said a number of Palestinians were killed and others injured in an Israeli strike that hit a group of displaced people near the Rafah border crossing between the Gaza Strip and Egypt – the transit point for aid.
A picture taken from the border between Israel and Gaza shows buildings heavily destroyed by Israeli strikes in the Gaza Strip. PHOTO AFP
Al Jazeera TV cited sources as saying that nine people were killed in the strike. It also said that at least 18 Palestinians were killed after an Israeli strike hit a house in the Nuseirat refugee camp in central Gaza.
There was no comment from Israel on the reported incidents and Reuters could not verify them.
Israel's military, which has concentrated its assault on northern Gaza, said its troops and war planes were keeping up pressure on Friday.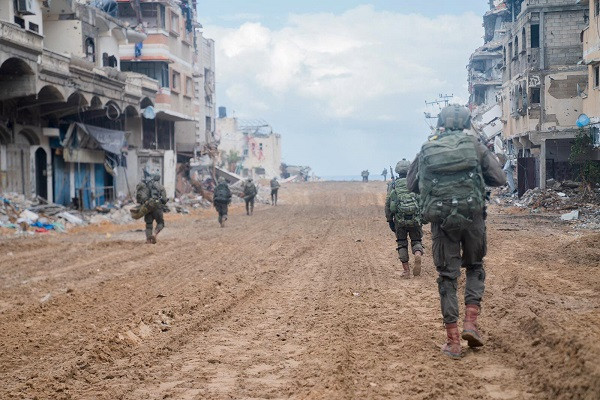 Israeli troops during the invasion of Gaza Strip. PHOTO: AFP
Overnight they took control of an Islamic Jihad commander's stronghold, it said, and also killed Hamas fighters inside a school where they found a large number of weapons.
Hospital still in focus
Earlier, Israel said its troops had found a tunnel shaft used by Hamas at Al Shifa hospital in the north of the Gaza Strip.
The hospital, packed with patients and displaced people and struggling to keep operating, has become a major focus of global concern. Israel says Hamas has stored weapons and ammunition and is holding hostages in a network of tunnels under hospitals like Shifa, using patients and people taking shelter there as human shields. Hamas denies this.
The conflict was triggered by a cross-border raid by Hamas fighters on Oct. 7 that killed about 1,200 Israelis, mostly civilians, in the deadliest day in the state's 75-year-history.
More than 11,500 Palestinians, at least 4,700 of them children, have now been killed in Israel's retaliatory military assault on Hamas-ruled Gaza, according to the Palestinian Health Ministry – a toll that far surpasses previous bouts of conflict in recent years.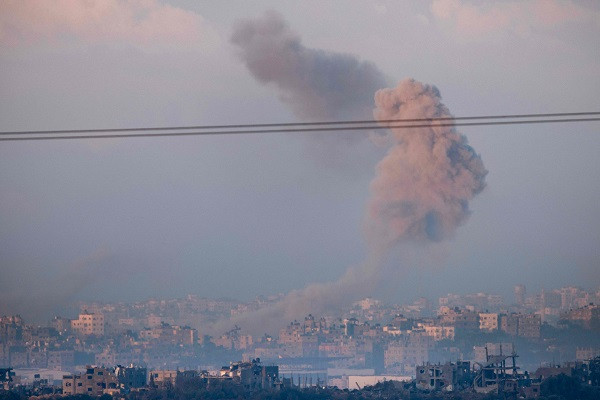 A picture taken from the border between Israel and Gaza shows smoke billowing during Israeli bombardment in the Gaza Strip. PHOTO: AFP
Israel has vowed to wipe out the group. Whole neighbourhoods of Gaza have been flattened in air and artillery strikes, hundreds of thousands of people have been forced to flee their homes, and the humanitarian situation is catastrophic, aid agencies say.
At the Indonesian Hospital in North Gaza, people wounded in Israeli strikes lay in the hallways.
"Yesterday we went to the mosque to pray at sunset. We kneeled the first time and suddenly… I was under a load of rocks and other people were under the rubble," said one young boy.
"There were cut-up hands and legs and we didn't know if someone would come and save us. The civil defence came."
The UN Office for the Coordination of Humanitarian Affairs (OCHA), quoting Palestinian data, said Israeli attacks had destroyed or damaged at least 45% of Gaza's housing units.
Read more: Gaza communications down again as Israel searches Al-Shifa hospital
The United Nations said there would be no cross-border aid operation on Friday due to fuel shortages and a communication shutdown. For a second consecutive day on Thursday no aid trucks arrived in Gaza due to lack of fuel for distributing relief.
An Israeli official said later on Friday that Israel's war cabinet had approved letting in two fuel trucks a day into Gaza to help meet UN needs, following a US request.
Humanitarian crisis
Nearly the entire Gazan population is in desperate need of food assistance, said WFP Executive Director Cindy McCain.
"With winter fast approaching, unsafe and overcrowded shelters, and the lack of clean water, civilians are facing the immediate possibility of starvation," she said in a statement.
A UN human rights official said Israel must allow water and fuel into Gaza to restart the water supply network otherwise people would die of thirst and disease. Israel's actions were a breach of international law, Pedro Arrojo-Agudo said.
Also read: Israeli minister calls for voluntary emigration of Gazans
The World Health Organisation said it feared the spread of disease, including respiratory infections and diarrhoea.
The Israeli military's chief of staff said Israel was close to destroying Hamas' military system in the north of the coastal enclave of 2.3 million people.
The army released a video it said showed a tunnel entrance in an outdoor area of Al Shifa hospital.
The video, which Reuters could not verify, showed a deep hole in the ground, littered with concrete and wood rubble and sand. It appeared the area had been excavated. A bulldozer appeared in the background.
The army said its troops also found a vehicle in the hospital containing a large number of weapons.
Reuters journalists have been unable to reach anyone inside Shifa hospital for more than 24 hours.
Hamas said on Thursday that US claims that the group uses Shifa for military purposes was "a repetition of a blatantly false narrative".
Israeli officials had said Hamas held some of the 240 hostages taken by gunmen on Oct. 7 in the hospital complex.
On Friday, the Israeli military said soldiers retrieved the body of a female soldier who had been held captive, in a building near Shifa. On Thursday, troops recovered the body of another woman hostage, also in a building near Shifa.
In the Israeli-occupied West Bank, Hamas' Al-Quds Brigades said they had engaged Israeli forces for several hours in the city of Jenin overnight.
Israel's military said war planes struck fighters in Jenin who had opened fire on Israeli soldiers and at least five fighters were killed.
At least 178 Palestinians have been killed in the West Bank since Oct. 7. The violence there has underscored fears that the territory, seized by Israel in the 1967 Middle East War, could spiral out of control in tandem with the conflict in Gaza.